Skopje/Karpoš
Karpoš
(Macedonian: Карпош) is one of the ten municipalities that make of the City of
Skopje
. It has the largest concentration of places of interest outside the city-centre.
Understand

Karpoš is roughly the geographic centre of the ten municipalities that make up the Macedonian capital. It is divided into 14 communities, of which all but one are urban. The vast majority of residents are ethnic Macedonian and Orthodox Christians.

Get in
By bus
Karpos can be reached via lines 3, 9, 14, 24, 57 and 60.
See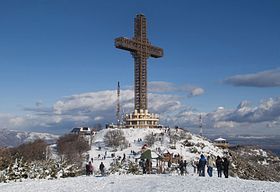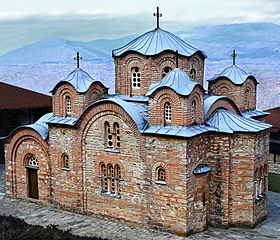 ScupiNot a great deal remains of the ancient Dardanian and Roman city of Scupi. It was once the capital of Dardania and then fell under Roman rule when Dardania was annexed by the Romans. It was abandoned in 518 after an earthquake destroyed most of the city. The residents likely moved to what is now the Skopje Fortress. Byzantine Emperor Justinian I, a Skopje-area native, is believed to have used materials from Scupi to construct the new settlement at today's fortress. The remains at the site include gravestones, walls, and some pillars. Some of the remains contain interesting detail and inscriptions but Scupi should only be on your list of places to see if you have an excess of time in Skopje. Many of the major findings, such as the statue of Venus, can be found at the Museum of Archaeology.

phone: +389 2 322 0578

Founded in 1926, the Skopje Zoo now boasts roughly 300 animals from 85 species. It covers 12 hectares (30 acres) right next to the City Park. After a history of poor living conditions for animals, in 2008 the city invested money in bringing animal habitats up to European standards, making the zoo a much more enjoyable place to visit.

Macedonian Museum of Natural History

address: Bull. Ilinden 86

Next to the Skopje Zoo.
Mount Vodno
Mount VodnoVodno, the mountain visible from all of central Skopje, stands southwest of the city centre with its highest peak at a height of 1,070 m (3,500 ft). A destination for recreational activities, it is also home to major places of interest. The Millennium Cross sits on its highest peak, which is accessible via a 1.75-km (1.01-mi) long cable car. A 12th-century monastery is located in one of the villages that dot the mountain. There are also natural sights, such as waterfalls, streams, and springs.
Millennium Cross

phone: +389 70 806 626

The massive cross, erected in 2002, stands on Vodno's highest peak. It was built to commemorate 2,000 years of Christianity in the world. It is 66 m (217 ft) tall and has an elevator within it. It also now has a restaurant and souvenir shop next to it. As it sits on the most prominent peak in the area, it provides expansive views of the city.
Millennium Cross Cable CarOpened in 2011, the Millennium Cross Cable Car runs from Middle Vodno, home to Hotel Vodno and a relatively new monastery, to the cross. The 28 gondolas fit eight people each and can hold bicycles on the exterior. A city bus runs to the bottom station at Middle Vodno.
Church of St PantaleonAbout halfway up Vodno in the village of Gorno Nerezi is the monastery containing the Church of St Pantaleon. The church was built 1164 and much of its frescoes, as well as the marble iconostasis, remain intact. Some of the frescoes depict the Passion of the Christ. The cross-shaped church has one main dome. The position of the monastery makes it an excellent location for a view of Skopje.
phone: +389 72 220 600

Within the village of Gorno Nerezi, this complex is a reconstruction of the traditional architecture and buildings found within a Macedonian village. It has a restaurant and the complex's location on Vodno gives it great views over Skopje.
Telecommunication TowerUnder construction next to the Millennium Cross is a telecommunication tower. It is planned to have a twist shape with multiple circular pods.
Do
Sports
Boris Trajkovski Sports Center

phone: +389 2 308 9600

A modern arena home to the Macedonian national basketball, handball, and volleyball teams for both men and women. It also hosts concerts. Its maximum capacity is 8,000 for sports events.
Buy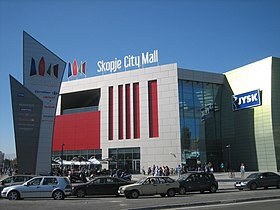 phone: +389 2 325 3990

Skopje's large indoor shopping mall home to stores like Zara, Nike, etc. It also features a food court and cinema.
Drink
VOX Night ClubIn Karpoš. A nightclub usually crowded on weekends.