Sligo
Sligo
(
Sligeach
in Irish, meaning shelly place) is the principal town in
County Sligo
in
Northwest Ireland & Lakelands
. It's the largest urban area in this region, and the second largest in the province of
Connacht
(after
Galway
).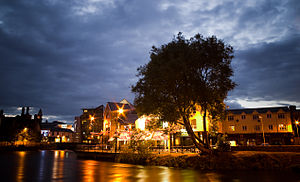 Understand
Traditionally a small, quiet coastal town of 17,892 people (but an area of 12.9 km² or 5 sq mi), Sligo has experienced significant redevelopment since the 1990s and now offers much in the way of shopping, entertainment and eating out. It's a great base from which to explore the often underrated west and north west
Atlantic
coast of
Ireland
. A lot of new development has taken place along the Garavogue river, most notably the regeneration of J.F.K. and Rockwood Parades, consisting of shops, cafés, bars, a number of apartments, and a new footbridge over the river.
O'Connell Street is the town's main street. Two new shopping centres (The Quayside and Johnston's Court) opened in 2005, bringing national and international chain-stores to the region.
Location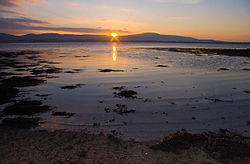 Sligo is surrounded by the Dartry Mountain range to the north, the Ox Mountains to the south, and Sligo Bay and the Atlantic Ocean to the west. The Dartry range includes the well-known
Ben Bulben
(sometimes called Ireland's table mountain). Knocknarea Mountain, 5 km (3 mi) west of the town, is best known for the stone cairn at its summit (actually a burial mound dating to the Neolithic period).
History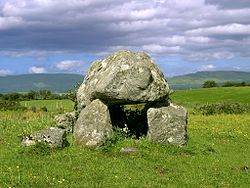 Sligo's Irish name,
Sligeach
(pronounced SHLEE-gok, which means the place of shells), comes from the large number of shellfish found in the local river and its estuary, and from the Stone Age food preparation areas in the vicinity. The river (now known as the Garavogue) was originally also called the Sligeach. This whole area, from the river estuary at Sligo, around the coast to the river at
Ballisodare
Bay, was rich in marine resources, dating back as far as the Mesolithic period.
Sligo was a significant location as far back as the Early Neolithic period, as demonstrated by the numerous ancient sites close by. Particularly notable are the megalithic tombs at nearby
Carrowmore
. According to local archaeological digs (when a new road was being built), 'Magheraboy demonstrates the early Neolithic settlement of this area of Sligo, while the longevity of the activity on the site indicates a stable and successful population during the final centuries of the fifth millennium and the first centuries of the fourth millennium BC.'
The Lord Chief Justice of Ireland, Maurice Fitzgerald, is said to have established the medieval town of Sligo, building the Castle of Sligo in 1245. As a result, Sligo became an important crossroads strategically and commercially. Sligo Abbey is the only medieval building left standing in the town.
Twinned cities
Sligo is
twinned
with three towns/cities (
sister cities
), namely:
There are regular trade and tourism links with these cities throughout the year.
Other items of interest
There are two local newspapers in Sligo, each of which gives details of local news, sports and entertainment on a weekly basis. The Sligo Weekender is published on Tuesday while The Sligo Champion is published every Wednesday.
A round of the World Rally Championship was based in Sligo on November 16th-18th, 2007. Rally Ireland was a great success and returned in January 2009 after a fantastic first year.
Get in
By rail
phone: +353 71 916-9888

address: Lord Edward St

Eight trains per day Monday to Sunday from Dublin's Connolly Station. The trip takes a little over 3 hours and adult prices range from €32 to €44 with price reductions for children under 12, students with valid student ID and free travel for children under 3. Oddly enough, the price for a return journey is exactly the same as for a single one. If your travelling days are variable, travel Monday to Thursday or Saturday, as tickets are more expensive on Friday and Sunday (the busier days).
By bus
phone: +353 71 916-0066

address: Lord Edward St

Buses or coaches operate throughout the day from most major towns/cities. From Dublin: 6 buses daily M-Sa, 5 on Su and public holidays, journey time: 3½-4 hr. From Galway: 6 buses daily M-Sa, 5 on Su and Public Holidays, journey time: 2½ hr. From Belfast: 3 buses daily M-Sa (change at Enniskillen), 2 on Su (change at Dungannon), journey time just under 4 hr. Bus Éireann prices are approximately half that of the train but buses can be a bit stuffy! Similar concessions/price reductions apply as for train travel.

phone: +353 74 954-8114

operate from Gweedore, County Donegal, and Galway as follows:
From Gweedore (via Letterkenny): 2 buses daily M-Sa, 3 on F, 3 on Su, journey time 3 hours 15 minutes.
From Galway (Cathedral): 2 buses daily M-Sa, 4 on F, 4 on Su, journey time 2 hr.
By car
From Dublin take the N4 road west (approx. 210 km (130 mi), 2½ hr.
From Galway take the N17 road north (approx. 145 km (90 mi), 2-2½ hr.
From Belfast, Northern Ireland, take the M1 Motorway, which leads onto the A4. This becomes the N16 when you cross the border at Belcoo/Blacklion (approx. 200 km (125 mi), 3-3½ hours).
By plane
Sligo airport
SXL
, with flights from Dublin, is to the west in Strandhill.

Get around
Sligo town, at 12.9 km² (5 sq mi), is small enough to walk from one end to the other in an hour.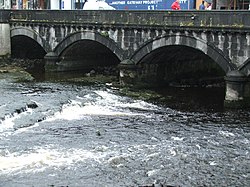 By bus
There are buses which run from the main bus station to Strandhill (Route 472) and
Rosses Point
(Route 473) (small nearby coastal towns) regularly. There are also two
city services
around the town and surrounding area (Route 478, runs M-Sa about every 20 minutes from Cartron (on the R291 Rosses Point Road), via the town center to Cairns Road and back again to Cartron and Route 478A, M-Sa every hour from the Bus Station via Strandhill Road to Carrowmore). There is also a Nightrider service (Route 478N F Sa approximately hourly 20:30-02:30) which leaves from Sligo Town to nearby towns of
Collooney
,
Ballisodare
, Strandhill and Rosses Point.
By car
As in many parts of Ireland, parking spaces can be difficult to find, although most hotels and bed and breakfasts have their own free parking for residents only. If you wish to park in the town, there are a number of local authority operated car parks dotted around the town. To park in a public car park or on the street in most parts of the town centre, you must
pay and display
at the nearest meter. Parking costs €1.20 per hour (generally ever day 08:30-18:30, although some locations have different pay times or days). Parking costs can be paid for by Euro coins, credit cards or mobile phone. You can prepay for your parking if you park outside these hours, i.e., If you leave you car overnight, you can pay for your parking from 08:30 the next morning. If you pay by coins,
the machine does not give change
, so you should try to have exact change available. You will, however, receive a parking disc for the remainder of the next hour, e.g., pay €2, and you get a disc for 1 hour 40 minutes. Some car parks allow for all-day parking at a special rate. The meters in these car parks will display this option. If you don't pay, or your time has run out, you may receive a parking ticket, with an on-the-spot fine of €40, or €80 if you park illegally in a wheelchair-user only zone (always marked, often with blue paint).
There are also some private car-parks which have different rates of payment (and different punishments if you don't pay). The (Catholic) Cathedral, for example, uses barriers, with payment of €3 when leaving the car-park. If you can leave your car until church services (mass) times, you may be able to leave without paying (but do you want to cheat the church?) Parking at Sligo General Hospital is metered, and costs €2.40 for up to four hours, or €4 for up to 24 hours. The local bus (Route 478) passes just outside the hospital every 20 minutes during the day, and costs 70 cent to bring you into town. If you don't pay for your parking at this carpark you are liable to be clamped, with a release fee of €65.
See
Directions
All the directions to places given in this guide to Sligo presume that you are walking. There may be other, faster ways of getting to where you're going (if you're driving/cycling for example), but if you follow these directions in a car or bike, you may find yourself travelling the wrong way down one of Sligo's many (sometimes confusing) one-way/pedestrianised streets.
Unless otherwise stated, directions to where to
sleep
are from the Train/Bus Station, and to everywhere else (i.e.,
See
,
Do
, Etc.) are from the junction of Wine Street and O'Connell Street, standing with your back to the General Post Office (GPO), facing down the pedestrianised O'Connell Street.
Sligo Abbey

phone: +353 71 914-6406

address: Abbey St

Founded by Maurice Fitzgerald in 1253, destroyed by fire in 1414, rebuilt in its present form; the Abbey was burned in 1642 and everything valuable in it was destroyed. Much of the structure, including the choir, carved altar and cloisters remain.

Famine Memorial

address: Quay Street Car-park

One of a suite of three sculptures commissioned by the Sligo Famine Commemoration Committee to honour the victims of the Irish Potato Famine (1845–1849), when over 30,000 people emigrated through the port of Sligo, here commemorated by this sculprute. A plaque in the background, headed 'Letter to America, January 2, 1850' tells one family's sad story.
Carrowmore Megalithic Cemetery has over 60 tombs, the earliest dating to 3700 BC. It's 4 km southwest of Sligo, open April-Oct daily.
Do
Learn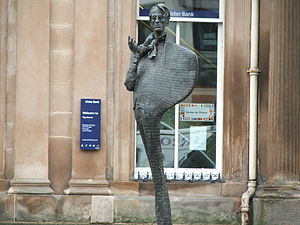 Yeats International Summer School

phone: +353 71 914-2693

address: Yeats Memorial Building, Hyde Bridge

The poet William Butler Yeats is much associated with Sligo. In particular "The Lake Isle of Innisfree" is a reference to a small island on nearby Lough Gill. Yeats, who spent much of his youth in Sligo and its environs, died in 1939 and is buried, under bare Ben Bulben's head in the graveyard in Drumcliffe, County Sligo.
Buy
Most of the shops in Sligo are concentrated in a small area, based around O'Connell Street, Wine Street and Grattan Street. It also has a two new shopping centres,
Johnston Court
and The
Quayside
. The town has a huge range of the normal
High Street
shops, including most of the Irish and British chains. These include clothing, grocery, electronics, books, music, sports, fotwear, Etc., Etc. Apart from all of those, there are a number of one-off shops in Sligo, which make it well worth the visit. Just a small selection of these is outlined below.
phone: +353 71 914-3686

address: 4 Castle St

stocks a wide range of hand-made gold and silver jewellery (from their own workshop), both for retail sale and specially commissioned articles. The Irish Craft Boutique also features a huge selection of other Irish-made jewellery, glass, ceramics, textiles, furniture and handcrafts. The Art Gallery (upstairs) hosts regular exhibitions, usually promoting young local and other Irish Artists.

phone: +353 71 914-8844

address: Market Cross

Unusual and quirky pieces of ceramic art sit alongside beautiful (but usable) dinner services in this shop of Sligo-based ceramic artist and potter, all hand-thrown here or in the artist's studio in Gort, County Galway.

phone: +353 71 914-3022

address: 3 Castle St

Fabulous delicatessen, with all types of food catered for, from home-baked hams to some of the finest chutneys, preserves known to man. Also contains a separate toiletries area (Hopper and Pettit), specialising in Crabtree & Evelyn and other fine ranges.
Eat
The choice of good quality restaurants in Sligo has improved immensely over the last few years. Please note, that all the hotels listed in the
Sleep
section below also have restaurants, and many have carvery lunches served at the bar.
Budget
Pepper Alley

phone: +353 71 917-0720

address: Rockwood Parade

Busy sandwich bar, (especially at lunchtime) with some hot food also available.
Mid-range
phone: +353 71 914-7171

address: 34 O'Connell St

Bridgestone best Indian Restaurant from 1999-2004, top quality Asian food, good mix of Indian, Thai, Indonesian, Etc

phone: +353 71 914-1866

address: Rockwood Parade

Steaks, chicken, pasta dishes. Speedy, friendly service, busy especially at weekends. Separate menu also available at the bar.

Mardees

phone: +353 71 914-7637

address: 25 Castle St

New restaurant, with small but interesting menu, bright decor, very friendly efficient staff. Excellent value "Early bird" menu from 17:00 to 19:00 with huge portions!

phone: +353 71 914-1744

address: O'Connell St

Pizza and Italian restaurant. Very friendly staff, owner Pat Grimes always on hand to assist with your choices. All pizzas baked in a traditional wood oven (visible from the street). Complete menu available as take-away from High Street branch; Phone +353 71 914-7000.

Source Sligo

address: O' Connell St

A restaurant in the heart of Sligo, it serves tapas and other delicious food. It has a great wine menu and also has a cookery school.
Splurge
Coach Lane

phone: +353 71 916-2417

address: 1-2 Lord Edward St

Offers some unusual dishes (e.g., ostrich with marsala); lots of local produce, including steaks, lobster, salmon. Also plenty of salads, pasta and chicken dishes. Cooking style ranges from traditional to spicy and much in between.

phone: +353 71 911-9400

address: The Model, The Mall

Famous chef Conrad Gallagher has opened a great local restaurant, for local people, in the heart of Sligo's art district and positioned right in the centre of the Model Art Gallery.
Drink
Bars/Pubs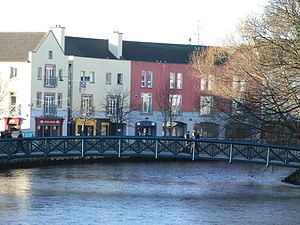 phone: +353 71 914-1866

address: Rockwood Parade

Very lively bar, especially at weekends. In-house DJ and live bands 4 or 5 nights a week, also show all major live sporting events on large screens.

McGarrigles

phone: +353 71 917-1193

address: 11 O'Connell St

McHughs

phone: +353 71 914-2030

address: Grattan St

phone: +353 71 916-2554

address: Market Cross, Grattan St

Old Sligo pub (founded 1876) with an eccentric past (not least where the name comes from!), long narrow pub, the music collection reflects the eclectic tastes of the owner, Ronan "Uisce" Waters, comprising of Latin, Soul, Motown, Jazz, Funk, Blues, Reggae, Punk, Afrobeat and Irish Traditional among others, and the most unusual front window you've ever seen.

The Stables

phone: +353 71 914-2280

address: Wine St

McLynn's

phone: +353 71 914-2088

A traditional Irish bar with music and an old-style setting. One of the best pints of Guinness you'll find. Old Market St. Sligo.
Nightclubs
phone: +353 71 914-4721

address: Teeling St

With four bars and three dance floors, this is a busy club, especially catering to students of the near-by Institute of Technology, Sligo.

phone: +353 71 916-1250

address: J.F.K Parade

The Clarence

address: Wine St

A decent alternative to Pure or The Velvet Room. Very popular with students.
Sleep
Bed and Breakfasts
Most bed and breakfasts are on the roads into and out of the town, especially on the old Dublin road (Pearse Road, R287), Cairns Hill (head out the R287, turn left at the traffic lights just at the Gaelic Football Pitch, Markievicz Park) and the Bundoran road (N16). Most cost around €30 to €35 per person sharing.

phone: +353 71 914-5014
Holiday apartments
Why do the Holidays Apartments have the same phone number?
Milligan Place, Yeats Village, Clarion Holiday Village and The Grove Clarion are all managed by
Albanne Tourism
Hostels
phone: +353 71 917-1547 or +353 86 259-8293 (mobile phone)

address: Finisklin Rd

In the old Harbour master's house, built in 1840s, advance booking advised, especially in summer season.

White House Hostel

phone: +353 71 914-5160

address: Markievicz Rd

Open from 01 Mar to 31 Oct.

phone: +353 87 6905539

address: 1 Union Pl

There is no cooker at this hostel, only microwave ovens.
Hotels
phone: +353 71 911-9000

address: Clarion Rd

4-star hotel in Elizabethan former hospital, 76 bedrooms, 91 suites.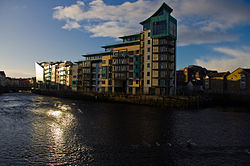 phone: +353 71 919-4300,

address: Swan Point, Hyde Bridge

Dramatic design, resembling the prow of a ship, on the river bank. Sligo's newest hotel, with funky interiors. The View bar is a stylish lounge, with great views across the river. AA Rosette Award winning restaurant.

Innisfree Hotel

phone: +353 71 914-2014

address: High St

Ocean Sands Hotel Enniscrone Co. Sligo

phone: +353 96 26700

address: Enniscrone

phone: +353 71 914-0008

address: Ballincar

The hotel also features Sólás Spa & Wellness Centre, which provides holistic therapies and spa breaks.

phone: +353 71 914-4000

address: Quay St

phone: +353 71 919-0400

address: Old Dublin Rd

phone: +353 71 916-2101

address: Strandhill Rd
Connect
Telephones
As elsewhere in Ireland, phone numbers in Sligo comprise an area code (071) and a local number (7 digits). All phone numbers shown in this guide display both the area code and the local number. When
calling from a landline within the same area
, you can ignore the area code, or leave it in, as you wish. If you are
calling from another area
within Ireland or from a mobile phone, you
must
use the area code. Likewise, if you are
calling internationally
, you must use the following format:
Your international access code + 353 + 71 + the local number
, i.e., you drop the
0
from the area code.
Internet
phone: +353 71 914-2212

address: Stephen St

Free Internet facilities available for members and visitors. Four terminals available for adults, and two specifically for children (with kid-friendly software). Also fourteen further terminals available in Reference Library, on nearby Bridge Street (Reference Library Opening Hours; M-F 10:00-12:45 and 14:00-16:45). Quietest in the mornings. Visitors should bring some ID (such as home Library card), and will be required to sign an "internet agreement form".

phone: +353 71 914-1405

address: The Mall
Stay safe
Crime is relatively low by most European standards but not very different. As with any sizeable town in Ireland, visitors and locals alike can feel intimidated by the large crowds hanging around outside fast food outlets, pubs and clubs, usually between the hours of 00:00 and 03:00 on Thursday, Friday and Saturday nights. These areas are generally well patrolled by Gardaí (police), but best avoided, where possible.
If you need the emergency services (Gardaí, ambulance, fire service, coast guard or mountain rescue) dial 999 or 112 from any phone.

Cope
Publications
There are three weekly newspapers in Sligo. If you're looking for entertainment listings, either the
Champion
or
Weekender
are fine, if you want to know what's the official business/political line on something local in Sligo, the
Champion
is required reading, the Post is hardly worth the price (it's free).
The Sligo ChampionSligo's oldest surviving newspaper (over 150 years old) containing all the local news and events for the town and county of Sligo and local parts of the surrounding counties of Roscommon, Leitrim, Donegal and Mayo

Sligo WeekenderFor a paper called The Weekender, it comes out mid-week, but otherwise good entertainment listings
Religious services
There are places of worship all over the town; your hotel or Bed and Breakfast should be able to direct you to one nearby. If not, though, the following are centrally located in the town.
Roman Catholic
Cathedral of the Immaculate Conception

phone: +353 71 916-2670

address: Temple St

Beautiful 130+ year-old building in a Normano–Romano–Byzantine style, it is the only example of a Romanesque style Cathedral built during the 19th century in Ireland.

St. Anne's

phone: +353 71 914-5028

address: Cranmore

phone: +353 71 914-2422

address: Ballytivnan

phone: +353 71 914-2700

address: High St

Holy Cross is the only church run by a religious order (rather than directly by the diocese) in the Diocese of Elphin.
Church of Ireland/Anglican
Go next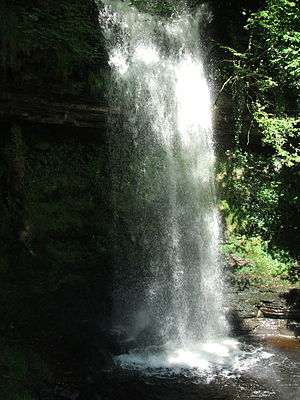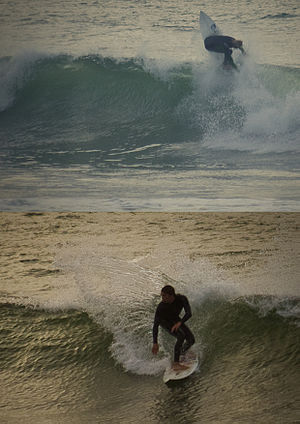 Sligo is very well located for exploring the
Northwest Ireland and Lakelands
area of Ireland, and the following are very easily accessible as day trips:
County Sligo
.
Carrowmore

address: on the Knocknarea peninsula

The site of a prehistoric ritual landscape. Around 30 megalithic tombs can be seen in Carrowmore today, older than Newgrange or Knowth (in the Brú Na Bóinne Archaeological Park in the east of Ireland) and which even predate the Egyptian Pyramids.

Rosses PointRosses Point is a pretty little village with a beautiful golden sandy beach, perfect for families. The Atlantic Ocean is cold for swimming, but perfectly safe here. Sea boat trips are available from here.

StrandhillThe village has undergoing much renovation, and has a great walking beach and dunes. It is not safe to swim here. It is, however, a great surfing beach.

Knocknarea Mountain

address: Strandhill

Just over 1000 ft (305 m) high, and can be climbed in 20 to 40 minutes. Fantastic views of the coast-line with a very large cairn or burial mound on the summit, which local legend says is the grave of the ancient Celtic warrior Queen Maedbh (pronounced May-v). Climbers are requested not to climb on the cairn or to use the stones from the cairn.
:An old local tradition has it that a climber should bring a stone from the bottom of the mountain and place it on the cairn on the top. Failure to do so, according to the legend, will result in your dreams being haunted by the Queen Maeve!
Ben BulbenProminent table mountain, dominating the landscape to the North. Can be climbed at certain points in about 1 hour or so. It is said to be the final resting place of Diarmuid and Gráinne, the eloping lovers from the Fenian cycle of Irish mythology.

Coney IslandSaid to have given its name to its better known namesake in New York City. In Irish it translates as Oilean na gCoiníní (Island of the Rabbits, Coinín means rabbit). If you're feeling adventurous, and the tide is out, you can drive across the strand to the island. Do check with locals regarding tide times, as almost every year tourists (and locals) get stuck in the sand.
County Donegal
.
The forgotten county
, Donegal has some of the best scenery anywhere in Ireland. It is also probably the least developed county (from a tourist perspective) in Ireland, due to its relative isolation, and proximity to the border with
Northern Ireland
.
County Leitrim
. The least densely populated county in Ireland, and suffered much from emigration, particularly during the 1950s to 1990s. In recent years the population has started to rise, and consequently, more development is occurring all over the county.
Glencar Waterfall

address: Glencar, County Leitrim

Beautiful waterfall in a small narrow glen, immortalised by the poet W.B. Yeats in his poem, The Stolen Child: Where the wandering water gushes/From the hills above Glencar,/In pools among the rushes/That scarce could bathe a star.
County Mayo
.
Achill Island, stunning beaches making it a family holiday favourite.
County Galway
.
Galway is a thriving, bustling, university city, very popular with tourists, and well worth the 140 km (90 mi) trip down the N4/N17.