Slyudyanka
Slyudyanka
(
Russian
: Слюд'янка, slyu-DYAN-kah) is a town in
Irkutsk Oblast
110km away from
Irkutsk
with population of 19,000 people.
Understand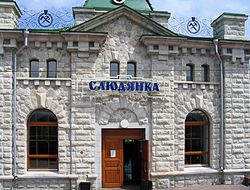 Whenever you ride
Trans-Siberian railway
and the train moves slightly south to curve the Baikal, it stops and the passengers pitched by the fish-sellers always get out to buy some smoked Omul then you have arrived in Slyudyanka station. When fish is bought and carriage is oozing with the smell, give a look to the station building. White plates are the same as the gravel under the rails. It's marble. The name Slyudyanka stands for another mineral found here - the mica.
Get in
By bus
You can take marshrutka #543 from
Irkutsk
railway station (, 2 hours).
By train
There are elektrichkas (, 3hr 30min) on working days and more on weekends but you should check the timetable on
irkutsk.tutu.ru
.
Slyudyanka-1

Slyudyanka-2
Get around
There are local marshrutka minibuses, but since the town is small there is little use for them. The walk from Rudo district in the SW of the town to the centre takes about 20 mins. Anyway you can see the bus stops on map on .

See
address: 36, Slyudyanaya st.

Wooden church

There is also a small exhibit inside the station building.
Do
Hike: Slyudyanka may serve as a base and starting point for walks into nearby mountains.

Buy
A shop in Russian is "магазин", so look for this sign.

Sleep
address: Shcholnaya street 10, Apartment 7

Breakfast included. Hosts speak fairly good English and are helpful.

Train stationif you arrive late by night in train you might rest a few hours in the restrom in the train station. You will be waked up in the morning by the nice staff, but you can then visit the sourroundings and hop on the Circumbaikal.
Go next
The Circum-Baikal Railway starts (or ends) in Slyudyanka. Train 6201 Matanya departs Slyudyanka 4 times a week (Mon, Thu, Fri, Sun) at around 13:20, arriving in Port Baikal 5-6 hours later.
Arshan: There is one marshrutka mini-bus daily going to this foothill spa town, leaving at 09:30; price is around . In high season, try to book early.