Småland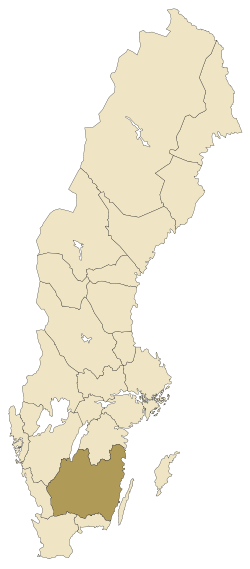 Småland
is a province (
landskap
) in
Götaland
, with more than 700,000 inhabitants. The forested inland is popular getaway for Swedes as well as foreigners.
Regions
The name
Småland
means
the small lands
. The lands, or sub-provinces, were
Finnveden
,
Värend
,
Njudung
and others.
Småland is divided into three counties: North-western Jönköping County, south-western Kronoberg County, and eastern Kalmar County (including
Öland
).
Cities
Jönköping County
Eksjö — One of the most well perserved traditional wood towns in Sweden.
— The biggest city in Småland is located on the shores of lake Vättern. Known as "Sweden's Jerusalem".
Gränna — Known for polkagrisar (peppermint candy) and the Andrée Museum (of a balloon expedition to the North Pole)
— An industrial city once known for its furniture manufacturing.
Kalmar County
— Famous for its pop festival.
Kalmar — Famous for its medieval castle, where the Kalmar Union was founded in 1397.
— Centre of "Glasriket" (the realm of glass), Småland's historical glassworks, whereof several are still acitve today.
Oskarshamn — A coastal town with a nearby archipelago.
— Home of Astrid Lindgren and seat for the Astrid Lindgren's World theme park.
Västervik and Tjust — Tjust is a traditional province dominated by the port town of Västervik, known for Lysingsbadet, one of the largest camping and bathing areas in the Nordic countries.
Kronoberg County
— Seat of Kronoberg County, the episcopal see of the Diocese of Växjö, and home to the main campus of Linnaeus University.
Ljungby — Town close to lake Bolmen surrounded by deep forests.
— The first IKEA store, and birthplace of Carl Linnaeus.
Other destinations
Bolmsö — An island in the Bolmen lake
— A mountain and natural reserve.
Visingsö — The largest island in lake Vättern.
Understand
Småland is a very hilly province, with deep forests, abundance of lakes but with poor and rocky soils. Except for the Baltic coastline, Småland has a continental climate with warm summers and cold winters. Its northern and western parts contain highlands, and have a climate which is more similar to that of northern Sweden than its surroundings.
Due to its hostile territory Småland was not united like other Swedish provinces, but was rather divided into several minor political units collectively known as
the small lands
, and hence the name Småland. When incorporated into Sweden, they were merged into one province.
Until the 17th century Småland was a border province between Sweden and
Denmark
, and the stage for several wars and civil uprisings. Småland's poor soils have forced waves of emigration, not least during the 19th century, when many inhabitants left for North America. During the 19th century the Free Church movement grew strong in Småland, especially in the area surrounding
Jönköping
, giving it the nickname "The Swedish Bible belt". In modern times, Småland is known for entrepreneurship, with glass manufacturing as well as the world-famous furniture retailer, IKEA.
The stereotype of the Småland people being frugal, hard-working and pious has to some extent been formed by writers such as Astrid Lindgren (see also
Astrid Lindgren tourism
) and Vilhelm Moberg.
Get in
By plane
In Småland, there are airports at Jönköping, Växjö and Kalmar. International travellers can use the Copenhagen airport and connect by train.
By train
By bus
Swebus express from
Stockholm
,
Gothenburg
and
Malmö
.
Get around
By train and bus
By car
The larger roads E4 and E22 both head in a north-south direction;
E4
through the western part of Småland and E22 by the eastern coastline. The intermediate area lacks major highways but have a web of smaller country roads.
See
Astrid Lindgren tourism: Astrid Lindgren was one of the world's most successful writers of children's books. Many of her stories are set in or near her native Vimmerby, which has now a theme park: Astrid Lindgrens värld. Some of the film settings can be found nearby.
Do
Småland has deep forests, hard to find anyway closer to the middle of Europe. They have great opportunities for
outdoor life
. In summer there are several major music festivals; including
Emmabodafestivalen
, focusing on electronic and indie music, and
This is Hultsfred
.
Eat
Kroppkakor
is a traditional dish, most popular along the eastern Småland coast. They are best described as potato-dumplings, about the size of a tennis ball, with filling made of pork and onion. They are served with lingonberry jam, butter and cream. It is similar to the dish
palt
, which is popular in
Norrland
, but contains some other ingredients.
Sleep
Go next