Smith Island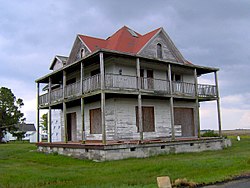 Smith Island
is a small inhabited island in
Maryland
's
Chesapeake Bay
. It is the only off-shore inhabited Island in the state of Maryland and is accessible only via boat.
Understand

For centuries, Smith Island was isolated. Tourists arriving by ferry can sleep in a local bed and breakfast or guest cottage and enjoy seafood meals. Visitors are also charmed by the islanders' hardy fishing livelihood and devotion to the Methodist church. One visitor, the author William Least Heat-Moon, described his conversations with islanders in his best-selling book Blue Highways. The Island has no banks, law enforcement, or medical facilities on site. There are no ATMs, movie theaters, or fast food restaurants. Residents survive and thrive by fishing and crabbing.

Get in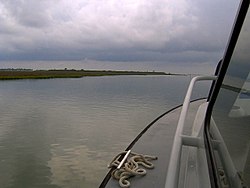 People traveling to Smith Island can only access it by boat. Passenger-only ferries connect Smith Island at Ewell to Point Lookout, Maryland, to the west, and
Crisfield
, Maryland, to the east. A private marina offers boaters the opportunity to travel and stay on the Island.
Get around

Because the island is so small, visitors must walk or bike. There are no cars for hire, but informal transportation arrangements can be made with the residents.

Talk
The most notable feature of the island is the local dialect which is like the dialect of the West Country of England. The dialect contains some relict features indicative of its origins but is not, as is often claimed, a surviving pocket of Shakespearean era English. This dialect is like the Ocracoke Brogue, sometimes referred to as the Outer Banks Brogue off the coast of
North Carolina
.
Because of recent exposure to the neighboring
Eastern Shore (Maryland)
, the dialect has become more southern in sound, than its other isolated neighbor,
Tangier Island
.
Do

Visitors delight in exploring the Island, and talking with the residents who are known to be warm, friendly, and inviting. The Island is afe and has no law enforcement, but it is not needed since there is no crime on the Island. The Island is a kayaking dream. Visitors travel from all over the world to kayak what is known as the best untouched trails on the East Coast of the United States, The 4 square mile island can be easily navigated on foot, bicycle, kayak or canoe. Many residents navigate the island via a skiff, bicycle, or golf cart. Visitors can wonder the tree lined streets, dine in local restaurants, or visit the gift shops or quilting store. An outdoor Tiki Hut is open on weekend summer evenings serving non-alcoholic beverages. Wildlife, crabbing, birdwatching, fishing, and artifact tours are available for visitors who wish to explore the waterways of the Island.

Eat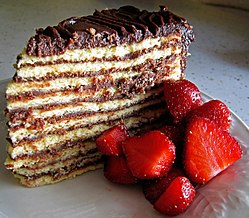 Smith Island has its own region-specific traditional cuisine, which is now the official dessert of the state of
Maryland
. The most famous dish is a locally produced cake featuring 7 to 15 thin layers filled with creme, frosting and/or crushed candy bars. The cake is iced with a cooked chocolate icing. The cake is often made using a recipe that has been handed down for generations with unique additions such as condensed milk. The most common flavor is yellow cake with chocolate icing but other flavors such as coconut, fig, strawberry, lemon, and orange are also common. Known simply as the Smith Island Cake, the dessert is baked for any occasion and not reserved only for holidays.
Never mind the "grocery store" names; in addition to the B&Bs, you can get full meals at the following:
Harbor Side Groceries & Deli

phone: +1 410 425-2525

address: 4061 Whitelock Rd

Bayside Inn Restaurant , 4065 Smith Island Rd, Ewell, MD 21824, 410-425-2771

Drum Point Market
Sleep
phone: +1 410 425-2650

address: 20947 Caleb Jones Rd. Ewell, MD 21824

A charming Eastern Shore Farmhouse, completely renovated with large bedrooms, en suite baths, a living room and open kitchen. Grounds include a beautiful screened gazebo, a rose garden with a lighted pergola, and beautiful grounds. Home-cooked breakfast is served daily, Free use of kayaks, canoes, and bicycles.
Michele's House, 20807 Severn Rd, Ewell, MD 21824 1-410-425-2650, email: innkeeper@smithislandinn.com. Always open. A renovated Cape Cod that sleeps 12. Comfortable master bedroom and full bath on main level with bunk-style accommodations on the second floor with another full bath. Bikes, kayaks, and canoes complimentary with rental. Handicapped accessible with a wheelchair ramp and handicapped bath. Three bedroom, 2 full baths.
Grant's Handi-Hideaway, 20908 Severn Rd, Ewell, MD 21824, 1-410-425-2650 email smithislandinn@gmail.com. Always open. A renovated one level completely handicapped/wheelchair accessible cottage with open floor plan, two bedrooms, a handicap bath with roll-in shower. Wheelchair access via a ramp with 36 inch pocket doors and lowered light switches. Completely renovated with a coastal decor.
Oystermen's Pearl, 4029 Tyler Rd. Ewell, MD 21824, 1-410-425-2650. email: smithislandinn@gmail.com. Always open. A completely renovated Victorian home on a tree-lined street featuring a magnolia and fig tree on the property. Three light-filled, large bedrooms provide a perfect retreat. Renovated with beautiful American cherry hardwood flooring, the home features a large and open living and dining area. A fully equipped kitchen provides plenty of room for entertaining. Bicycles, kayaks, and canoes included in rate.