Smithers
With a population of 5,350 residents (2016), the alpine town of
Smithers
is the perfect base for exploring the surrounding wilderness.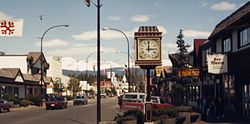 Understand
Smithers has adopted an alpine theme, which is drawn from the geography of the area. A town bylaw requires businesses in the downtown area centred on Main Street to construct their buildings in an alpine style. A fibreglass statue of a man blowing an alpine horn, commonly referred to as the Alpenman or Alpine Al, is located at the entrance to the main street and has become the town symbol. Similarly, the Smithers chamber of commerce displays an Alpine Al costume at community events and in television advertisements for the town's businesses.
Residents of Smithers are called "Smithereens" which remains a more popularly accepted demonym than the sometimes used "Smitherite".
phone: +1 250-847-5072

address: 1411 Court Street
History
The Bulkley Valley in which Smithers is situated was inhabited by the Wet'suwet'en First Nation. Smithers was founded in 1913 as the regional headquarters for the Grand Trunk Pacific Railway. The new community was named after the railway's chairman of the board of directors, Sir Alfred Smithers.
Climate
Winters are cold and cloudy but highly variable with a January average of −8.9 °C (16.0 °F). Snow is the main type of precipitation during winter. Warm spells can push temperatures above freezing during the winter months, while cold weather systems can reduce the temperature to less than −30 °C (−22 °F). The average annual snowfall is 204 cm (80.3 in) with maximum accumulations of snow tending to happen in February when the snow depth is around 36 centimetres (14.2 in) and there are many months when the snow depth reaches or surpasses 20 cm (7.9 in). Summers are warm with a normal highs of just below 30 °C (86 °F) and an extreme high of 38.5 °C (101.3 °F). Nighttime temperatures are often cool with normal nighttime lows under 10 °C (50 °F). Depending on the year there may be very little or a lot of precipitation. Spring and fall are short transition seasons. Smithers receives an average of 513 mm (20 in) of precipitation a year with February through April being the driest months. Smithers receives 1651 hours of bright sunshine a year, ranging from a minimum of 13% of possible sunshine in December to a maximum of 48% of possible sunshine in August.
Get in
By car
Smithers is approximately halfway between Prince George and Prince Rupert. The town is 68 km (42 mi) east of
Hazelton
, on
Hwy 16
, and 370 km (229 mi) west of
Prince George
.
By train
Via RailSmithers has three trains per week in each direction on the VIA Rail Jasper - Prince Rupert line.

Bulkley Nechako Regional Transit SystemBC Transit operates route 161 from Prince George to Burns Lake running Tuesdays, Thursdays and Saturdays, and route 162 from Burns Lake to Smithers running Mondays, Wednesdays, Fridays. Going between Prince George and Smithers requires an overnight stay at Burns Lake.
By plane
See
phone: +1 250-847-5322

address: 1425 Main Street

A collection of artifacts and archival materials which explores the social and technological development of the Bulkley Valley, including the Aboriginal communities and European settlers.
Do
Hudson Bay MountainFirst-class ski slopes. In summer, there is horseback riding and hiking, including hikes to Twin Falls and the glacier (the "Glacier Gulch" trail ).

Crater LakeA good hike passing through beautiful scenery, with views of the Telkwa Mountains.

Twin Falls and Glacier Gulch Trails

address: Highway 16 West

The walk up to Twin Falls is a few hundred meters, mostly uphill. The trail is wide and well packed down. There used to be a viewing platform, but it was wiped out by an avalanche in 2018. You can see three sets of waterfalls that all drain into the same waterway and end up in Lake Kathlyn below. A long and steep hike will take you to the toe of the glacier best suited to experienced hikers. In the winter you can hike to views of frozen waterfalls. Once it is frozen enough and you have enough snow you can hike up towards the falls but you must be aware of what's above you as you are now in avalanche territory.

Smithers Golf and Country Club

phone: +1-250-847-5950

address: Scotia St

Riverside Golf Course and RV Park

phone: +1-250-847-3229

address: 575 Hwy 16 E

Spearfishing along the Bulkley River or the nearby lakes
Eat
Trackside Cantina

phone: +1 250-847-3363

address: 3815 Railway Avenue

Mexican.

Telly's Grill

phone: +1 250-847-0017

address: 3843 Fourth Ave

Greek.

phone: +1 250-847-2547

address: 1283 Main St

Ukrainian comfort food in a renovated space. Fresh homemade soups and sandwiches, and pie made by Louise.
Sleep
phone: +1 250-847-4581

address: 3251 East Highway 16

You can borrow free bikes, sporting equipment, board games and beach toys. Mediterranean restaurant, lounge, sports bar, free WiFi.

Stork Nest InnFull menu breakfast included with room, air conditioned, fridges in most rooms, cable TV, free high speed wireless internet, massage studio, fishing wader and ski storage room, free coffee and tea.

phone: +1 250-847-4862

address: 1766 Main Street

5 guestrooms plus a common kitchen with stove, refrigerator, oven and microwave and a common living/lounge area with satellite TV, DVD player, library and gas fireplace. Guest laundry and ski/sporting equipment storage area is also available. Sundeck and hot tub. Stays are available with or without breakfast.
Go next
Prince George, 4 hour and 15 minutes east on Highway 16
Terrace, 2 hour and 20 minutes west on Highway 16