Snowdonia National Park
Snowdonia National Park
(
Parc Cenedlaethol Eryri
in Welsh) is like a little slice of the
Alps
tucked above the rolling moors and hills of
North Wales
.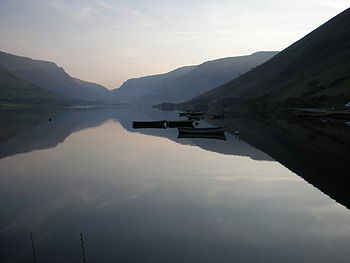 Understand
Lakes, castles, waterfalls, and steam railways create a surreal experience right out of Lord of the Rings. Local signs are often both English and Welsh and many aspects of traditional Welsh life, including food, clothing, and crafts, are still to be found.
The region is very popular for hiking, mountaineering, whitewater kayaking, and other outdoor pursuits. It features
Snowdon
, the highest mountain in Wales at 1,085 m (3,560 feet).
History
Snowdonia National Park was established in 1951 as the third
national park
in the UK, and the first in Wales. It covers 2,142 km² (840 square miles, 217,000 hectares) of the Snowdonia region of north-western Wales. It is also an area steeped in history and legend as the natural fortress for the Princes of Gwynedd and for Llewellyn, the last true Prince of Wales.
Landscape
Dominated by Snowdon, Snowdonia National Park is to Wales what the Lake District is to England. An area of considerable natural beauty, this National Park is set in northern Wales and visitors can paddle their feet on a sandy beach in the morning and be sitting atop the highest peak in England and Wales that same day.
Lakes are almost as much of a feature of Snowdonia as the peaks, so much so that several hydro-electric schemes have been built to harness the potential energy stored within them (See Dinorwig Power Station in the
Do
section). The water sports that feature so prominently in this region are fed from the high rainfall in the park and this in turn feeds into the rivers and lakes. Much of this water is exported to England;
Liverpool
's water comes from here.
Much of the world's slate came from this region and the landscape is dotted with the scars of slate pits, some of which are still active today. The casual walker needs only bend down and pick up a handful of shale to see where much of the local industry came from.
Main mountain groups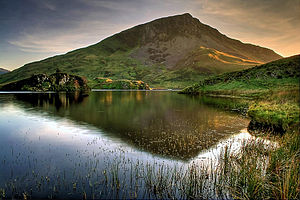 Snowdon Group - Consisting of Snowdon (Yr Wyddfa), Crib y Ddysgl, Crib Goch and Y Lliwedd.
Glyders and Tryfan - The two Glyders (Fach and Fawr) and Tryfan are the most spectacular but the group also includes Y Garn and Elidyr Fawr.
Carneddau - the most northern group including Carnedd Llewellyn, Carnedd Dafydd, Pen yr Ole Wen, Yr Elen.
Moelwyns - a lower group near Blaenau Ffestiniog. Cnicht, sometimes described as 'the Welsh Matterhorn' because of its shape (in spite of its lack of height) is often included.
Nantlle Ridge and Moel Hebog - to the far west and separating Snowdonia from Lleyn.
Rhinogs - spectacular heather growth makes for some hard walking - inland from Harlech.
Arans and Arenigs - lesser-known ranges between Dolgellau and Bala, but including the highest peak in Britain south of Snowdon- 2,969 feet Aran Fawddwy.
Cadair Idris and the Tarrens - in the southern end of the National Park. South of Dolgellau and inland from Tywyn. Softer and greener than some of the northern ranges.
Berwyn - just outside the park, but a geographical extension. The hills rise to 2,729 feet at Cadair Berwyn.
Flora and fauna
Snowdonia National Park is an ornithologist's paradise with buzzards, ospreys, choughs, peregrines, thrushes, blackbirds, robins, wrens, tits, finches, owls, cuckoos, jays.... you get the idea. Perhaps surprisingly, there is only one
RSPB
reserve within the National Park — at
Mawddach Woodlands
, on the beautiful Mawddach estuary between
Dolgellau
and
Barmouth
.
The Snowdon lily (
Lloydia serotina
), as the names suggests, is only found in Snowdonia National Park, where it is a rare and protected species. Populations are small and make up six different locations, each with small numbers. Distant cousins of this species can be found in Europe. This species is the subject of a biodiversity action plan in order to spread awareness of its importance to this region of Wales.
Another species unique to Snowdonia is the
Gwyniad
(
Coregonus pennantii
), a freshwater fish of the salmon family. The Gwyniad is native only to
Bala Lake
and was unique to the habit of the lake. A project to introduce it to another nearby lake was undertaken from 2003 to 2007, to mitigate the risk of its extinction should some tragedy (pollution or similar) befall Bala Lake. The deep waters of the lake are also said to be home to
Tegi
, Bala's answer to the
Loch Ness Monster
. Visitors can make up their own minds as to the likelihood of her existence.
The critically endangered Freshwater pearl mussel is another important freshwater species which makes its home in the area.
Mammals including bats, red squirrels, badgers, weasels and polecats may also be glimpsed in this region, while seals, porpoises, dolphins, and even the occasional turtle can be spotted offshore.
Climate
Due to the topography, Snowdonia gets its fair share of rain and then some. Even if it is not raining on the tops, they are often shrouded in mist or cloud. Care should be taken when walking them (see
Stay Safe
).
Get in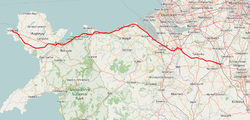 By train
Mainline train services in North Wales are run by
Arriva Trains Wales
.
By bus
By sea
Regular ferry services operate between Holyhead and Ireland, (Dublin and Dun Laoghaire), and is provided by two carriers. Stenaline and Irish Ferries each offer several daily services between the two ports for passengers and vehicles. Bookings can be made through their respective websites.
By plane
There is an air service to RAF
Valley
on Anglesey, the journey from which takes about an hour from Cardiff. For flights from other destinations
Manchester
and
Liverpool
airports, across the border in England are the closest bet, or
Birmingham
airport for the Cambrian Coast area.
By car
The main roads into Snowdonia are the A55 which runs along the north coast, connecting with the M56 and M53 near
Chester
, and the A5, which leaves the M54 at
Shrewsbury
and heads west to
Betws y Coed
and then north-west to
Bangor
.
Fees and permits

There are no fees for entering or leaving Snowdonia National Park.

Get around
By train
(See also
Get in
above for details of lines into and across North Wales)
By bus
Bws Gwynedd operates a network of services throughout the national park, covering almost every community. Some more remote areas have only a very sparse service. Check also the Snowdon Sherpa.
By car
Even trunk roads in the area are generally single-carriageway, the exception being the A55 dual carriageway, which hugs the north coast. Even minor single-track roads are generally well surfaced and suitable for any road-worthy vehicle. As with all rural areas, allow for low average speeds when journey planning, even more so at the height of the tourist season when roads throughout the park can become very busy.
See
Industrial heritage
phone: +44 1766 830306

address: Gwynedd LL41 3NB

One of the most popular attractions in North Wales. Two underground tours describe the lives of the 19th-century miners. Plenty to see on the surface too. It's all done very well - this is a great place to spend a half day.

phone: +44 1286 870166

address: Llanberis, Gwynedd, LL55 4TY

At Llanberis — Tours of this power station are, despite the somewhat outdated multimedia presentation at the beginning, a must see. A huge cavern was carved out of the mountain and six turbines installed which sit in tunnels between two lakes, one high up, the other at close to sea level. When Britain switches on the kettle during the advert break in Coronation Street, water is released from the upper lake and the most expensive electricity in Britain is generated to cope with demand. Later at night, when demand is low and electricity is cheaper, water is pumped back up to the top lake from the lower one. Wheelchairs are exceptionally well catered-for, and the cafe is not a bad place to stop in whilst waiting for the tour to begin.
Steam Railways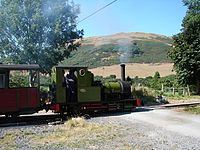 phone: +44 84 4493 8120

Departs from Llanberis. This spectacular 4 mile, roughly 2½-hour train journey climbs 3500 feet up Mount Snowdon and is the only rack-and-pinion railway in the UK, dating to 1896. Trains depart first at about 09:00. 30-minute stop at summit; the train leaves again promptly, so make sure you are back on time! Costs £21 roundtrip, discounted if first train of day is taken, or if you go one way. Open mid-March to October, several trains a day, more in summer. Be prepared to wait several hours after buying your ticket.

phone: +44 1654 761701 (Museum)

Near Machynlleth

phone: +44 1766 516000

Runs from Blaenau Ffestiniog to Porthmadog. The trip is about 13 miles long.

phone: +44 1654 710472 (Booking)

address: Tywyn, Gwynedd LL36 9EY

Tywyn. The world's first heritage railway and inspiration for the Ealing comedy film The Titfield Thunderbolt. Features in the popular Railway Series of children's books by Rev W Awdry as the "Skarloey Railway".

Welsh Highland RailwayDue to reopen in 2010, connecting Porthmadog, Beddgelert and Caernarfon.
Other railways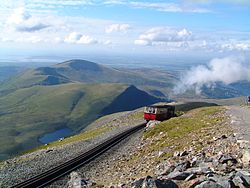 A diesel train can also be taken up Snowdon: for a family if four, this costs £90: three quarters of the price of the steam train. Be prepared to wait several hours after buying your ticket.
Castles
There are a number of castles in Snowdonia dating from the 12th and 13th centuries. They were constructed at the time of the battles by the Welsh Princes of
Gwynedd
to resist the rule of King John, and more significantly, King Edward I of
England
. Most of the castles are in the care of
Cadw
, the historic environment service of the Welsh Assembly Government. Most of the English-built castles forming the "Ring of Steel" around North Wales lie outside the National Park, as they were sited on the coast. The Welsh princes tended to stick to the mountain country where they hoped to hold the upper hand.
Castell y Bere - Last stronghold of the Welsh Princes, and their most impressive fortress. Stunning location in Bro Dysynni.
Dolbadarn - Welsh built castle situated between Llyn Peris and Llyn Padarn lakes, close to the town of Llanberis
Dolwyddelan - Welsh castle, in the village of the same name on the main A470 road between Betws-y-Coed and Blaenau Ffestiniog. Reputed birthplace of Prince Llywelyn the Great. The Disney film Dragonslayer was filmed here.
Harlech - One of Edward I's "ring of steel". Looks menacingly across Tremadog Bay at the Welsh Criccieth Castle.
Caernarfon - another of Edward I's main castles, where Edward II was born.
Beumaris - the most well-preserved concentric castle in Britain and can be seen from the national park.
Conwy - Cadw's handbook states that this is "by any standards one of the great fortresses of medieval Europe." The gateway to the national park from the east.
Do
Hillwalking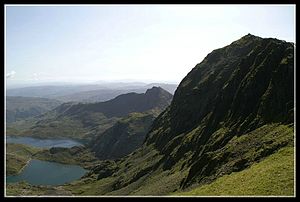 Snowdon
Wales' highest mountain and the highest in the UK south of
Loch Lomond
, Snowdon is also the most popular mountain in Wales, climbed by an estimated 500,000 people every year.
The most spectacular way up Snowdon is via the Crib Goch arete — not for the fainthearted, and not unless you know that the weather will hold up. (This is an exposed scrambling route rather than a regular walk; the
BMC guide
is a good starting point for you to make an informed decision about attempting it.) If you descend via the Lliwedd ridge then you have done the
Snowdon Horseshoe
. Start and finish at
Pen y Pass
at the top of the Llanberis Pass on the
Llanberis
to
Capel Curig
road. Easier on the heart are the Pyg track and Miners track also starting from Pen y Pass. These are gentle at first before the big climb, and pass by the lakes that sit in the middle of the
horseshoe
.
Other routes include the
Llanberis Path
, which follows the train track and is rather boring; the
Snowdon Ranger Path
from the train station (Welsh Highland Railway) and youth hostel of the same name; the
Rhyd Ddu path
from the village of Rhyd Ddu (also served by WHR trains), and the
Watkin Path
from Nantgwynant, which starts at only 60m above sea level and therefore requires the largest gain in altitude, though fortunately there are several waterfalls along the path which are popular for cooling off in on hot days.
Of course you can also get the train to the top, but try to resist standing at the summit looking proud of your "achievement"!
Snowdon was used by Sir Edmund Hillary to train for his successful ascent to Mt. Everest. Snowdon is considered a very dangerous mountain, in winter time, and should not be ascended without proper equipment and knowledge (see
stay safe
).
The Glyderau
Looking like a giant fossilised Stegasaurus,
Tryfan
is said to be the only mountain in Britain south of the Scottish Highlands that cannot be climbed without using the arms. At the summit are two large standing rocks known as Adam and Eve, and there is a tradition of jumping between them to earn the "freedom" of the mountain. It's not a physically difficult jump, but you'll need a really good head for heights in order to attempt it. (There is a far bigger drop from the rocks on the east side than the gap between the rocks themselves.)
Bristly Ridge
links Tryfan to
Glyder Fach
and
Glyder Fawr
, the main peaks of this range. Don't miss a great photo opportunity at the famous
Cantilever
on Glyder Fach.
Cader Idris and the Tarrens
This range is to be found at the southern edge of the national park. The largest (892m/2927 ft) and best known mountain is Cader Idris (sometimes spelt Cadair Idris), which is the 2nd most climbed mountain in Wales. The most popular and arguably, best route is the Minffordd Path which starts from the hamlet of the same name, near
Talyllyn
Lake. The mountain can also be climbed from the village of Llanfihangel y Pennant at the head of the
Dysynni valley
, and there are also a number of paths from the northern side, accessed from
Dolgellau
.
Legend has it that there are only 3 potential outcomes if you spend the night on Cader Idris. Either you will die in the night, you will wake up insane, or you will wake up as a bard (poet). If you want to test this out then there are some excellent wild camping spots on the shores of Llyn (lake) Cau (accessed from Minffordd), or Llyn y Gadair on the Dolgellau side. Check out the article on
Leave-no-trace camping
before you go.
The lower Tarren range of hills between
Tywyn
and Abergynolwyn provide excellent walking, without the crowds that can sometimes be found on Cadair Idris. Ordnance Survey Explorer Map sheet OL23
Cadair Idris and Bala Lake
is essential.
Adventure sports
Expeditionguide.comProvide mountain guiding in Snowdonia and training courses in navigation, scrambling and rock climbing.

address: Aberdyfi

They also have centres in Cumbria and Scotland, but Aberdyfi. They offer courses for companies, schools, families and individuals.

phone: +44 16 9072 0214

The National Mountain Centre, Capel Curig. Offers courses in hillwalking, rock climbing, kayaking, canoeing, orienteering, skiing and more. The centre has a pool, climbing walls, ropes course and a dry ski slope.

AC AdventuresBased in Tywyn and run by experienced instructors. Offers tailored activity breaks, activities include climbing, gorge walking, mountain biking, navigation skills training and more.

Rock Climbing CompanyClimbing and scrambling courses in Snowdonia.

Mountain Biking. There are a number of marked trails in the Dyfi Valley Forest, centred around Machynlleth, including the purpose-built CliMachx route. Coed y Brenin Forest, near Dolgellau, has 6 waymarked trails, and Beddgelert and Betws y Coed also have trails in their surrounding forestry. The ascent of Cadair Idris from Llanfihangel y Pennant near Tywyn is classified as a bridleway, and therefore can be used by mountain bikes. It's a tough slog up but the descent (from 892 m at the summit to only a few metres above sea level in the valley) must rank as one of the finest in the country. Not recommended for summer weekends due to the number of hikers.

Canolfan Tryweryn - The National Whitewater CentreFrongoch, Bala. White-water rafting and canoeing on the River Tryweryn. The flow of water in the river is governed by a dam controlling the flow of water from Llyn Celyn reservoir, meaning that conditions in the water are predictable - though this does not make the experience any less exhilarating once you are on the river.

Rock Climbing CoursesCourses in rock climbing, scrambling and hill walking.
Eat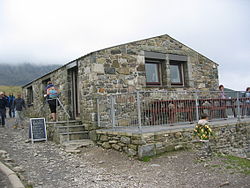 As in the majority of the UK, the focus of most Snowdonia communities is the pub. Rare is the village pub that doesn't offer food, and many of these are very good quality. The
Wales the True Taste
campaign has been very successful in promoting the use of local ingredients in recent years, and your waiter or chef will often be only too happy to tell you exactly where the lamb that provided your chop, the cow in your burger or the scallops in your fish pie grew up. Most pubs serve lunch from about 12:30 until 14:30, and dinner from around 17:30 to 20:00 or 21:00. Where the pub has a restaurant separate from the main bar they may serve later.
As well as the pub, most villages have at least one cafe or tearoom, opening from breakfast time until mid-afternoon. The main focus is usually on tea/coffee, sandwiches and cakes, but there may be 1 or 2 more substantial hot dishes available at lunchtime.
Larger villages and towns will generally have at least a couple of take-away food shops. Traditional fish and chips is still the most popular, but you will also find Chinese, Indian and kebab.
phone: +44 1286 872777

address: High Street, Llanberis, Snowdonia, near Caernarfon, North Wales

The menu changes every month using seasonal and local produce.
There is also a cafe just under the summit of Snowdon.
Drink
As mentioned in
eat
, most villages and towns in Snowdonia have at least one pub. Generally, pubs in the area open from 11:00 or 12:00 and close at 23:00 or midnight. Some close for 2 or 3 hours in the afternoon but this is less common than in the past.
Nightclubs are few and far between in the area, with the exception of the more commercialised seaside resorts such as
Barmouth
. The University city of
Bangor
, just outside the park to the north, is the place to go for nightlife and (relatively) bright lights.
Sleep
Principal towns and villages within and around the National Park
All the places listed have a variety of accommodation.
Bed and breakfast
phone: +44 1766 540245

address: Trawsfynydd, Gwynedd, LL41 4YE

A reasonably priced B&B near Coed-y-Brenin with four ensuite rooms which can be either double or twin rooms.

phone: +44 1248 670 489

address: Ty'n Rhos Seion, Llanddeiniolen, Caernarfon. LL55 3AE

On the open plain, 6 miles from the park. Remarkable views, expansive gardens, a fine dining restaurant (open to both residents and non residents) and spacious rooms.
Self-catering
An array of quality-assured self-catering facilities are dotted in and around the area ranging from modern flats, purposely converted units on farm complexes to fully residential traditional Snowdonia farmhouse cottages.
phone: +44 1286 830327

Family and group accommodation. Traditional farmhouse. Sleeps up to 14. Views to Mount Snowdon and the sea.

phone: +44 7767 473505, +44 1341 241363

address: Llanbedr, Gwynedd LL45 2NY

An Edwardian country house available to hire for self catering holidays. Sleeps 14 - 18. The guest bedrooms consist of four double ensuites, two family rooms and a twin room. Sea and mountain views.
Hostels
The Youth Hostels Association (YHA)
has a dozen hostels in, or close to, the national park. Most of these are in the northern part of the park, around Snowdon. Only Kings hostel, near
Penmaenpool
and Ffynonwen hostel, near
Bala
cover the southern or eastern areas of the park.
There are also numerous private hostels, especially in the popular outdoor activity centres such as
Llanberis
,
Betws y Coed
and
Bala
.
Camping
Snowdonia has a large number of campsites and finding a pitch is rarely a problem. Facilities range from the most basic with nothing more than a drinking water tap in the corner of a small field, up to plush "holiday parks" with electric hook-ups, laundry facilities, on-site restaurants and night-time entertainment. See the relevant town and village articles for listings.
phone: +44 1286 830205

address: Lon y Wig, Pontllyfni, LL54 5EH

Sea-front caravan and lodge park with mountain views. Touring pitches available for caravans.
Backcountry
Wild camping is possible but remember that in Snowdonia, like other
UK National Parks
, the vast majority of the land is in private ownership. Generally at low-level and/or in the busy tourist season, it's better to stick to "official" campsites. On higher ground, in less popular areas, or out of season, you're less likely to encounter any problems. Use your discretion as to what constitutes an appropriate site, and where possible gain the permission of the farmer or landowner. Please follow the guidelines in
Leave-no-trace camping
.
Stay safe
Snowdonia presents no exaggerated danger to personal safety on a social front. Locals are well-used to tourists and appear to tolerate them admirably given the heavy footfall.
The greatest personal threat comes from conditions on the peaks. These can turn at short notice, often from a clear warm day to heavy cold rain, the latter of which Wales has in a plentiful supply. It is therefore strongly advised that warm clothing and waterproofs are packed for the peaks along with a good supply of water and some food high in carbohydrates. Always carry a suitable map. The
Ordnance Survey
1:25000 scale Explorer series are ideal, covering the whole national park on 3 (double-sided) sheets. Alternatively the 1:50000 scale Landranger series, though these are less detailed due to the smaller scale.
Harveys Maps
also produce excellent quality maps of the main mountain areas, specifically aimed at hillwalkers.
Some 70 people a year are injured seriously on Snowdon alone and around 10 lose their life. Accidents occur mostly on descent where fatigue and speed is greater. Follow the
Mountain Safety Code
to reduce your chances of becoming part of these statistics:
Before you go
Learn the use of map and compass
Know the weather signs and local forecast
Plan within your capabilities
Know simple first aid and the symptoms of exposure
Know the mountain distress signals
Know the country code
When you go
Never go alone
Leave written word of your route and report your return
Take windproofs, warm clothes and survival bag
Take map and compass, torch and food
Wear climbing boots
Keep alert all day
Avoid disturbance to farming, forestry and field sports
If there is snow on the hills
Always have an ice axe for each person
Carry a climbing rope and know the correct use of rope and ice axe
Learn to recognise dangerous snow slopes.
Other tips
If you hear thunder or see lightning in the countryside, take cover if possible, but do not shelter under lone trees. Lie low, preferably in a ditch, until the lightning has passed.
Respect
Do not litter, especially as this is a national park. Take your litter with you if you can't find a bin. (See also: Leave-no-trace camping)
Do not go onto land you know is private property without permission. If you find out you are on private property, leave.
Close gates when going through fields with livestock in: causing animals to escape can waste a lot of other people's time.
Go next
Llŷn is the tapering peninsula running westwards into the Irish Sea from the northern part of Snowdonia. A designated Area of Outstanding Natural Beauty, its landscape is lower and less harsh than that of Snowdonia, but with spectacular sea-cliffs, quiet sandy coves, and rolling green hills, it has a lot to offer.
The island of Anglesey (Welsh: Ynys Môn) lies to the north-west of Snowdonia, connected to the mainland by rail and road bridges. Most of the coastline is a designated Area of Outstanding Natural Beauty, while the hinterland is flat and extremely fertile. The Welsh expression Môn Mam Cymru, literally Anglesey, Mother of Wales, indicates the importance of this farmland in keeping the whole country well-fed. As intended by those who named it, the village of Llanfairpwllgwyngyllgogerychwyrndrobwyllllantysiliogogogoch is an unashamed tourist trap, if an irresistible photo opportunity (bring a wide angle lens!), while visitors on a romantic break should not miss the mercifully un-touristy Llanddwyn Island, home to Santes Dwynwen, Wales' answer to Saint Valentine.
Holyhead, on the far side of Anglesey, is the departure point for fast ferries to Dublin and Dún Laoghaire in Ireland.