Snowy Mountains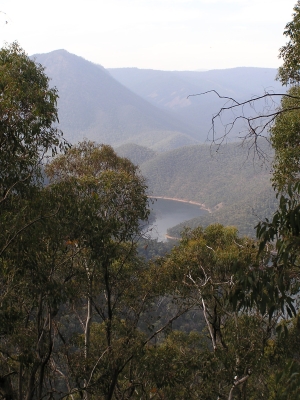 The
Snowy Mountains
, sometimes nicknamed the
Snowies
, are a region of
New South Wales
in
Australia
in the south east of the state. The highest region in Australia and one of the cooler areas of New South Wales, they are notable for their ski-fields and are the centre of snow sports in New South Wales.
Cities
- just below the snowline
Other destinations
- village and ski resort, snowbound in winter
- ski resort, based at Perisher Valley, but also including Guthega, and ski fields at Smiggins Holes and Mount Blue Cow.
- village and ski resort
- on the border with the Riverina region, this town is an entry to the Snowy Mountains
- home to Australia's highest mountain
==Get in==
The Snowy Mountains are on
Australia
's eastern seaboard and are equidistant from
Sydney
and
Melbourne
.
Most people travel to the region by car as this is the most flexible and rewarding way of exploring the mountains. However for visitors traveling from afar, there are regular bus services to
Cooma
and
Tumut
from
Sydney
and
Canberra
, and many plane connections into
Canberra
with car hire available.
The Snowies are well served by a network of sealed roads with diverse and spectacular scenery. The Alpine Way from Jindabyne to Khancoban, the Snowy Mountains Highway between Tumut and Cooma, the Monaro Highway running south from Canberra and the Elliot Way from Tumbarumba to Cabramurra all pass through stunning landscapes.
If you are just interested in the skiing,
Murrays
offer a day trip from
Canberra
to the ski resorts during the ski season, with lift packages, and one-way fares available. Often you can get this bus for little more than the cost of the lift passes and ski hire.
Get around
During winter snow chains must be carried in alpine areas. Some roads may close at short notice, so check conditions.
==See==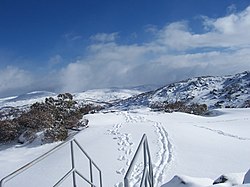 Australia's high country is home to spectacular peaks, clear mountain streams and a plethora of accessible natural attractions for lovers of the outdoors. Walking and horseriding are two great ways to explore the alpine landscape and take in some of the country's most impressive scenery in the warmer months.
The Snowy Mountains is a significant and untamable high country where many Australian myths and traditions of Australian identity were born. Whether from nature's pure beauty or legends of early settlers, there's a story to be told and history to be learnt - from icons like the heights of Mount Kosciuszko to the famous high country huts, to Snowy Hydro feats of ingenuity, beautiful mountain brumbies and to rivers that flow with legends.
The Snowy Mountains Scheme is one of Australia's largest engineering and construction operations. The ideas behind the scheme is to divert the winter snowmelt waters westward into the Murrumbidgee rivers, irrigating large parts of inland Australia and at the same time generating Hydro-Electricity. There are several large lakes, tunnels, and Hydro power stations that form part of the scheme that you can visit. Tours take visitors a kilometre into the mountainside and offer a vivid insight into the sheer scope of this iconic part of the nation's post-war development.
You can see the headwaters of the Murray River at Tom Groggin, along the Alpine Way between
Thredbo
and
Khancoban
.
Do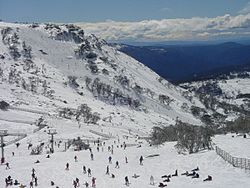 The mountains are beautiful year round and the region annually attracts some three million visitors seeking nature-based and adventure holidays.
Whether you're after a rugged back-to-nature experience, want to be cosseted in alpine splendor or simply feel like going somewhere beautiful, diverse and interesting with the whole family, the chances are high that you'll find it in the Snowy Mountains. Attractions, outdoor activities, tours and events - the Snowy Mountains has it all.
Abseiling, rock climbing and caving
Bushwalking, the top of Australia is only a few hours hiking from Charlotte Pass or Thredbo during summer.
Cycling/mountain biking and motorcycling
Fishing
Guided tours
Superb touring routes
Horse riding
White water rafting, kayaking and canoeing
In winter, alpine skiing and snowboarding. Thredbo, Perisher, Mount Selwyn, or Charlotte Pass all have a large variety of terrain for beginners to advanced. You can ski with gum trees. Snow shoeing and cross country skiing: see also Winter sports in Australia
Eat
There are many places to eat and drink in the Snowy Mountains. Cafés are scattered all around the towns, including the mountain resorts at
Thredbo
. High quality food is available, but expect to find a fair amount of low quality but expensive food. In particular the cheap foods, like pizza, can be on the expensive side in the mountains with less competition.
Sleep

There are many places to stay in the Snowies, from romantic chalets with open fires to self-catering accommodation ideal for families, luxury resorts to fun-filled backpackers, hotels, motels and cosy B & Bs.

Go next
The Snowy Mountains area is located in
New South Wales
, which holds tons of great activities, and is also near the Australian capital,
Canberra
.