Sodankylä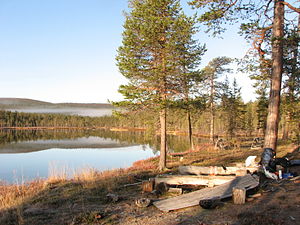 Sodankylä
is a municipality and town in
Finnish Lapland
.
Towns and villages
Sodankylä (town)See below

TankavaaraGold digging village, including opportunities of gold digging on site or as expeditions. Large collection of geological samples. Visitor centre and trailhead for the national park.

LuostoSki resort. Skiing, husky safaris etc. Amethyst mine open to the public .
Other destinations
Urho Kekkonen National ParkThe second largest national park in Finland, with mires, deep forests and ranges of treeless fells. In the western parts there are good services, while most of the park is wilderness. The adjacent Sompio strict nature reserve includes the same habitats in a smaller scale. Visitor centre and some trailheads in Tankavaara. For Sompio and the Ruijanpolku trails drive 88 km to the north from Sodankylä centre along E75, to Vuotso, turn east along the Sompiojärventie forest road. There are trailheads after 9, 10 and 13.5 km; for the UKK trail and Nuorttijoki drive 145km east to Tulppio in Savukoski; for other options, see the park article
Understand
Sodankylä is situated in the heart of Finnish Lapland. It provides a perfect environment for both the active hiker and the person seeking peace, space and silence. Vast forests, unspoiled wild nature, wide open aapa mires and rugged fells of Northern Lapland in particular, are characteristic to this area. The
Luosto
ski resort, the
Tankavaara
gold village and parts of the
Urho Kekkonen National Park
are in the municipality.
The northern part of the municipality belongs to the
Sámi
native region.
Get in
There are no airports or railway stations in Sodankylä, so the only way to get in is by road, i.e. by car or bus. Buses along
national road 4
(E75) between
Rovaniemi
and
Ivalo
stop in Sodankylä; the distance from Rovaniemi is 130 km, from Ivalo 160 km.
Get around
You can get around in the town itself by foot. However many attractions are located tens of kilometres outside of it and there are just a few buses a day (mainly just along highway 4), hence a car is the most practical mode of transportation.

See
address: Jäämerentie 3

An art gallery presenting the art of the local painter Andreas Alariesto.

The old wooden churchBuilt in 1689.
Do
A large variety of activities are available around the municipality in winter as well as in summer: snowmobile driving, ice fishing, reindeer farm visits, snow shoe walks, cross-country and downhill skiing, riverboat cruises, fishing, hiking and cycling.
Ilmakkiaapa miresEasy 2·400m trail along duckboards over the aapa mire to a birdwatching tower. In spring the trail is flooded, otherwise no equipment is needed in dry weather, as long as you keep to the trail. Rubber boots needed for berry picking. Take your binoculars with you, to better see the birds. Right to access applies.
Events
The Midnight Sun Film festivalProbably one of the world's northernmost film festivals, held in June each year since 1986, attracting an international audience.
Sleep
Hotel Bear Inn

phone: +358 40-122-8250

address: Lapintie 7

Single rooms with private saunas or upgraded rooms equipped with relaxing power steam showers. Lounge with bar and a separate restaurant. Lunch buffet Monday through Friday at 11-14; after 15.00 daily, dinner à la carte.

phone: +358 16 617-121

address: Unarintie 15

phone: +358 400-539-075

address: Ivalontie 1
Buy
The northernmost Lidl on earthTrue, a Lidl as such is nothing special, but this here is the northernmost on earth as a banner just outside the store proudly proclaims