Soekarno-Hatta International Airport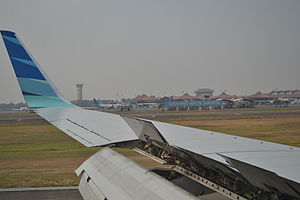 Soekarno-Hatta International Airport
(SHIA,
CGK
), in Western Java serves Indonesia's capital, Jakarta, the wider Greater Jakarta metropolitan area, and a large part of Western Java.

Understand
Contact Center 138
To know about the airport, flights or how to reach the airport and where you park or where you get in, call Center 138 can be contacted for 24 hours by phone or mention @contact_ap2 on Twitter, or at the "Indonesia Airport" app.
The airport is in
Tangerang
, 20 km (12 mi) to the northwest of Jakarta. All international and most domestic flights land here. The airport code comes from
Cengkareng
, the district of the airport and so people often called it Cengkareng Airport. During the rainy season, the road to and from Cengkareng was prone to flooding but this problem has now been alleviated with the building of a raised, dual carriageway toll road between the Jakarta and Cengkareng.
The airport is the busiest in Indonesia, and the 8th busiest in the world, with more than 60 million passengers stepping in each year. As it serves Jakarta, Indonesia's government and economic centre, it is the hub for major airlines that fly to other cities in Indonesia.
The two original terminals, 1 & 2, are illuminated in mostly orange & brown colours. The gate lounges are designed to be like traditional Javanese houses called Joglo & have a garden between them. This Paul Andreu design won the 1995 Aga Khan Award for Architecture. Terminal 3 has a green and modern design and was completed in 2017.
SHIA was built in the 1970s to alleviate the sprawling congestion on domestic flights at the former Kemayoran Airport, and international flights at Halim Perdanakusuma International Airport, but SHIA is now operating at twice its designed capacity. Halim Airport is used for some domestic regular flights of Citilink and Batik Air, so passengers of both airlines should check which airport their flight will be departing from. The name of the airport comes from the first president and vice president of Indonesia, the founding fathers of the country: Soekarno & Mohammad Hatta.
Flights
Jakarta's status as Indonesia's government and economy centre makes the airport the hub of Indonesia's biggest airlines. The airport has 3 terminals. Terminals 1 & 2 each have 3 concourses with 7 gates each, but usually referred to as Terminal 1* or 2* where the * is the concourse. Concourses D & E are for international flights only. Terminal 3 is the newest and most modern.
Arrival procedure
All passengers arriving on international flights must go through immigration first, collect all luggage, and go through customs before boarding any domestic flights. International passengers can carry a maximum of Rp 100 million or its equivalent in foreign currency per passenger.
Terminal 2
A lot of countries are eligible to apply for a Visa on arrival (
VOA
) at the airport, see the main
Indonesia
article for the details of the rules and which countries are eligible. The visa on arrival counters are available at both the left & right-hand side of the end of the corridor after you exit your gate; do not ride the travelator or you will miss the counter! If possible, provide an exact payment of US$35 for a 30-day visa and ignore any requests for additional
fees
. The Visa on Arrival is payable in cash or by credit card, albeit slower (and sometimes payment by credit card is "broken" and only cash is accepted).
Other passengers that already have a visa in hand, eligible for a visa waiver, or has an Indonesian passport, can go directly to the immigration counters. Foreign passport and Indonesian passports already registered to use the automatic gates may travel straight to the immigration counters using the travelator; passengers with Indonesian passports not registered for the automatic gate must use the counters to the left and right of the hall (do not take the travelator!)
Terminal 3
Head to the center hall at the end of the concourse. The visa on arrival (VOA) counter will be on your right before the immigration.
Passengers on domestic flights transferring to another domestic flight, or international to international, can directly go to their respective transfer desks to obtain both the boarding pass for your next flight and a request to return to the departure hall.
Departure procedure
For departures, you will have to go through security screening twice. At the check-in hall, you must scan both your carry-on & checked luggage, a secondary screening is for carry-on bags. In Terminals 1 and 2, the first checkpoint is after the shops to enter the check-in desks while the second is after the shops towards the concourse for your gates. In Terminal 3, the first checkpoint is right at the entrance to the building while the second is right after immigration; unlike the other two terminals, the passenger's guests get to accompany at check in and then eat or shop together at the same public area.
A dedicated check-in lounge with check-in desks, immigration booth, and direct access to the Pura Indah Lounge is available for first & business class of selected international airlines at the left end of terminal 2. Immigration, unless if you are using a premium check-in facility, is right in front of Concourse E.
Popular flights
Flights to major cities in Indonesia, especially
Semarang
,
Yogyakarta
,
Surabaya
,
Denpasar
,
Medan
,
Palembang
, and
Makassar
, as well as
Singapore
for international flights, are very ubiquitous (up to 30 a day) so prices between airlines do not differ too much, though full-service airlines such as Garuda Indonesia and Singapore Airlines often comes out as the most expensive.
Jakarta is also well connected to most major cities in Asia and the Middle East with daily flights. Other international destinations with direct flights include
Sydney
,
Perth
, and
Melbourne
in Australia, as well as
Istanbul
in Turkey,
Amsterdam
and
London
in Europe.
There are no direct flights to Africa and the Americas. Fly to
Singapore
,
Kuala Lumpur
,
Bangkok
,
Hong Kong
,
Seoul
,
Tokyo
or the Middle East first for easier connections to these regions.
Ground transportation
Getting a taxi is not very expensive: A ride to the downtown area should cost about Rp 150,000 to Rp 200,000 on a normal day without heavy traffic jams across the city. The airport has a docket system for payment of an airport surcharge in addition to the normal taxi metered charge. If you have more time than money, frequent
DAMRI shuttle buses
connect to numerous destinations around Jakarta:
Gambir
is the most appropriate for those going to Jalan Jaksa area.
By train
The free Skytrain that runs every 5 to 10 minutes stops at each of the three terminals and the Integrated Buiding which there are airport railway station (accessed by the Railink that runs every 30 minutes) to
Sudirman Baru
station (also called as
BNI City station
) in Downtown Jakarta/
Central Jakarta
, and between the airport railway station and
Manggarai Station, South Jakarta
. The Railink ticket may be bought at a vending machine (accepts debit, credit, or prepaid cards only),
online-booking
or through the
Railink
mobile app.
The BNI City station is situated in Central Jakarta and allows connection to the
Dukuh Atas
MRT station and
Sudirman
Commuter Line station.
Trains depart every 30 minutes and take you to downtown in just under one hour.
There are hourly bus feeders from 'BNI City' Station to 'Gambir' Station, Jalan Sudirman and Jalan Gatot Subroto. The bus is designed to accommodate flight/train passengers with luggage and costs Rp 3,500.
Future train routes and integration to MRT/LRT
So far, the only route to/from downtown Jakarta is between the airport and BNI City station, with the only stop between them is at
Batu Ceper
station in Tangerang, Banten. After the renovations, passengers will be able to board from these stations below:
SHIA (Soekarno-Hatta International Airport) - Batu Ceper - Duri - Tanah Abang - BNI City - Manggarai - Cawang - HPIA (Halim Perdanakusuma International Airport, in progress)
SHIA (Soekarno-Hatta International Airport) - Batu Ceper - Duri - Kampung Bandan - Jakarta Kota (intercity station)
Station names in
bold
are integrated with future MRT/LRT connections. Nowadays only BNI City station has connection (integrated) with Dukuh Atas TransJakarta Terminal and Dukuh Atas Commuter Jabodetabek.
By rideshare
While
GoJek
,
Grab
or
Gabir (Garuda Biru)
taxis can easily be booked throughout Jakarta, only Gabir and Grab are the approved rideshare taxi in this airport; Gojek may still allow drop-offs only or sneakily book a taxi and quickly get to it. You must book at their booth as only
approved taxis
may pick up passengers and the fare can be different than those shown in the app (by zone instead of by distance). Don't forget to show the given receipt to the driver when loading. These fares can be paid by cash if your credit card has not been set up already.
By private car
Parking is available at the front of every terminal. Lots A, B, and C are across Terminal 1, while lots D, E, and F are across terminal 2. There are also wide spots for parking at Terminal 3. However parking is hectic and spaces quickly fill up! There is a special parking lot between the terminals for overnight parking and look for
"Parkir Inap"
sign, if you wish to use the facility. You will be provided with free shuttle car from/to the overnight parking lot. Per 2017, the overnight parking costs Rp 30,000 for the first 4 hours and Rp 6,000 per hour thereafter.
If you wish to rent a car,
TRAC Astra-Rent A Car
has a location at Terminal 2F. You can also look for car rental companies at the counters right after customs.
There is a dedicated toll road into the city, but this will depend on where you will go to. Generally, all directions are clearly indicated:
If you're heading towards Tangerang, if you want to avoid the toll fees, you can work your way at the road on the left side just after the airport gate. Turn left at the airport's north perimeter road, and then left. Go straight towards downtown Tangerang. Take the south perimeter road and then turn left if you are coming from Tangerang to the airport.
If you're heading towards Tangerang, Merak port, South Jakarta or the western suburbs of Jakarta, from the tollroad, take the first interchange that will take you to the outer ring road (Lingkar Luar). Take the first toll interchange if you wish to go to Tangerang, or continue southward to Kebun Jeruk, Pondok Indah, Pasar Minggu, Kemang. Take the second interchange to take a tollway to Serpong.
If you're heading towards North Jakarta, stay along the tollroad. Stay on the right lane for the second toll interchange towards the inner city tollway. This will take you to Pluit, Ancol, Kemayoran, Kelapa Gading, or Tanjung Priok.
If you're heading towards downtown Jakarta, Bekasi, or Bandung, stay along the tollway and use the left lane at the second interchange to enter the downtown tollway (Tol Dalam Kota). Continue straight towards Tol Jakarta-Cikampek for Bekasi, Cikarang, and Bandung.
If you are heading towards East Jakarta, you can use either the north or the west tollway first, but it is recommended to use the north tollway that takes you to North Jakarta first. Then take the right lane at the second interchange towards the downtown tollway Tol Dalam Kota. You can also take the first interchange you meet to the 2nd ring road.
If you're heading towards Bogor or Depok, exit at either the Outer or Inner Ring Road and follow signs for the Tol Jagorawi interchange.
By taxi
To get to the city, the easiest option is to contact your hotel to pick you up in the airport, as
many hotels in Jakarta provide free airport transfers
. Getting a taxi is a little more complicated:
If you book from the counters right after Customs, you'll get a nice car, and jump to the head of the queue. These counters also sells SIM cards and refills.
If you're not booking from the counters, you can hail them from the ordinary taxi ranks. The Blue Bird Group operates blue Blue Bird and Pusaka taxis, a usually reliable option for taxi service. A ride to the downtown area should cost about Rp 150,000 - Rp 200,000 on top of the toll fare. Its premium brand, Silver Bird has a posher car and is perfect if you are traveling with up to 4 other people and have plenty of luggage, but costs about 1½ times the ordinary taxi. Express Taxi uses a similar Blue Bird car, but would cost you only around Rp 120,000 - Rp 180,000. Others will charge you Rp 100,000-120,000 but expect rudimentary service compared to the former three companies. Only pre-approved taxis may pick up and drop off passengers, which would have the sign 'Airport Taxi'. Always ask the driver to run the meter.
The airport has a receipt system for payment of an airport surcharge in addition to the metered charge. You are asked for your destination when arriving at the taxi rank and the receipt is issued accordingly when you are assigned a taxi; if you do not explicitly state that you require a taxi you may not be assigned one. Usually, taxi staff are uniformed; if someone offers you a taxi and they are not wearing the same uniform as the taxi company drivers then you are well advised to ignore them.
For terminals 1A and 1B, the taxi queue is first come first serve: you must take whatever the taxi is in front of you. A dedicated Blue Bird lane is a short walk away at Terminal 1C.
You should know in advance the approximate location of your destination (such as north, central, east) because at the end of airport toll road there are 2 options of toll roads:
Jakarta Inner Ring Road
for the north, east, and central area
(Kelapa Gading, Ancol, Grogol, Downtown Jakarta, Tebet, Cawang)
, and
Jakarta Outer Ring Road (JORR)
to the other parts of Jakarta (especially the west area towards
Tangerang, Pondok Indah, Lebak Bulus, Cilandak
) and the Bodetabek metro area (
Bogor, Depok, Tangerang, Bekasi), which later connects to Jagorawi Toll Road.
Taxi drivers frequently choose the longest route to get a higher fare, therefore request 'lewat Grogol' in advance if your destination is along the Jakarta Inner Ring Road or Downtown Jakarta.
By shuttle
Shuttle vans are a popular choice if your final destination is Bandung, another big city 120 km southeast of Jakarta, although it is not uncommon to drop you at downtown Jakarta too.
phone: +62 853-1943-2636

address: Jl. Diponegoro no. 32, Bandung.

Hourly departures to Bandung.

phone: +62 815 1703 5555

Frequent shuttle service to Bandung, Bintaro and Serpong in south Tangerang.

phone: +62 856 0473 0208
By bus
If you have more time than money, frequent
DAMRI shuttle buses
connect to numerous destinations around Jakarta: Gambir (the most appropriate for those going to Jalan Jaksa area), Rawamangun, Blok M, Tanjung Priok, Kampung Rambutan, Pasar Minggu, Lebak Bulus and Kemayoran (Rp 40,000) as well as directly to the neighboring cities of
Bekasi
(Rp 45,000),
Serang
(Rp 60,000),
Bogor
(Rp 55,000) and
Cikarang
(Rp 50,000). The bus service from the airport operates from 05:00-23:30. You can get the tickets at the many counters after the airport exit. If arriving by an international flight to the terminal 2, head to the left after going out of the building until you see DAMRI ticket booths and bus stops. In terminal 3, the bus stop is just behind the taxi ranks. Buses are standard but comfortable, has a television at the front of the cabin, and Wi-Fi connectivity. Using the bus can be convenient, especially if you have plenty of baggage as they can be stored in the bin below the bus. In many cases, you can flag the bus conductor to stop the bus anywhere, especially if it passes your hotel or residence.
| Destination | Fare | Frequency from the airport |
| --- | --- | --- |
| Gambir Train Station | Rp 40,000 | every 30 minutes 03.00-05.00 every 15 minutes 05.00-21.00 |
| Rawamangun Bus Terminal | Rp 40,000 | every 30 minutes 03.00-20.00 |
| Blok M Plaza | Rp 50,000 | every 30 minutes 03.00-20.00 |
| Tanjung Priok Bus Terminal | Rp 40,000 | every hour 04.00-19.00 |
| Kemayoran - DAMRI Bus Pool | Rp 40,000 | every hour 04.00-19.00 |
| Kampung Rambutan Bus Terminal | Rp 40,000 | every 30 minutes 02.00-20.00 |
| Pasar Minggu Train Station | Rp 40,000 | every 30 minutes 03.00-19.30 |
| Mangga Dua Square | Rp 40,000 | every hour 06.00-19.00 |
| Bogor - Botani Square | Rp 55,000 | |
| every 30 minutes 02.00-20.00 | single service at 02.00 every 30 minutes 05.00-23.30 | |
| Bekasi - Kayuringin Bus Terminal | Rp 45,000 | |
| every 30 minutes 03.00-21.00 | single service at 02.00 every 30 minutes 05.00-23.30 | |
| Lebak Bulus - Bus Terminal | Rp 40,000 | every 30 minutes 03.00-19.00 |
| Serang,Banten - Merak Port | Rp 60,000 | every hour 04.00-19.00 |
| Cikarang - Plaza Cikarang Baru (Jababeka) | Rp 50,000 | every hour 03.00-18.00 |
| Harapan Indah | Rp 45,000 | every hour 03.00-20.00 |
| Purwakarta - DAMRI bus pool or Grand Wisata Housing Complex | Rp 65,000 | every hour 02.00-18.00 |
| Lippo Karawaci - Supermall Karawaci | Rp 45,000 | every hour 04.00-19.00 |
JAConnexion
shuttle buses also picks up passengers at selected malls in Jakarta to the airport. Fares are payable to the driver:
| Destination | Fare | Frequency from the airport |
| --- | --- | --- |
| Mall Kelapa Gading | Rp 30,000 | every 30 minutes 05.00-22:00 |
| Plaza Senayan | Rp 25,000 | 05.00, 06.00, 07.00, 09.00, 11.00 13.00, 15.00, 17.00, 18.00 |
| Mall Taman Anggrek | Rp 30,000 | every hour 05.00-20.00 |
| ITC Cempaka Mas | Rp 35,000 | every hour 05.00-20.00 |
| Ciputra World I Kuningan | Rp 25,000 | every hour 05.00-20.00 |
| Tamini Square | Rp 25,000 | 05.00, 06.00, 07.00, 09.00, 11.00 13.00, 15.00, 17.00, 18.00 |
| Pondok Indah Mall | Rp 40,000 | 05.00, 06.00, 07.00, 09.00, 11.00 13.00, 15.00, 17.00, 18.00 |
By free bus
The airport authority runs 4 free buses that can carry 25 passengers each to Pantai Indah Kapuk and Rawa Bokor.
Get around
A free skytrain connects all three terminals and the integrated airport building where the train to city departs from. It runs in a circular loop, departs every 5 minutes, and takes 3-5 minutes between each stop.

Wait
Landside
Golf

phone: +62 21 5591 1111

The airport has its own 18-hole golf course . You can play all day Mondays to Thursdays, and before 11:00 on Fridays for US$60; Sundays after 11:00 for US$100.
There is a viewing gallery at the left end of Terminals 1 & 2, where you can view the airplane activities at the airport. It might be uncomfortable though due to the hot & humid air.
Lounges
Terminal 1
If you are taking a domestic flight from Soekarno Hatta, you can enjoy cheap airport lounges. There are several private lounges open to travellers on any airline that are in stiff competition with each other. For Rp 50,000, you can get a few hours in one of these lounges where you can relax on the comfy couches, eat and drink as much as you want and use the internet (either by wifi or through their computers).
JW Lounge is near Concourse A
El John maintains 2 lounges, both near Concourses B & C
Terminal 2
Garuda Indonesia Executive LoungeYou can enter this lounge if you are flying in Business Class or First Class of Garuda Indonesia. The lounge is the biggest, and perhaps the best at the airport.

Pura Indah Lounge or JAS Premier LoungeIf you are using the premium check-in facility, you will end up using either lounges. Quality was on par with Garuda Indonesia's lounge.
Terminal 3
All lounges are located at landside (before immigration). Do not expect a big lounge, even compared to Jakarta's standards, as only a handful of business travelers use this terminal.
De Green is limited to major credit card holders.
Monas Lounge is more lenient in allowing passengers to enter. Basically everyone can enter for Rp 80,000; a discount is applicable if you use any credit cards.
Terminal 3 New (Extension)
Painting Gallery is best option in spacious Terminal 3 New. There are no connections between Terminal 3 and Terminal 3 New, each in separate buildings, but they will be connected after Terminal 3 (Old) has been renovated.
Eat and drink
Prices at the airport are almost always more expensive than the city.
Food court
Food CeteraA hole-in-the-wall food court that has more variety of gourmet domestic & international foods than what you can find anywhere at Terminal 1.

KoufuThe food court chain from Singapore, focuses on Asian & world cuisine
Tidbits
Country Style Donuts

Krispy Kreme Donuts

Old Town White Coffee

Starbucks
Other foods
Buy
Duty free
Lotte & Plaza Bali each has a huge duty free shop between terminals 2D & 2E. Do note that if you shop at Lotte Duty Free in downtown Jakarta, you can pick up your items on the same day at the airport.

Others
Periplus bookstores are at Terminal 1C, 2D and 3. A few Indonesian handicrafts & souvenirs can be the last minute idea for a gift before boarding an international flight.
Exchange rates in the airport are not significantly worse than the centre of town, but better than you will get from hotels. You will need some cash and Jakarta is not a place where you can just stroll down to the nearest bank in town as it is pedestrian unfriendly. ATMs generally have a limit of total equivalent Rp 5 million cash withdrawal per day, but every withdrawal can only give maximum 25 pieces of money; for the latter, try CIMB or bii-Maybank - in the international terminal, there are several of these on the second (departure) floor.

Connect
There are standing computers at terminals but do not really depend on them to work.
Wireless connectivity is available at selected points in the airport, but you need a password to sign up. A wireless Internet connection is offered at lounges and has faster speed.
Free standing local phone call in some waiting room gates are provided by Telkom.

Cope
Left luggage facilities is available in terminal 2D. Prayer rooms are available to all terminals but cater to Muslims only. The international terminals have toilets with baby diaper changing facilities.
Sleeping at the airport is not recommended as the floors are of marble tiles, not of carpet. Chairs are available for a snooze at the concourses.

Sleep
Wait for the morning flight or just wait for morning cheap Damri transportation to Jakarta city can be done at (provided area by airport authority) Red Corner in Terminal 1A, near Food Court and there are many long-united chairs which it is relatively comfortable for sleep, lay or take a nap and usually are empty.
Most of the hotels within the airport's vicinity are actually still in the
Tangerang
area rather than in Jakarta. Most, if not all, hotels offer free shuttle services to/from the airport; inquire if in doubt.
Budget
phone: +62 21 559 7777

address: Jl. Raya Bandara no.106, Rawa Bokor, Benda Tangerang, 15125 Tangerang

A budget hotel just outside the airport area. Colorful rooms & furniture with decent cable TV in each room. Free shuttle to airport.

Amaris Hotel Bandara Soekarno Hatta

address: Jl. Husein Sastranegara No.1 Benda, Tangerang , 15125 Tangerang

Another budget hotel with basic amenities.
Mid-range
phone: +62 21 559 0008

address: Bandara Soekarno-Hatta

This small but decent hotel has 82 rooms with typical amenities you would expect. The rooms have a view of the airside activity.

Orchardz Hotel Bandara

phone: +62 21 2966 7777

address: Jl. Husein Sastranegara No. 8, 15125 Tangerang

A posher option just outside the airport. Shuttle service is available.
Splurge
phone: +62 21 5591 1777

address: Jalan Raya Perancis No. 67, Benda, 15125 Tangerang

The access is a little more crowded and narrower so it might take sometime to go to/from the airport. Provides massage, spa, billiard, karaoke & a swimming pool.

phone: +62 21 559 7777

address: Bandara Soekarno-Hatta

5-star hotel with 205 Deluxe rooms and 15 Suite rooms. Rooms have Sheraton Sweet Sleeper beds and 32" LCD TVs. Complimentary shuttle airport pick-up and drop off and a private lounge at the airport. Check the special offers on the hotel's website to find special packages such as day use, special rewards and offer on related deals.
Stay safe
Do not keep any gadgets, money, or jewelry in checked luggage! There are reports of luggage allegedly broken into before being put on the carousel. It is recommended to use locks (TSA-certified is better), so that these thieves do not sneak into your bag! You may wrap your luggage in plastic using machines throughout the airport, but the facility is not free and relatively expensive.
Nowadays the baggage porters are free, though some people say they are lazy due to getting fixed payments.
As you exit from the customs into the outdoor area, there will be some people who voluntarily offer you a ride; do not take them!. These drivers are actually touts and will charge an unofficially higher fare to wherever your destination is, even they have a possibility of kidnapping! Ignore these offers & wait only at the designated taxi ranks, where there are uniformed staffs of the respective taxi companies. It is much better off to arrange your transportation before you travel, and when someone you arranged will drive you from the airport, it is better to have them wait indoors so that you can approach him/her before heading outside.
Do not accept any food or drinks from strangers. It is possible that they may have already put illicit substances in it to make you drowsy and they will steal your belongings as you sleep! Also do not accept request from strangers to carry their luggage or items, as it is possible they may contain drugs, which will only cause you jail time and even death penalty when you arrive.

Nearby