Sofia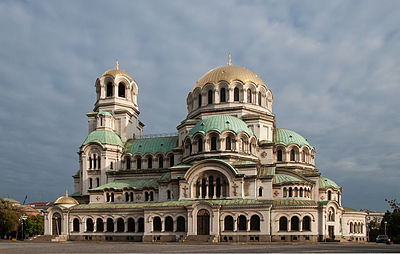 Sofia
(София) is the capital of
Bulgaria
. It is also the biggest city in the country with about 2 million citizens (including suburbs). Today, Sofia is a dynamic European capital, distinguished by its unique combination of European and Communist-style architecture as well as many beautiful Orthodox churches. Furthermore, it claims to be one of the few European capitals with beautiful scenery and a developed ski-resort so close to it - the Vitosha mountain.
Understand
History
Sofia was founded around 2,500 years ago. Over the centuries, it has been given several names — Serdika, Sredets and the remains of the old cities can still be viewed today.
Near Sofia lies Boyana church, which is one of the most valuable memorials of Bulgarian and European culture. The church has frescoes, acclaimed by specialists as the best examples of eastern medieval art from the 13th century AD.
The decline of Sofia during the Turkish Ottoman Empire was followed by the rejuvenation after the Russian liberation in 1878, when Sofia was chosen as the capital of Bulgaria at the First National Constituent Assembly, and followed by a brisk and straightforward period of construction.

Get in
By plane
Sofia AirportIt is the busiest airport in Bulgaria, with annual passenger traffic of approximately 4 million.
Over 20 airlines operate service to/from Sofia, with direct flights to/from
Athens
,
Paris
,
Vienna
,
London
,
Rome
,
Amsterdam
,
Munich
,
Warsaw
and other European cities.
Along with traditional carriers, some low-cost companies traveling to Bulgaria are
EasyJet
(to/from London-Gatwick, Madrid, Manchester) and
Wizz Air
(to/from Paris-Beauvais, Barcelona, Brussels-Charleroi, Dortmund, Eindhoven, London-Luton, Milan-Bergamo, Rome-Fiumicino, Valencia) and RyanAir.
Bulgaria Air
, the national carrier operates service to/from
Alicante
,
Amsterdam
,
Athens
,
Barcelona
,
Beirut
,
Berlin
- Tegel,
Brussels
,
Bucharest
- Otopeni,
Frankfurt
,
Istanbul
IST,
Kiev
- Boryspil,
Larnaca
,
London
- Gatwick,
London
- Heathrow,
Madrid
,
Málaga
,
Manchester
,
Moscow
- Sheremetyevo,
Palma de Mallorca
,
Paphos
,
Paris
- Charles de Gaulle,
Rome
- Fiumicino,
Skopje
,
Tel Aviv
,
Tirana
,
Tripoli
,
Valencia
,
Vienna
,
Zürich
.
There are domestic flights to/from
Varna
and
Burgas
.
Budget airlines including EasyJet, Eurowings and Wizz Air operate from Terminal 1, while the traditional carriers including Bulgaria Air operate from Terminal 2.
There are shops, cafes, post offices, ATMs, and money exchange offices at the airport. For more details, see the
airport website
.
There is a
free shuttle bus
operating between the terminals every 30 minutes between 07:00 and 19:00. Outside of those hours, a free shuttle bus can be requested at the information desk or you can use Bus #84 (see below). After midnight you might asked to book a cab for such ride.
To travel between the airport and the city centre:
The signs for the metro station are only on the floor (follow the red line in direction of the arrows - turn left as you exit arrivals then exit the building briefly).
Sofia Metro Line 1 (Red) operates service to the airport between 05:30 and 24:00. The stop is next to Terminal 2 (leave the building and go east). The journey to the city centre takes 20-30 minutes. The journey to the central bus station takes approximately 35 minutes and a transfer is required. A single ticket costs 1.60 lev. You need an extra ticket for each piece of large luggage. You can also buy a day ticket for all modes of public transport for 4 lev.
Public Bus #84 operates service between both terminals and the city centre. The journey takes 30-40 minutes. Tickets can be purchased from news stands or ticket machines in the airport. A single ticket costs 1.60 lev. If you are travelling with luggage bigger than 60х40х40 cm, you will need to punch an additional ticket for each item or possibly pay a fine of 20 lev. The bus makes a stop at Orlov Most (Sofia University metro station), where you can transfer to the metro.
Taxi service from the airport is regulated. OK Supertrans AD is the contracted taxi operator from the airport. It is best to request a taxi either from the taxi stand or the taxi office. Beware of touts offering taxi service as well as fake taxis with the fake "OK" logo! A taxi to the city center will cost approximately 15 lev. The regulated taxi fare is: initial fee of 0.70 lev, price per km 0.79 lev in the day or 0.90 lev at night, price per minute of stay of 0.22 lev, price for ordering a taxi via phone of 0.50 lev.
By bus
Central bus station
Sofia Central Bus Station (Centralna Avtogara/Централна автогара)
is in the north part of the city centre and is within walking distance to the central attractions. Schedules and fares are available in Bulgarian online.
Eurolines Bulgaria
is the largest operator of international buses to/from Bulgaria. Buses operate to/from
Belgrade
(5 hours, €23) and other cities in
Serbia
,
Vienna
(15.5 hours, €59) and other cities in
Austria
,
Paris
(36 hours, €120) and other cities in
France
,
Berlin
(28 hours, €110) and other cities in
Germany
,
Budapest
(11-13 hours, €48), and
Prague
(21 hours, €63).
MATPU 96
is the largest operator of buses in Bulgaria. The schedule is available in Bulgarian online. Buses operate several times per day to/from
Skopje
(5½ hours, €15).
Other bus stations
There are 3 smaller bus stations that serve only local destinations. The bus to
Samokov
operates from the south station (near Жолио Кюри Metro Station, also on the route of Bus #84 from the airport).
By train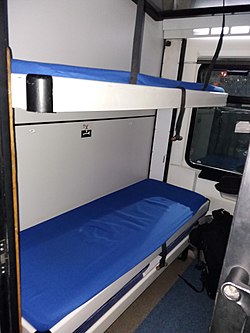 From
Romania
, a train runs daily from
Bucharest
at noon, taking ten hours; the return train leaves Sofia at 09:00. June to Sept this is a through-train, Oct-May you have to change at
Rousse
("Ruse") on the border. There's no longer an overnight train.
From
Greece
, a train runs daily from
Thessaloniki
at 07:00 reaching Sofia by 14:20; the return train leaves Sofia at 15:00 to reach Thessaloniki (shown on departure boards as "Solon") for 22:20. You need to stay there overnight for connections to & from Athens, Piraeus and the ferries to the Greek islands.
From
Turkey
, a sleeper train departs Istanbul Halkali at 21:40, running via Edirne, Kapikule on the border where you get out for passport control, and Plovdiv, to reach Sofia by 09:00. The eastbound train leaves Sofia at 21:00 to reach Istanbul for 07:40. Second class single fare is €20, plus supplement of €10 for couchette or €15 for a sleeper berth.
From
Serbia
, from mid-June to mid-Sept a direct train runs daily between Belgrade Topcider and Sofia, taking ten hours. However the Budapest-Belgrade line is disrupted throughout 2019 for engineering works, so it is difficult to reach Bulgaria from western Europe by train.
Within Bulgaria
, trains run to Sofia from all the major cities, including the seaside resorts of
Burgas
and
Varna
.
The main railway station, (
Bulgarian
:
Централна железопътна гара София, Tsentralna zhelezopatna gara Sofiya
) or
Tsentralna Gara
is on the northern end of the city centre. The station can be somewhat confusing. Domestic departures go from the main terminal and that is where you can buy tickets for domestic travel. If you want to travel to an international destination, use ticket windows 14-17. They speak some English and to book a ticket, you will need your passport. They take credit cards. Platforms can be accessed from the main floor down the escalators at the far left corner. Platform numbering is somewhat confusing: Roman numerals indicate the platform number (I to VI), and Arabic numerals (1 to 12) indicate the actual track. Each platform is divided into East and West. Departures and arrivals are indicated on reliable electronic panels, but, beware, they indicate the track number, not the platform! In any case, leaving by train is mostly recommended if you want to travel overnight to destinations on the Black Sea, since trains for
Varna
and
Burgas
will leave late in the evening and get you there in the early morning (a couchette to
Varna
is 16 leva).
Timetables can be found at the website of
Bulgarian State Railways
.
By car
The motorway network in Bulgaria is still under construction.
Access to Bulgaria's capital is via several entry points:
From the north (Vidin) & south (Thessaloniki) via E79.
From the east - via Thrace Highway E80/A1.
From the west - from the Bulgarian-Serbian border point of Kalotina.
The following motorways heading for Sofia are already in service:
A1 connects Sofia to Burgas and the Black Sea coast, as well as Istanbul.
A2 ends about 80 km from each city; the rest of the route is a regular 2-lane road. Extensions into the cities are planned.
A3 is planned to be from Sofia to Thessaloniki, about 2/3 of the route is already in service.
Coming from North Macedonia, via Kyustendil the roads are relatively good but driving within speed limits would avoid you much hassle caused either by traffic police, or road conditions. From Central Europe you can drive almost the whole length on highways (via Slovenia-Croatia-Serbia or Hungary-Serbia), with only the last 100 km between Niš in Southern Serbia and Sofia being heavily trafficked mountain roads around the Nishava ravine in not the best shape.
Get around
By public transport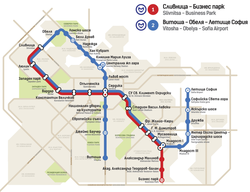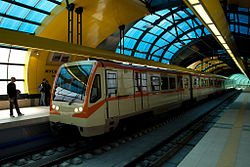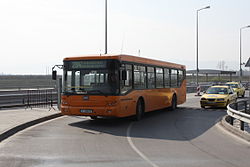 Sofia has a well-developed, cheap, and efficient
public transport system
that consists of buses, trolleys, trams, subway line. The transport network can be confusing for visitors who do not know it well. The public transport operates from 05:00 to about 23:00. Taxis are the only transport option in the night.
The price of a single ticket is 1.60 lev only paid in the local currency cash. There are also 10-ticket carnets for one passenger (12 lev), and daily travel cards (4 lev). Tickets and daily cards can be bought at most newspaper stands especially ones adjacent to public transport stops. If you can't find any, you can almost always buy tickets from the driver, though not guaranteed. Punch a ticket immediately after you enter the vehicle. The inspectors rarely understand English and you might have problems with them if you travel without a ticket or if you forget to punch it. Inspectors ambush and board buses and trams in groups (and their attitude is generally not friendly at all), sometimes accompanied by police, and make no exceptions. The fine is 40 lev (which is the inspector's price of a ticket for your current trip, so you can use your unvalidated ticket on another bus.)
If you are traveling with a large suitcase, it also requires a ticket. The day ticket needs to be shown to the person at the ticket office before every metro trip, as they are supposed to check the date stamp (manually applied at the time of sale) before activating the ticket barriers to accept it. If you are staying for 4 or more days, or 3+ days and arriving directly in the city centre, you can also buy a 3-day ticket on an electronic card from the public transport offices (not from metro stations or at the airport) for 10 lev + 2 lev card fee.
There are 15 tram lines, 9 trolley lines, 93 bus lines and 2 metro lines. Some of the buses cover the area outside the city center including neighboring villages. Useful routes are bus #84 from both terminals of the airport to the center; from the train/bus station to Orlov most - bus #213 or #214 or tram #1, #7 and #18 to Vitosha Street and Sv. Nedelya Square, #1, #6, #7 to the National Palace of Culture, #18 to Slaveykov square or #6 to Macedonia square.
The
subway
in Sofia is still under construction and more lines will be available in the next years. There are two lines - one that crosses from the western edge of town (Lyulin, Obelya) through the city center, the southeast (Mladost) and the airport, and a second one, that crosses from the northwestern neighborhoods (Obelya, Nadezhda), through the central train and bus stations and the city center, to the southern part of the city (Khladilnika) - although it is a bit silly because trains operate two
routes
which each involve a combination of both
lines
. This may become more confusing as the system expands.
On foot
Streets have adequate tiled pavements, especially in the city centre. However, they are frequently uneven and potholed, and walking is further made difficult by parked cars, street vendors and cafes. Except for areas in the very centre, pavements rarely have slopes for wheelchair access or designated lanes for bicycle riders. Pedestrian crossings are numerous and are relatively respected by drivers. Use pedestrian underpasses to cross large intersections, though avoid ones in the suburbs as these are usually derelict.
By mini-bus
Mini-buses (marshrutki) stop if you just wave a hand and usually are fast way to go somewhere without need to change the car. You pay to the driver when you get on the car. Prices are 1.50 lev. You must tell the driver if and when you want to get off.
By taxi
Taxis in Sofia are yellow. Taxis can be caught on the streets or can be ordered by phone, they arrive fast and are reliable. A drive inside Sofia will rarely exceed 10 lev and a trip from the airport to the city center 8-15 lev.
There are many companies offering taxi services, some of them are OK Supertrans taxi (973 2121), €1 Taxi, "962-22-26", Yellow Taxi (91119) and Radio CV Taxi (91263) with fares around 0.80 lev/km. Some taxi companies have smartphone apps available that allow you to register and order taxis to your specific address in real time, thus eliminating the risk of falling prey to scams. As of June 2017, Yellow Taxi has the most user-friendly app for foreigners.
There are some taxis trying to imitate the most popular ones but with outrageous prices (up to 5.90 lev/km) so check before you board, these taxis usually hang around hotels and tourist spots picking on unsuspecting customers, The general rule is that if a taxi driver comes to you and offers you a drive, never accept it because they will try to rip you off.
Taxi drivers may not stop if you hail them on the street and often don't have much change, so plan accordingly (or leave tips!)
By car
Renting a car is possible, but not necessarily a good idea if your plans are restricted to visiting only Sofia and not travelling elsewhere in the country. Driving here can be strenuous for those with less experience behind the wheel - be prepared for traffic jams and disorganized traffic. Those of you who plan on visiting more of the country can rent a car from a local company (much cheaper than the big brands) or use a broker () as some of the local companies do not even have websites.
If you need to park your car, you are recommended to do it in a paid guarded lot. Parking in the center is difficult and you may be parked illegally without knowing it; foreign license plates may attract unwelcome attention of Bulgarian police and of criminals. Even if there are other cars parked in the area, double check that there are no signs or pavement markings prohibiting it. Parking in the central city area on working days is paid , it is divided in a so-called Blue Zone ("Синя зона") - 2 lev per hour, and a Green Zone ("Зелена зона") - 1 lev per hour. If you have a Bulgarian mobile number, you can also pay by SMS - send the vehicle registration plate number to "1302" for the "Green zone" or 1303 for the "Blue zone". This will charge parking for an hour through your phone bill. Five minutes before the prepaid time is up you will receive a warning sms. You can either send another message for another hour or move your car.
Pay attention to trams or buses stopping in the middle of the road. If you see a stopped tram or bus on your left, you must stop and let the passengers get on/off, according to the Bulgarian traffic code. Failing to stop in this manner may be very dangerous.
If you drive out of the city (or enter the country by road) you must have a toll sticker - vignette ("vinetka" in Bulgarian). Buy it right away at the border or before leaving Sofia from any fuel station. The price is 8 euro and the sticker is valid for one week (one-month, €15, and one-year, €50, vignettes are also available). You must place it on the front window, in the bottom right corner. The fine, if you forget the sticker, is about 200 lev.
Driving with your lights on is compulsory, day and night, all year long.
By bicycle
Sofia is one of the greenest capitals in Europe, with the big park zones ideal for biking. Slow traffic in downtown is perfect for cycling. On a bike you will save time and will enjoy sport activity. Sofia also has a few bike paths around the downtown area and in districts such as Mladost, Nadezhda, Hipodruma. Be careful as many cars double park and may open doors without noticing you.
Rent a bike
) Bike rental operates 10:00-20:00 (April to November). Discover Sofia by bike map or joint to an experienced bike guide.
See
Sofia is one of the oldest cities in Europe and has ancient ruins throughout the city center.
In the administrative center of Sofia, the streets are covered with a specific yellow pavement. It was laid in the beginning of the 20th century and were a present to the Bulgarian Tsar Ferdinand for his wedding from the Austria-Hungarian royal family.
Mineral springs
Sofia was founded because of the quality of its mineral waters. In the city, there are 7 independent
mineral water springs
. One of the springs is in the central area of the city and is accessible for everybody - cross the square behind the mosque, next to TSUM (the intersection of Iskar and Ekzarh Yosif streets).
Sofia Public Mineral BathsIt is an old building of interest. It was renovated and is now a museum of the history of Sofia.
Museums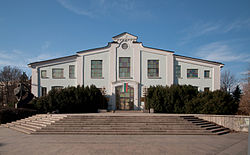 National Museum of Military History

phone: +359 2 946 18 05

address: 92 Cherkovna Str.

Institute of Ethnology and Folklore Studies with Ethnographic Museum

phone: +359 2 988 41 91

address: 6A Moskovska Str.

Has a permanent collection of traditional Bulgarian costumes and a changing exhibition.

phone: +359 2 865 66 39

address: 4 Cherni Vruh Blvd

Has the biggest collection of gigantic minerals in the World.

phone: +359 2 955 42 80

address: 16 Vitoshko lale str. (ул. Витошко лале 16)

The National Museum of History (Национален исторически музей) in the Rezidentsia Boyana in Sofia contains more than 650,000 exhibits and is one of the largest history museums on the Balkans, so be prepared to spend several hours. The aim of the museum is to provide a comprehensive view on Bulgarian history from the prehistory to present, in as broad of a European context as possible. One main attraction are golden or silver mugs and jewellery that date from Thracian (around 4th century BC) and roman periods. About half of the exhibits have English captions.

National Institute of Archaeology and Museum

phone: +359 2 988 24 06

address: 2 Saborna Str.

phone: +359 2 831 30 04

address: 66 Opalchenska Str.

National Museum of Natural History

phone: +359 2 987 41 95

address: 1, Tzar Osvoboditel Blvd

Has four floors of everything from rocks and minerals to insects and stuffed bison. It is a nice way to spend a rainy afternoon.

House-Museum of Ivan Vazov

Museum of Sport

phone: +359 2 930 07 61

address: 1A Bulgaria Blvd

Museum of Paleontology and historical geology

phone: +359 2 930 82 00

address: 15 Tzar Osvoboditel Blvd

National Literature Museum

phone: +359 2 988 24 93

address: 138 G. S. Rakovski Str., floor 2

National Agricultural Museum

phone: +359 2 929 67 53

address: 30 Suhodolska Str.

National Ecclesiastical History-Archeological Museum

phone: +359 2 988 13 43

address: 19 Sveta Nedelya Sq.
Galleries
Museum of Socialist Art

phone: +359 2 980 00 93

address: 1 Batenberg Sq.

Has old Bulgarian art, icons, etc. Also includes collections of the former National Gallery for Foreign Art, which are exhibited along with the 19th- and 20th-century collections of the National Art Gallery at National Gallery Square 500 (Kvadrat 500 in Bulgarian), which is at 1, 19th February St., St Alexander Nevsky Sq. and is open 10:00-18:00 Tuesday-Sunday and closed Mondays and holidays.

phone: +359 2 987 2181

address: 1 General Gurko St
Churches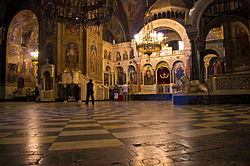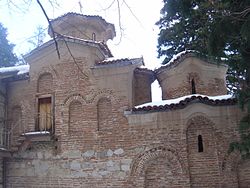 St. Aleksander Nevski CathedralOne of the largest orthodox churches worldwide and the largest in the Balkan Peninsula.

phone: +359 2 959 09 39

address: 1-3 Boyansko Ezero Str.

This small 14th-century church and garden is on the UNESCO World Heritage List. The church contains some very well preserved murals. Entrance is 10 lev, or 2 lev for students, however only 8 people are permitted inside at once, for a maximum of 10 minutes. During busy periods you may have to wait up to or over an hour, yet the queue is self-policed so be prepared to stand outside doing nothing for a while and don't forget who arrived after you! This is at the foot of Vitosha mountain and is a good starting point for day trips in the mountain, including a 1-2 hour hike to Boyana Waterfall and/or Lake (the lake is nothing special, and the paths to the waterfall are not well-defined and occasionally involve climbing up bare rock - there is an easier route and a difficult route which has gradients of up to 1:1).

Church of St. George

Hagia Sophia Church

address: 2 Paris str.

It is across the square and to the right from the Aleksandar Nevski Cathedral. It was built in the 6th century over an even older church. It is a witness of the whole Bulgarian history and is a valued cultural monument. In the 14th century it gave its name to the city of Sofia. It was destroyed several times and during the Ottoman rule it was used as a mosque.

phone: +359 2 9815548

address: 125, Knjaz Boris I

Holy Masses: Sa 17:30 & Su 10:30 in Bulgarian; 12:00 in Latin; 18:00 Bulgarian

Saint Nedelya
Other places of worship
Historical buildings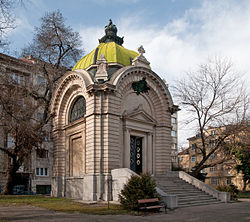 Amphitheatre of Serdica

Battenberg MausoleumThe mausoleum and final resting place of Prince Alexander I of Bulgaria (1857–1893), the first Head of State of modern Bulgaria.

Knyaz Battenberg's Palace
Monuments
Monument to Vasil LevskiIt commemorates the hanging of Bulgarian national hero and major revolutionary figure Vasil Levski in the city on 18 February 1873.

Monument to the Tsar LiberatorRepresenting the power of freedom and across from it are the National Assembly and the Bulgarian Academy of Sciences.

Monument to the Unknown SoldierAcross from Aleksandar Nevski cathedral; on the side of Hagia Sofia's Church.

Tsar Samuil MonumentA statue of the Bulgarian warlord and tsar Samuil, who ruled Bulgaria between 997 and 1014.

Russian MonumentAn obelisk built by the Russians.
Open spaces
Largo3 buildings of Socialist Classicism architecture.

Prince Alexander of Battenberg SquareThe largest square in Sofia. Includes the National Art Gallery.

Petko R. Slaveykov SquareA famous square, real Sofia center with a monument of writers father and son Slaveykov. It`s a biggest open-air book market in the Balkans.There are round benches and street musicians act very often.

Patriarh Evtimiy SquareA popular meeting place.

Park National Palace of Culture
Parks and gardens
Borisova Gradina (Boris Garden)The oldest and best known park in the city. Includes the Ariana Lake.

City GardenIt's the oldest and most central public garden, in existence since 1872.

address: 1 Srebarna Str.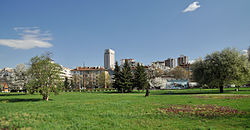 Yuzhen Park (South Park)A nice park in the south-east part of the city, although a bit too crowded on weekends. Vibrant with open area cafes, entertainment for children and grown-ups, and a few ponds with ducks.

Oborishte Park

address: Yanko Sakazov blvd

A park near the center of the city with places to eat and drink. Also known as "Zaimov Park".
Bridges
Orlov MostA bridge over the Perlovska River near the centre of Sofia

Lavov MostA bridge over the Vladayska River near the central train station.
Other sights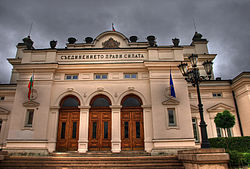 phone: +359 2 939 39

address: 2 Narodno Sabranie Sq.

phone: +359 2 9308

address: 15 Tsar Osvoboditel Blvd

phone: +359 2 979 53 33

address: 1 15 November Str.

phone: +359 2 811 92 19

address: 5 Dyakon Ignatiy Str.

SS. Cyril and Methodius National Library

phone: +359 2 988 28 11

address: 88 Vasil Levski Str.

phone: +359 2 916 63 00

address: 1 Bulgaria Sq.

The biggest congress center in the Balkans (a massive monolithic communist-style building). If asking for directions, ask for NDK (en-de-ka), as most Bulgarians refer to it by this acronym.

Central Military ClubIt`s a multi-purpose monument of culture building in the city center. Also known under the name Kristal.

Snail House

address: Boulevard "Simeonovsko Shose 187, 1434 Simeonovo

Novelty architecture.
Do
Cafes and restaurantsSofia is full of trendy cafes with outdoor seating in the summer and good-quality restaurants.

phone: +359 2 8006266

During summer, open air shows in the evenings are offered.

Arena CinemaOne of the biggest Bulgarian cinema multiplex. Cinemas in Sofia play all films except children's films in their original language with Bulgarian subtitles.

phone: +359 885523630

address: Dyacon Ignatiy, 5

Visit the greenest capital of Europe on a bike. Every day free bike tour (12 April–November) at 11:00 and 17:00. Escape from the city and join to the bike countryside tour around Sofia. Start Point: National Theater "Ivan Vazov"

PlaygroundsIf you're travelling with kids, they might love playgrounds. The "rich" one is in the park that holds Vasil Levski stadium (close to the corner with Orlov Most; there are actually two playgrounds close to this corner and you'd look for the one more inside the park).

Eat with a local Bulgarian Host

phone: +359 82885950

address: ulitsa "Krasna kitka" 5, Sofia, Bulgaria

Experience a complete 4-course authentic Bulgarian food with a local chef at her private garden in Sofia city. Get a taste of local culture and authentic food.

The New Sofia Pub CrawlNightly pub crawl departing at 21:00 from Crystal Garden. The guides will take you around to different local pubs and clubs tailored for the number of people participating on the crawl and the night of the week. A few of the stops give you a free drink but at others you will need to pay. During the tour you will learn about some of Sofia's history and its art scene. On a weekend, with a presumably large crowd, the crawl will tend towards clubs and larger pubs. On a weeknight, and with a smaller crowd, the crawl will stop at smaller pubs which seem to be local favorites and hidden gems which you are unlikely to stumble upon yourself. Tickets can be purchased online for 20 lev and presented on your phone.
Buy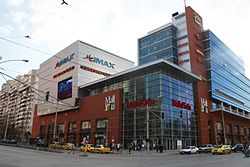 It is strongly advisable to skip exchange offices on the street and use exclusively banks for exchanging money. Some exchange stalls will try to scam you by buying your currency at very unfavorable rates. See
Bulgaria#Money
for exchange rates.) It's also possible to change money at a good rate in casinos if you play there.
ATMs are widely available and accept all major credit cards (Visa, MasterCard, Amex, Diner's, etc.), although you have to check your daily limit with your bank. ATMs will let you withdraw at most 400 lev in one go, but if your card limit allows it, you can make two or more withdrawals.
Credit cards are widely accepted in larger stores and supermarkets, but in small souvenir shops or restaurants you will definitely need to carry some cash.
Souvenirs
can be bought many small shops in the subways in front of the old Party House and in the metro station at the Largo. The Ethnographic Museum has a small shop tightly crammed with souvenirs of all kinds from all over Bulgaria (on the right, just as you enter the main entrance). Antiques and souvenirs can also be found in Aleksandar Nevski square, in stalls just opposite the church.
Vitosha BoulevardIt`s the main commercial street in the centre of Sofia. Its pedestrian part is a popular place for walks. It is known as the most expensive street in Sofia.

address: 115 Tzarigradsko Shose Blvd

a convenience store, Largest shopping mall in Bulgaria; contains also a Carrefour store, large Arena cinema, a lot of cafes and restaurants, etc.

Central Sofia Market Hall

address: Knyaginya Maria Luiza Blvd

Has many stalls selling all kinds of food, drink and cosmetics. The second floor has various fast-food cafés.

phone: +359 2 926 07 00

address: 2, Knyaginya Maria Luiza Blvd

phone: +359 2 929 33 77

address: 101, Aleksander Stamboliyski Blvd

Contains a Piccadilly store and a Cinema City multiplex.

phone: +359 2 865 72 85

address: 2 Arsenalski Blvd., floor 3

phone: +359 2 971 02 13

address: 52 Kosta Lulchev Str.

Also has an entertainment center.

Serdika Center SofiaContains a Piccadilly store.

Sofia Outlet Center

Bulgaria Mall

Paradise CenterLargest shopping mall in Bulgaria; contains also a Carrefour store, large Arena cinema, a lot of cafes and restaurants, etc.

Sofia Ring MallContains a karting track and a Cinema City multiplex.
Eat
Fast food
You can easily find take away food in Sofia. For less than 2 lev you can get a slice of pizza, a hot-dog or a sandwich. You can get more traditional Bulgarian food in bakeries, offering banitsa and other kinds of pastry. This food is often consumed with ayran or boza. Another possibility is to get a katma, which is a big pancake filled with cheese, ham, jelly or chocolate.
Budget
Pizzeria-type restaurants and snack bars can be found all over Sofia. Although many are very uninteresting for the traveler looking for a meal with a local flavor, some include excellent Bulgarian dishes.
phone: +359 2 988 82 58

address: 44 Neofit Rilski Str.

Popular in Sofia, get there early or reserve if you want a table in their courtyard.

BaаlbekThis is great Arab food. Downstairs is take-away kebabs and falafels, and upstairs a small eat-in. Excellent hummus and salads, etc., and cold beer.

Trops HouseIt`s a fast-food type of place, offering traditional Bulgarian meals and drinks. It can be found in several locations throughout the city center.
Mid to High End
Happy's Bar and GrillHappy's is the Bulgarian equivalent of an American diner, and the Sofia representative of a nationwide chain. There are English-language menus, and the staff (all microskirted young girls, who apparently have to be smiling when they serve you) all seem to have at least some English as well. Portions are generally huge and represent a sort of "watered down" version of their traditional Bulgarian equivalents, although more Western fare is also available.

Pizza VictoriaOne of the best Bulgarian pizzas.

GodzilaGodzila's first restaurant opened in 1999 in the sea capital of Bulgaria - Varna . There you can try some fresh salads, juicy barbecue, delicious pizza and various other dishes. The menus are also written in English and the staff speaks English as well. There are traditional Bulgarian cuisine and Western cuisine as well.

Pod LipiteVery good traditional food. Reservation is required.

phone: +359 2 987 27 23

address: 18 Aksakov str.

This place is always fairly busy with a trendy crowd. The decor is modern and cool, and the people typically good looking. The service here is usually pretty nice, and many of the wait-staff speak English. The food is consistent and enjoyable.

Carrera

phone: +359 2 960 28 66

address: 4 Golo Bardo Str.

A fairly modern restaurant over in the Lozenetz area. The decor is well done, the service good, and the food very good. Prices are in line with the quality and style of the place. The wine selection is excellent. They also have a nice summer/winter garden area.

phone: +359 (2) 931 31 48

address: 75 Kozloduy

Amazing restaurant just off one of Sofia's main streets. The decor is old-style Bulgarian and the food is traditional Bulgarian, plentiful and very, very tasty. Entertainment includes a Bulgarian walking band and guests are primarily locals. Staff is very friendly and most speak English. Reservations are necessary, even on weeknights.

phone: +359 2 8558804

address: Bul.Ovcha kupel and ul.Zhitnitsa crossroad

Try Bulgarian national cuisine - in a traditional Bulgarian home atmosphere. Nicely decorated restaurant with beautiful open garden, typical folk music.

Old Days (English version of the name)Bulgarian national cuisine.
Drink
Cafés
address: Corner of Vasil Levski Blvd & Gurko Blvd

phone: +359 2 980 49 40

phone: +359 88 560 08 30

Art Club since 1991

address: 6 Tsar Ivan Asen II Str.
Bars
Cocktail Bar - tasty cocktails, crowded in the evenings, has a summer garden (it is actually in a small park, which becomes occupied by the customers)
Bar 5L - Speakeasy (5L is a transliteration of rooster in Bulgarian). Designer cocktails in cozy atmosphere. The key, corresponding to the day of the month, unlocks the door (not sure whether they change it at midnight).
Nightlife
The Sofia nightlife is vibrant, concentrated mostly in two areas - the city center and around Studentski grad (Студентски град/Student's town), which is the neighborhood where are the university dorms. There are frequent live performances in various venues, check the freely distributed guides in various shops and restaurants like Programata (Програмата/The Program). The primary distinction between the clubs is whether the music includes chalga (чалга/folk-turkish-greek-serbian influenced local genre) or not. Expect that any local acquaintances will have strong feelings whether they attend or not the chalga clubs. There are hundreds of clubs and bars, with prices from 2 leva for beer and 5 for cocktail to luxurious places charging exorbitant sums. It is better to pay with cash, as POS terminals are not widely available, especially in the cheaper places. The people start to gather after working hours for a beer, cocktail or glass of wine, moving to dinner around 20:00 and clubs and discos after 23:00.
In the warm months, crowds overflow from the more popular places like
Bilkova
(Билкова/The Herbal) on the street. The centrally located parks and gardens like Crystal (Кристал) and Gradinkata na Narodniya (Градинката на народния/The garden of the national theater) and crowded during the summer, with drinks provided from nearby shops or cocktails in disposable cups.
Carrusel. Upscale club, hosting DJ parties and special events.
Culture Beat. Boutique cafe, bar, and nightclub, in NDK (National Palace of Culture). Great view from the terrace in the summer.
Gramophone - contemporary music
RocknRolla - large underground venue with rock music, on Garibaldi square
Yalta - the biggest, oldest and most famous disco in Sofia, existing since the communist times, resident and guest DJ parties and events. EDM, house.
Bedroom Premium Club - R&B, hip-hop, house
Stroezha - rock and contemporary music
Onyx - contemporary music
Sugar - hip-hop
Bar Dak and Bar Dak 2 - bars
Once Upon a Time Библиотека - housed in the building of the National Library, rock.
Club Alcohol - rock
Mixtape 5 - huge club, next to NDK (National Palace of Culture), various events.
Sofia Live Club - live events, in NDK
Club Terminal 1 - big venue, mostly rock
Club Mascara - in the building of the National Opera, contemporary music, house.
Megami - in the Marinela hotel, chalga, upscale.
BIAD - Rakovski streer, next to Memento, chalga.
Club Revue - opposite of the National Assembly, chalga.
Dada Cultural Bar - tango, salsa, live performances

ApartmentPopular among locals as well as foreigners is the "apartamenta", some sort of private club in the second floor of a turn of the 19th century mansion where you find a series of rooms, all in different styles and wall-drawings, colourful tapestries, etc. Go to the right, get a drink in the kitchen (everything non-alcoholic is 4 lv), and just pick and choose a room which looks cozy enough (shouldn't be too hard to find one with all the couches lying around). If you love the music, there are Mac computers in most of the rooms where you can pick something out of the playlist. Have a game of chess. There is also a Cinema room, if there is nothing running just go in, pick a movie out of the list and start the projection. There is also home-made chocolate and cream and all different kinds of organic drinks like Himalayan tea or Kiwi nectar.

LodkiteIn the huge "Borisova gradina" park near the stadium (just ask you way around) you'll find this open-air place, in an old leisure-park parcour (you know, that type of small water-channels where kid can drive around in little gondolas). The boats have gone and the channels serve as improvised sitting places (basic tables made out of wood planks put between the two sides of the channel). There are also some tables on the court and lights decorating the trees illuminate the scene. The public sound system has experimental electronic music, ambiance, progressive rock, or whatever the DJs feel like. The later it gets, the more you'll find people sitting everywhere on the floor on the trees. On warm summer nights, this place is a must-be.

The largest discos in Sofia are concentrated in Student's town (Studentski grad) in the southern part of the city and can be reached by buses #94 (from Sofia university and Culture palace), #280 (from Sofia University, Orlov most) and #102. The last bus to Studentski grad departs from the city center at about 11:30PM (from Sofia University and Culture Palace). The entrance fee for most discos is between 1 and 5 leva (€0.5 - 2.5). Discos that can be visited there include: Avenue, Tantra, Orient 33, Jim Beam, Maskata, Stroezha.

address: boulevard Tsarigradsko shose 111

This place plays mostly drum&bass and dubstep music.
Sleep
Budget
Mid-range
phone: +359 2 8070707

address: 111 Aleksandar Malinov Blvd

Modern five star hotel offering conference facilities and spa centre.

Holiday Village DiplomatIs near Vitosha mountain and 20 min away from the city centre. Spacious rooms, large park area and friendly staff.

Maxim HotelA hotel 5 min walking distance from the train/bus station and 5 min away in the opposite direction from downtown Sofia. It is a cute hotel with a nice bedroom and also a living/TV room, large private bathroom and includes breakfast buffet in the morning. Only negative is they do not have an elevator. Cost in slow season was €60 for 2 people, €50 for one person.

phone: +359 2 419 19 00

address: 64, Tsarigradsko shose Blvd

Business 4-star hotel near airport, ideal for business and leisure.

address: 15, Lyuben Karavelov St

A charming B&B in the Red House cultural centre.

phone: +359 889138298

address: 12 Stefan Stambolov Bul

Just opened small and cozy guesthouse in the very center of Downtown, eco-friendly, offers individually designed en-suite rooms, also deluxe dormitories and studios, furnished and supplied with all natural materials and fabrics/linens, pillows by choice, free parking during the weekends, free WiFi, 40" LED HDTVs and individual PCs in some of the rooms!

phone: +359 2 9654444

address: 23, Sveti Naum Bul.
Splurge
Maria Luiza Hotel occupies an exquisite building dating back to the turn of 20th century and listed as one of Bulgaria's cultural monuments of national significance. Maria Luisa Hotel offers a combination of the standards and services found in a luxury hotel plus the privacy and independence of one's own home.

phone: +359 2 9816541

address: 5, Sveta Nedelya Sq.

Impressive 5-storey hotel, in classical design, houses 184 rooms, including 19 suites. All rooms are soundproof, with air condition control, direct dial phone, message alert, TV with satellite program, radio, mini bar.

Park Inn by Radisson Sofia Hotel

phone: +359 2 861 5700

address: Atanas Dukov Str. 36

Set in a building that resembles a baroque castle, this hotel offers 77 rooms and 36 one- or two-bedroom apartments.
Stay safe
Generally, Sofia is a very safe and walkable city, even at night. Nevertheless, you should avoid poorly lit areas and use your common sense. Avoid the area around the central Bus and Rail Station, Maria Luiza Blvd, the dark areas of the city parks and the Lions' Bridge (Lavov Most). And don't go to the Borisova garden, it is very dangerous (especially during the night). Single women and girls should be especially careful. Junkies get high in these areas, prostitutes (both female and transsexual) offer their "services", some people might want to tempt you with touts of contraband (stolen, illegal, etc.) and/or try to mug you. These areas are also frequented by the homeless and the drunk. If your hotel is in the area you'll be alright, just don't hang around it unnecessarily. Try to act like you are familiar with the area (and familiarize yourself during the day) and look like a local. It is wise to choose a hotel/hostel in a good, central location.
Pedestrians should be careful since many Bulgarian drivers do not yield right of way to those on foot.
Do not get into conflict with locals especially if they seem aggressive or drunk, particularly football fan groups who tend to be drunk and aggressive. Avoid wearing football shirts or scarves of the Sofia-based football teams, especially on match days.
Be wary of petty thieves and poorer neighborhoods, as pick pocketing and thefts are common. If you are approached by locals trying to sell stolen goods, give you directions or bother you exercise caution.
If you get in legal trouble with some of the locals, the Bulgarian police and judiciary may not protect you adequately because of corruption and nepotism.
Be careful with taxis, make sure you check the prices first before you get in (the fare is per kilometer and it should be something like 0.79 lev during the day and 0.90 lev during the night, avoid cabs that display their fare as above 1.00 lev), also make sure the cab has the driver's card on the front with his name.
Banks exchange most currency so there is usually no need to use exchange offices which often offer a poor rate, ignore entirely anyone on the street wanting to change money; you will get an awful exchange rate, or a handful of fake banknotes.

Cope
Embassies
phone: +359-2 9461272, +359 2 9461273

address: ul. "Zagorichane" 3, 1111 Geo Milev, Sofia

phone: +359-2-810 2110

address: 26-28, Bacho Kiro 5th fl 1000 Sofia

phone: +359-2-965 1100

address: 27-29, Oborishte 1504 Sofia
Connect
Sofia has a large number of free wireless hotspots in bars, restaurants, and cafés. You may find also in hotels and public areas, like "Park Zaimov". The airport has a free public wireless hotspot, and so does the central train station in Sofia.

Go next
Vitosha is a magnificent landmark mountain rising just south of the capital. It is easily accessible by public transportation or by car and day trips in Vitosha in a sunny day are highly recommended. In the winter it is well suited for skiing and its proximity allows one day ski-trips; in the summer it is great for hiking. A great way to spend few days in Sofia, being on its "balcony," enjoying sunny days on the mountain with a spectacular view on the capital. So going to Sofia provide gives you a unique chance to witness the rare symbiosis of the metropolitan city with its nature park.
Rila Monastery is the most famous monastery in Bulgaria, situated in the huge Rila Massive. It is a 1½-hour drive away from Sofia.
Plovdiv is a large city in Bulgaria. It is one hour (or 2-4 hours by train - frequent connections, price 9 lev per person) drive on a good highway away from Sofia. Plovdiv lies around three hills in the otherwise totally flat Thracian plain. Its historical center, Roman remnants & relaxed feeling make it a great day-trip.
Veliko Turnovo a beautiful city along a winding river, the former capital of Bulgaria in the Middle Ages. The original city castle and walls are reconstructed. Be sure also to visit nearby Arbanassi.
There are also many monasteries around Sofia.
Istanbul is reachable by night train from Sofia Central Station (D 493). The train departs at 21:00 and, as of March 24, 2017, travels as far as Halkali (27 km from Istanbul Sirkeci Terminal). From here passengers take a minibus (included in the ticket price) to Istanbul Sirkeci. Sleeper, couchette and regular seating tickets are available.
Bankya Is around 14.3 kilometres away from central Sofia and offers a range of pools and water springs and a large park near the centre of the city. You can get there by taking the 47,48 or 49 bus from the Slivnitsa metro station.
Bus fares are around 1.60 levs or you can get a all day ticket for 4 levs.