Sohar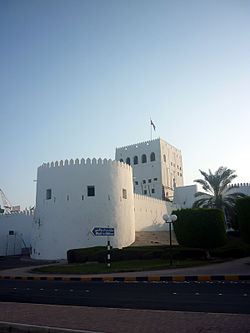 Sohar
is a city in
Northern Oman
, 220 km north of
Muscat
.
Understand
This is the home city of Sindbad the sailor, once an important Islamic port, and the largest town in the country. Nowadays, Sohar has a new port under construction, being built at a cost of RO 120 million. The city is renowned for its copper deposits, and archaeological evidence points to copper extraction being carried out 5000 years ago. There are still three copper mines in operation in Sohar with over 18 million tonnes of copper deposits.
This is an attractive region for tourists due to its clean, safe beaches and the plethora of archaeological features. Visitors will be attracted to its large souq with handy tailors, fruit sellers and fishermen vying for space, and its fort which stands apart with its four-story walls and six towers, an imposing sight overlooking the bay.
One of the first references to 'Sohar' is in the work of historian, Yaqut al Hamawi who implies that the city took its name in the 6th century AH (13th century CE) from a descendant of Noah: Sohar bin Adam bin Sam bin Noah. When the Palestinian Arab scholar Muqadisi visited the city in 10th century AH (17th century CE) he described it as a "flourishing city with a large number of people living there. It is a beautiful city with a comfortable life, ... and its mosque overlooks the sea... the Mihrab (indicator of the direction for prayers) changes colour because it is covered in copper...."

Get in
By bus
By car
=== By plane ===
Daily flights from Sharjah (Emirates)
Get around
See
Sohar Fort and Museum

phone: +968 26 844758

address: Sultan Qaboos Rd

One of the most prominent features in the city of Sohar and was built between the 13th and 14th centuries CE by the 'Emirs of Hormuz'. Imam Nasser bin Murshid Al Ya'arubi managed to conquer and expel the Portuguese from the castle, which was used since then as the administration centre for the rulers of Al-Bu Said dynasty. An escape tunnel runs from inside the fort to the Wilayat of Buraimi, 10 km to the west. It was used as a route to obtain reinforcements and supplies during sieges. The castle features a museum located inside it.

Sallan Park

address: Sultan Qaboos Rd

A nice park.

Fish market

address: Al Bahri Rd (Corniche)

A good place to watch fisherman unload the catch of the day.

Hawra Burghah Fortress

address: Wadi Jizzi

A ruined 13th-century hilltop fortress with commanding views of the wadi and neighboring area. The hill can be climbed most easily from the north, and there are extensive remains of cisterns and falaj (canals), indicating that this was once covered with lush vegetation.
Do
The long quiet beach is ideal for jogging, with or without shoes.

Buy
Al Qala'a Souq

address: Al Qalah St

Has about a dozen shops, with silversmiths, herbal medicines, handicrafts, and antiques.
Eat
Restaurants
A number of Omani coffee shops are present which serve Omani food such as shwarma. Other than that , , and are in the centre.
Golden Goal Restaurant

phone: +968 26 843900

Indian cuisine.

Lobnan Al Akhdhar

phone: +968 22 025553

address: Sohar St

Lebanese restaurant.

Milan Vegetarian Restaurant

phone: +968 26 840107

Indian cuisine.

phone: +968 26 844901

address: Al Muntazah St

A branch of an Omani chain, serving Chinese, Indian, and Arabic dishes.

Sunlight Restaurant

phone: +968 9962 6733

Indian cuisine.
Bakeries
Muscat Bakery Restaurant

phone: +968 9130 5202

address: Mashal An Nur St

phone: +968 26 701500

address: Al Mina Round About
Drink
The only bar where you can drink alcohol is at the Sohar Beach Hotel.

Sleep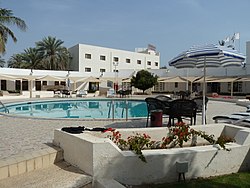 Go next