Sokcho
Sokcho
(속초) is a city in
Gangwon
,
South Korea
.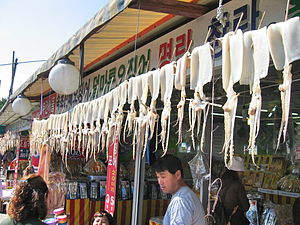 Understand
Sokcho has a population of around 84,000. It's quite a sleepy city and is known as a gateway to
Seoraksan National Park
, which is a 30 minute bus ride from the central hub. Also, the
DMZ
is located an hour north by bus, from the central hub. The city has many beaches and areas to view the East Sea, or Sea of Japan.
An unlikely draw of Sokcho is
Pokémon Go
! Due to a restriction on Google Maps using location data for national security reasons Pokémon Go is not actually playable in South Korea. However Sokcho has an exception to this regulation, and young people are traveling to the town from all over country to play the game.
Get in
By bus
Buses leave from Dong
Seoul
Bus Terminal (Gangbyeon Station Line 2) to Sokcho every 30 minutes.
From
Chuncheon
, they are 17 buses per day leaving from 06:15 until 20:00. The ride takes 2 hours and costs ₩13,400.
Buses from
Gangneung
costs ₩6,300.
By train
No trains serve Sokcho.
By ferry
Sokcho also serves as the terminal for
ferries
from
Zarubino
near
Vladivostok
on the
Russia
east coast.
Get around
By bus
Sokcho is a sprawling city. The buses are infrequent for a Korean city. The two bus terminals (intercity and express) are at some distance from one another. City buses leave regularly for
Seoraksan National Park
. The bus leaves irregularly for Osaek (south Seoraksan) from the intercity bus terminal.
See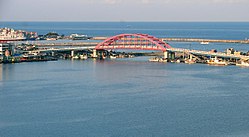 Sokcho Expo Tower. You can get to the 15th floor and have an amazing view of the city. Entrance fee is ₩2500.
Sokcho Tourist & Fishery Market. A big sea food market worth visting.

Abai VillageA small village of North Korean expats. Located just off the main street, a hand drawn (called Gaetbae and only ₩200) ferry will take you across the river to this charming village. You can even pull the boat across as a kind of "exercise." There isn't much to see in the village itself, but it served as scenery for the TV drama "Autumn in My Heart" and serves excellent Abai Sundae, a local speciality and probably the best sundae (not the eponymous dessert) in Korea. Instead of pork casings and blood, this variety uses squid for both the casing and filing. Rice, squid, seasonings and vegetables are cooked and then stuffed inside the cavity of the squid, which is then cooked whole. Then the squid 'sausage' is sliced. It's different in size and has a unique flavor from other sundae in Korea.

East SeaSee the East Sea / Sea of Japan The beaches are not the most beautiful in the world but at night you might get to see a lot of Korean groups burning fireworks at the beach. There are numerous pagodas and observation areas for sunsets with fishing ships in the foreground. Also, the Lighthouse Observatory offers a better-than-average view of the East Sea.
Do
Visit the Seoraksan National Park

Sokcho BeachOnly "open" from approximately July 10 - August 20, but still worth a visit when the beach is "closed", but you can still get on the beach.

BikingTake a bike ride around Yeongnangho Lake The lake funnels into the East Sea and takes about an hour on bike to get fully around the lake. Some stops along the way include Bombawi, a rock shaped like a crouched tiger which offers views of downtown, pagodas and temples.

phone: +82 33-630-5800

address: 88, Misiryeong-ro 2983 beon-gil, Sokcho-si - 강원도 속초시 미시령로2983번길 88 (장사동)

Korea's largest hot springs theme park with huge hot springs facilities such as modern facilities using natural spring water that comes out of the ground at 49°C, outdoor leisure spa facilities, pulp wood baths and warm water baths at 8 degrees. Visitors can enjoy various types of spas against the background of the ulsan stones that stand out like folding screens - the landmark of Gangwon-do.
Buy

If you're lost without an essential and are having trouble finding it try the E-mart near the express bus terminal. Also, fans of dried squid can find a whole package of squid for only ₩10,000, which is the same price, if not less, that most restaurants sell one squid for.

Eat
Sokcho is known for raw fish. It can be quite expensive in restaurants (₩70,000 for two).
Sundubu (soft tofu) can be found in the streets of the tofu towns such as Sinheung Sundubu and Haksapyeong Sundubu. Made from pure Mt. Seoraksan water and seawater, it's chemincal free, nutritious, tasty and only ₩5,000 in some areas.
Sokcho offers a unique twist to sundae (again, not the eponymous dessert) by using squid instead of pork intestines. The squid sundae consists of squid stir-fry, made with noodles and blood sausage, with carrots, onions, seaweed and spices mixed together, covered in egg yolk and fried. It runs about ₩10,000 per dish.

Wangshiprigoihanmadang

phone: +82 33-636-7849

address: Rodeo St

For thirteen thousand won (twelve if you buy a drink) you can eat an unlimited amount of meat, octopus, fish, and mandu. All of the standard types of pork are available, and they even have chicken marinated in some yellow stuff. Many foreigners staying at the House Hostel go there because the proprietor duly recommends it to everyone. There are also stray cats that lurk around which are fun to feed the fish to as long as you don't get caught doing it. Because many places do not serve alcohol and ice cream together, it is important to make an elusive makeoli-ice cream float if you patronize this fine establishment.

Mansuk Sweet and Sour Chicken

phone: +82 33-632-4084

address: 4 -, 471, Jungang-dong

As the name gives away, this chain restaurant is popular for its chicken dishes.
Drink

Sokcho is not filled with the plethora of hofs (restaurants with a drinking atmosphere), but almost all restaurants serve beer and soju (sweet potato wine, 20% proof) for ₩3,000 per liter of beer, 500 mL of soju. Hofs do exist, but are scattered, and mostly empty.

Sleep
phone: +82 33-633-3477 or +82 17-713-0550

address: 452-5 Dongmyeong-dong

A three minute walk from Sokcho Intercity Bus Terminal and City Hall. Cheap accommodation in the central hub of Sokcho. Facilities include free internet access, free laundry, free bike rentals, guest kitchen and common room. Also, comes with an excellent staff fluent in English and serves you with a smile. Booking in advance is recommended since the place is popular with tourists.

phone: +82 10 5365-4591

address: 466-35 Dongmyeong-dong

Beach CampingThere is camping right by the beach in a designated area for only ₩6,000 per night. Look for the "Dome Pensions" the camping area is next to it.

Hotel Seorak Park

phone: +82 33-636-7711

Deluxe, 121 rooms

The Kensington Star Hotel

phone: +82 33-636-7131

Deluxe 108 rooms

Donghae Condo

phone: +82 635-9631

140 rooms

Sajo Resort

phone: +82 33-631-9631

219 rooms

Kumho Resort

phone: +82 33-636-6000

247 rooms

Sorak Pine Resort

phone: +82 33-635-5800

141 rooms

Welcome Condo

phone: +82 33-631-8711

129 rooms

Koresco

phone: +82 33-635-8040

153 rooms

Hanwha Resort

phone: +82 33-635-7711

1,534 rooms

Yunho Condominium

phone: +82 33-631-5000

119 rooms

Youngrangho Resort

phone: +82 33-633-0001

261 rooms
Connect
There are tourist information kiosks beside both the intercity and express bus terminals.

Go next
DMZ About an hours bus ride north is the De-Militarized Zone between North and South Korea.
Seoraksan National Park is about a 30 minute bus ride and serviced by the 3 and 3-1 buses (as of August 2009)
Gangneung Another Kangwon-do's huge city. There are many tourism spots in Gangneung like Daegwallyeong and Coffe street.