Soltau
Soltau
is a modest town on the
Lüneburg Heath
in North Germany that has gained national prominence largely as a result of the attractions such as the
Soltau Therme
thermal baths and the
Heide Park
, one of Germany's biggest amusement parks. The large lake of Südsee is also popular with caravanners, campers and day visitors alike.
Understand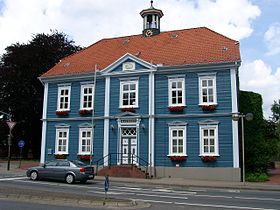 The parish of Soltau was founded around 830 by a few farmers, and the first wooden church was built around this time.
Between 1383 and 1388 the village was established, in order to protect against robber barons; this is now the town centre. The castle there was demolished under terms of a treaty. By way of compensation Soltau was given town rights; however, by 1511 the town was completely destroyed by a fire.
The town hall was moved in 1533 and established in an old chapel in Marktstraße. However, by 1567, another fire wiped out the majority of buildings within the town. Much of Soltau was destroyed over the years, especially in the Thirty Years' War, after which all that was left was ruined landscape.
By 1914 Soltau held the largest prisoner-of-war camp in Germany during the First World War. This was the same year that the mining of potassium salts began at Heinrichssegen Shaft, but work was then halted due to the war after having reached a depth of just 6 meters.
Again by April 1945 much of Soltau was destroyed by air raids in which many civilians were killed. Soltau become a British Garrison in 1949 during the Cold War and was home of Headquarters 7th Armoured Brigade. This was handed back in 1993 and is now used for doctors' surgeries and a business centre.
Situated in the heart of the Lüneburg Heath, Soltau is an officially recognized health resort. Here, active hikers and cyclists will find more than 1400 km (875 miles) of well sign-posted trails leading through romantic heath land, peaceful villages, and river valleys.
Get in
By car
Take exit 44 Soltau-Ost on the A7, then merge onto the B209/B71 towards Soltau. Continue along the B209/B71 until you reach Soltau town centre. Soltau is also accessible via two nation highways (B3, B71) and a regional throughway (L 71).
By plane
Hamburg International Airport, in Hamburg, is north of Soltau and about is about 100 km away (roughly one hour's drive). The airport is approximately 8 km north of Hamburg's city centre and is the fifth busiest airport in Germany. To reach Soltau take the B433, then turn left onto the B432 until you can merge onto the A7. Take exit 44 (Soltau Ost) and carry along the B209/B71 until you hit the centre of Soltau.
Hanover Airport, in Hanover, is about 70 km south of Soltau (roughly 45 minutes' drive). The airport is in Langenhagen which is 11 km to the north of Hanover centre and has easy access to the autobahn. To get to Soltau from the airport head towards the A352, this will merge onto the A7. Take exit 45 (Soltau Sud) for the B3 towards Soltau, this will take you towards the centre.
By train
There is only one train station in Soltau itself and it is close to the centre of town which offers
Regionalbahn
(RB) trains. Trains run from Soltau from roughly 05:00-22:00. It is possible to get to Soltau from
Hanover
,
Bremen
and
Hamburg
. It passes through
Bad Fallingbostel
,
Walsrode
, Schwarmstedt, Bennemühlen, and Langenhagen.
By bus
All major cities offer bus transfers to Soltau such as Berlin, Bremen, Cuxhaven. The buses leave every M, Tu, W, Th and Sa, prices may vary between €22 and €66.
Berlin Bus
Get around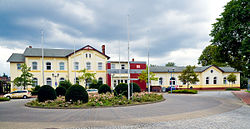 By train
Soltau's station, which is still called Soltau (Hannover) (abbreviated to Soltau ) by the Deutsche Bahn belongs to the Hanover Railway Division and lies on the America Line (KBS 116) from Bremen to Uelzen and on the Heath Railway (
Heidebahn
) (KBS 123) from Buchholz (Nordheide) to Bennemühlen(-Hanover). There are two other stops - Soltau Nord and Wolterdingen - on the Heath Railway.
By bike
The long distance cycle paths RFW 4 (Leine-Heath Cycle Path) and RFW 15 (Heath Cycle Path or
Heide-Radweg
) on the Lower Saxon long distance cycle network intersect in Soltau. A has been implemented. The majority of hotels in Soltau offer bike hires.
By taxi
There are taxi companies in town, and there are always taxis outside the railway station willing to pick up fares. Alternatively go to the taxi rank at Drögenheide 4, .
Parking
There are a number of car parks within Soltau with the majority of them being free. There is a car park on the way into Soltau next to the shopping complex with C&A. There are two free car parks next to Soltau Therme which is just on the edge of the town.
See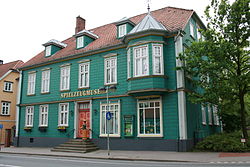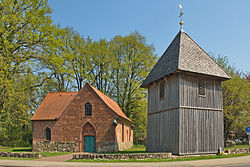 Böhme ParkThis park has the river Böhme running straight through it. There is a lovely café in the park where you can have coffee and cake whilst you take in the scenery.

phone: +49 5191 2620

address: Breidingsgarten 5

This English-style garden is on the outskirts of town. The complex includes moorland just as decorative ponds, orchards and giant rhododendrons, an imposing villa garden as an artificial ruin. The garden is owned by a charitable foundation, and always open to the public. Free guided visits will be held monthly.

Municipal MillThis listed building has been around since 1384 and is on the river Böhme and was owned by the city until 1817 which is why it was known as the Ratsmühle. The mill was eventually shut down in 1963 and has been empty ever since; however, they wish to turn it into a museum.

phone: +49 5191 13056

address: Gottfried-von-Cramm-Straße 1

This is of fun for big and small children, with trampolines, a go-kart track, climbing the volcano and many more attractions. The indoor bistro offers a delicious variety of food for the all family.

phone: +49 5191 82182

address: Poststraße 7

The museum exhibits toys from over four centuries. There are many different toys to see from doll's houses, railways, wooden toys and a wide range of teddy bears and stuffed toys. You may also get the chance to play with some of the toys. A good day out for all the family.

Holy Spirit Church in WolterdingenA small Gothic church (begun in 1396) constructed of brick with a detached wooden bell tower with very old bells (the oldest one dates back to 1350). In 1925 another Art Nouveau aisle was added to the church. The church was reconstructed between 1998 and 2001.
Do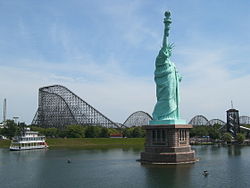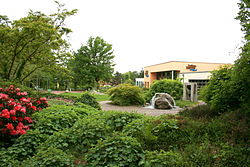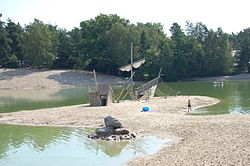 Theme parks
phone: +49 180 5919101

address: Heidepark 1

The Heide Park is the largest theme park in northern Germany with over 50 attractions. This park holds the record for the tallest and fastest wooden roller coaster in Europe complete with a 61° drop. Offers a great day out for all the family.
Sport and wellness
phone: +49 5191 84481

address: Mühlenweg 17

Fun for all ages from babies through to seniors, there is something for everyone. There are three pools, one for children, salt water and an outside pool. There is plenty of space to relax next to the pools or treat yourself to a massage in the wellness centre. There is an onsite restaurant where you can indulge in a snack. There is plenty of free parking close to the Therme.

phone: +49 5196 980116

address: Südsee camp 1, Wietzendorf

A five-star campsite where you can pitch your tent, or rent a Swedish cottage, modern chalet or premium caravan. There is plenty to do from swimming in the outside lake or the indoor pool to jungle golf and entertainment. There are many restaurants on site. Also great for a day trip out.

phone: +49 5191 9676333

address: Hof Loh 7

phone: +49 5191 5050

address: Lüneburger Straße 103

The bowling centre has 12 modern and fully automatic lanes with computer supported screens which show all the results. Play pool, darts or table football or have a meal in the on-site bistro where you can watch the action of the game. Experience moonlight-bowling every Friday from 22:00-24:00 with lights, music and bowling all fused together.

Skate Park

address: Vor dem Weiherbusch

Test out your skills on your skates or skate board at the park where jumps and ramps are provided.
Tours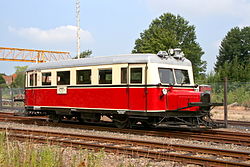 phone: +49 5191 828282

address: Soltau Train station, platform 5

Provides tourist trips on a railcar from 1937 through Luneburg Heide, from Soltau - Luhegrund - Bispingen - Döhle and back again. There is a three-hour stop over in Döhle for people to get off and stretch their legs whilst looking around.
Events
phone: +49 5191 17554

address: Mühlenweg 17

This annual four-day festival offers plenty of drink and Bratwurst stands.

address: Breidingsgarten

This festival allows different regional gastronomic specialties that are served directly from a stone oven. This is a very social event with a folklore programme.

phone: +49 5191 82197

address: Hagen 6

This takes place throughout August and offers a series of cultural open-air events such as poetry-reading, series of lectures, great small-scale performing arts and concerts.
Buy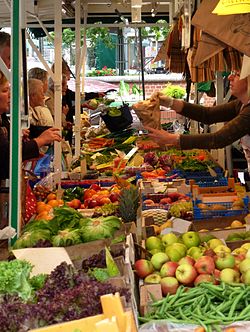 There are a wide variety of shops from clothes, pets, electronics and homeware. Although the town is only small there is something for everyone. Majority of the shops are half-timbered and it is quite enjoyable to sit and watch the world go by in the town square. The shops are open M-F until 18:00, Sa until roughly 17:00 and they are all closed on Sun.
Just on the outskirts of Soltau is an industrial estate where you can find electrical shops, there is also a small shopping centre with a few shops that include furniture, clothes, pets and a food shop. In the centre of Soltau is another small shopping complex with a C&A and shoe shop.
Soltau Farmers Market

address: Georges-Lemoine-Platz

This takes place every Saturday and sells fresh fruit, vegetables and flowers.

Tee in Soltau

phone: +49 5191 70910

address: Hagen 18

This small shop sells a number of different types of tea and liquor. There is also the chance to purchase different types of mugs and candles.

phone: +49 5191 14494

address: Burg 8

This small shop specialises in different cheeses around Europe. There is also the opportunity to purchase different wines, cognac and whiskey. There is also a little bistro on site.

phone: +49 5191 60280

address: Rahrsberg 7

Open in 2012, over 60 designer brands at 13,500 m². Special features include half-timbered houses with thatched roofs.
Eat

Soltau is in the Luneburg Heide region where the Heideschnucke (moorland sheep) is bred on the moors where they feast on heather and birch tree shoots. It is often found on many of the restaurant menus and has a gamey flavour to it, it is often compared to venison.

Budget
Mid-range
Splurge
Drink
Cafe
phone: +49 5191 13771

address: Marktstraße 8

This is a small confectionary shop where you can purchase hot drinks. There is an outside seating area. There is a large selection of sweets and chocolate available for purchase.

City Café

address: Marktstraße 17

This is a modern cafe with different types of coffee, chocolate and tea. They offer cakes and made-to-order rolls. There is an outside seating area.
Bars
Alexanders

address: Wilhelmstraße 2

A small bistro and bar in the centre of Soltau that stocks a variety drinks.

phone: +49 5191 976313

address: Winsener Straße 34d

There is the chance to see the home-brewed beers being produced in the centre of the room. They serve a number of home brews such as the Malty dark and the hoppy bitterness. The staff are quite happy to show you how the beer is brewed.

Café Babylon

phone: +49 5191 973737

address: Lüneburger Straße 39

A small cocktail bar situated on the outskirts of Soltau.

Calouba

phone: +49 5191 80393

address: Wilhelmstraße 25

This is a fairly small bar with a large selection of drinks available. There is also the opportunity to try shisha (water pipes).

Bierhaus Milljö

phone: +49 5191 13449

address: Georges-Lemoine-Platz 1

A small German bar selling a selection of beer, hot drinks and fruit juices. There is a small area to sit outside.
Sleep
Budget
Mid-range
Splurge
Camping
Connect
Internet café Webspace

phone: +49 5191 929660

address: Bahnhofstr. 18
Go next
Walsrode is a medium-sized town with a large selection of shops. There are many places to visit within Walsrode and on the outskirts, Serengeti Park is worth a visit it is a good day out for all the family.
Bad Fallingbostel is a small town with a number of little shops and a large selection of restaurants. There is a large park in the centre of the town where you can relax by the stream running through.
Verden an der Aller is a large town about 40 minutes away from Soltau. There is a large cathedral in the centre of the town which was built in the Gothic style and is an interesting sight to visit.