Solvang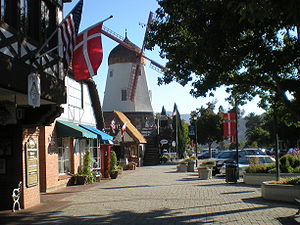 Solvang
is in the Santa Ynez Valley of
Santa Barbara County
in
Southern California
. The city is Danish-themed as if it were the Danishland section of Disneyland, since it was founded by Danish immigrants and quite a few Danish descendants live here. While the tourism industry does try to import genuine Danish culture and architecture, it can be just skin deep. If you have a last name that is common in Denmark, still expect the desk clerk at the hotel to be unable to spell it.
If you are vaguely interested in shops selling Danish wares, or interested in seeing Americans pretending to be Danish, by all means visit.
Get in
By car
California Route 246
is the main artery running through Solvang, where it is locally known as
Mission Drive
.
The fastest way to town is through California Route 154, which connects Santa Barbara and U.S. Route 101 to
Los Olivos
through the
Cachuma Lake Recreation Area
. A roundabout connects Route 154 to Route 246, passing through Santa Ynez.
An alternate route is to take Highway 101 to
Buellton
, where there is a direct connection to Route 246. This route is less winding compared to taking Route 154, but takes around 20-30 minutes longer.
By plane
Santa Barbara
and
Santa Maria
are the nearest airports. Both are small; the nearest large airports are in the Los Angeles metropolitan area.
By train
Although
Amtrak
doesn't serve Solvang directly, Amtrak Thruway coaches connect the town to the train station in Santa Barbara three times daily, where the
Pacific Surfliner
service stops. Buses leave Santa Barbara for Solvang at 6:55AM, 2:25PM and 10:00PM, and depart Solvang for Santa Barbara at 5:15AM, 11:25AM and 2:50PM.
All buses stop in downtown Solvang at Solvang Park on Mission Drive.
By bus
The
Clean Air Express
connects Solvang to Goleta but is of little practical use to tourists. The bus is primarily used by residents commuting for work, with a single bus leaving Solvang for Goleta at 6:15AM, and that bus returning to Solvang from Goleta at 4:34PM.
Get around

Downtown Solvang is very compact and walkable; however, it is advisable to have a car to explore the surrounding area, and because the most convenient way to get into town is by car, you are likely to have one during your visit.
Parking throughout town is free, and even the off-the-beaten-path spaces are not too far from the action. You can also rent a surrey bike and pedal through town.

See
Keep an eye out for
windmills
all along the main streets. Many are shops and restaurants in thin disguise.
phone: +1 805 688-4815

address: 1760 Mission Dr

The 19th of the 21 California Spanish missions, founded in 1804 by Father Estevan Tapis, who succeeded Fermin Lasuen as head of the mission system. It was built between Missions Santa Barbara and La Purisima at the site of the Chumash settlement Calahuasa. It served as a seminary during secularization, and restoration efforts began in 1904 by Alexander Buckler and later the Capuchin friars. Some of the original adobe building material is visible in places. Catholic Masses take place regularly.

Elverhoj Museum of History & ArtDelve into a bit of Danish culture and history.

Hans Christian Andersen MuseumLive out your own fairy tale.
Do
Danish DaysThis festival has been held nearly every year since 1936 and typically lasts from Friday-Sunday during the third weekend in September. The festival features eating contests, Danish maids, raffles, parades, Viking demonstrations, Danish musicians and dancers, and family entertainment.

Alisal Resort Golf CourseGet in a round of golf at the lovely riverside course.

Wine tastingAt your choice of over 100 wineries in the surrounding Santa Ynez Valley is offered daily, typically from 10AM to 5PM (learn about wine country from the Vintner's Association). Don't drive, instead, take advantage of one of many reliable wine tour companies. Most will pick you up right at your hotel lobby and take you out or a full day of tasting with a knowledgeable guide. The typical tour includes tasting at four wineries and a picnic lunch set up for you in wine country.

Grapeline Wine Country ShuttleOffers daily tasting tours and focuses on hospitality, comfort, and flexibility. Guides are accommodating, the shuttles are roomy, and unlike most other services, the Grapeline does not limit the winery choices to a handful of "preferred partner" wineries, so winery requests are encouraged and every trip can bring new discoveries.

Cloud Climbers Jeep ToursFor the more rugged types who like the sun on their shoulders and the wind in their faces. Open air jeeps are more fun, if the weather is right, which is often the case in the mild coastal climate. Beyond winery knowledge, Cloud Climber guides pride themselves in knowing the area history, plant and wild life.
Buy
Downtown is full of
bakeries
offering pastries of all types. Be sure to splurge on a plastic tub of assorted Danish butter cookies. There are also a number of tempting
candy shops
offering assorted chocolates, candies, and European specialty sweets.
Toy stores
also abound in the town. Many specialize in hand-crafted or Danish-style toys.
Farmers market

address: 1st St
*Stock up on fruits and veggies at the farmers market. Take your purchases to the adjacent park for a picnic.
address: 440 Alisal Rd

Sells a selection of European imported groceries. A hearty selection of international wines, cheeses, and condiments are complemented by tea service items. Stop here to gather ingredients for a picnic. Make sure to chill your bottle in the wine bath before you leave.
Eat
Two notable area specialties include
aebleskievers
(a sort of spherical pancake, often served with a raspberry jam sauce) and the
smorgasbord
(a Nordic-themed all-you-can-eat buffet). Both are Danish-inspired and shouldn't be missed! Most local restaurants have a version of one or the other, if not both.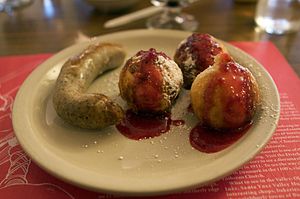 Watch local menus for
ostrich burgers,
which taste much like hamburgers but are much leaner and lower in cholesterol.
The Red Viking

address: 1684 Copenhagen Dr

Offers Danish and American classics.

address: 1672 Copenhagen Dr

Boasts the best aebleskievers in town.

Paula's Pancake House

address: 1531 Mission Dr

A local breakfast institution.

The Hitching Post IIA bit out of the way in Buellton but is now too famous to be passed up. Huge portions of unique and delicious BBQ as well as a fabulous selection of local wines will satisfy any palate.

Mattei's TavernIn nearby Los Olivos started out as a stagecoach stop and now serves fresh California cuisine and local wines.

phone: +1 805 688-8508

address: 487 Atterdag Rd

Solvang's largest patio dining restaurant. Housed in an actual greenhouse structure and family run. A local and tourist favorite.
Drink
After the smash hit movie, the vineyards and wineries of the Santa Ynez Valley are more famous than ever.
Wineries
Buttonwood Farm Winery & Vineyard

phone: +1 805-688-3032

address: 1500 Alamo Pintado Rd

Perhaps best known among Santa Barbara wineries for their excellent dessert wines. They have a picnic area for your Santa Barbara wine tasting experience.

Lucas & Lewellen Vineyards Tasting Room

phone: +1 805-686-9336

address: 1645 Copenhagen Dr

A beautifully appointed and fun tasting room located in the heart of the charming village of Solvang, featuring some of the finest of Santa Barbara County wines. They grow 25 grape varietals on their 400 estate acres which winemaker Megan McGrath crafts into award-winning wines. Open from 11-5:30 daily and later on Friday evenings throughout the summer.
Sleep
Go next
There are several
beaches
following Highway 101 South. Other
California missions
near Solvang include Mission La Purisima Concepcion (101 South at
Lompoc
), and Mission Santa Barbara (101 South to Santa Barbara).