Somerville
Your dad might still derisively call it "Slummerville", but today that tired old moniker couldn't be further from the truth. Packed with upwardly mobile professionals and longtime residents,
Somerville
is often voted an "All-America City"
and
the best-run city in
Massachusetts
. It would seem civically engaged folks can achieve uncommon results; and Somerville fosters an environment of cooperation like no other. Locals here are quick to enjoy the fruits of their artistry, and you'll find top notch options for dinner, drinks, and dancing all in abundance within Somerville's borders. Lurking just to the south, big brothers
Boston
and
Cambridge
provide options and opportunities for many of Somerville's creative class residents.
Understand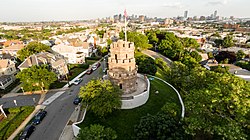 Originally a part of
Charlestown
, Somerville was used mostly as farmland and grazing pastures for hundreds of years. During the 18th century, Washington Street and Somerville Avenue came to be known as "Milk Row". These convenient roads were used by dairy farmers to transport wares into local Boston markets. The intersection of these roads created Union Square, a new and (relatively) bustling nexus for early settlers.
Prior to the Revolutionary War, Somerville was no stranger to tyranny. Vast amounts of Massachusetts gunpowder were stored at the Old Powder House, which the British successfully raided in 1774. These hostilities caused great outrage among the colonial population, and led to a popular uprising. This event is considered by many historians to be the point where public sentiment within the colonies turned in favor of war with England.
During wartime, the geography of Somerville's Prospect Hill made it a fitting place to command an army. Thanks mainly to its height and views of the area, it was fortified with Continental Army troops late in 1775 and became known as "The Citadel". To celebrate the new year, the Grand Union flag (a pre-cursor to the modern American flag) flew here for the first time January 1st, 1776. Many consider this to be the first official raising of any American flag.
After the revolution Somerville continued to grow, separating from Charlestown in 1842 before incorporating as a city in 1872. Its population exploded as its economy changed from mostly agrarian to a diverse industrial base. Bricks, railroads, and meatpacking industries were all booming, and the new Ford assembly plant built in 1926 kept businesses in the black well into the 20th century.
Just like Boston (and many other American cities), Somerville was on the downswing after WWII. Factories had closed, the trains stopped running, and anyone who could afford it fled for the suburbs. The blight continued for decades, until the first seeds of life began to return. During the mid 80s the MBTA re-opened the Davis Square train station on the Red line. By the 90s, higher paying technology and biotech jobs started to appear, and crime rates began to drop.
Now in the 21st century, Somerville's biggest challenges have become gentrification and public transit. Buildings you couldn't pay people to take off your hands in the 80s now trade for millions of dollars. In 2006 the MBTA promised to extend the Green line into Somerville, connecting several underserved areas. Once mandated for completion by December 2014, no progress has been made to date. (Mention this to any local for a surefire conversation starter!) These aren't easy problems to solve, but if any city has both the will and the aptitude—it's Somerville.
Neighborhoods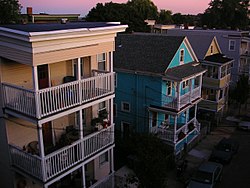 Davis Square
: This is a great late-night summer hangout, especially given all the shopping and dining to be found here. It's right on the Red Line, and also a major bus transfer point. Tons of college folk linger in the brick plaza. Head up Holland St from Davis to find Teele Square. It's a bit less crowded here, and has a lot to offer in way of local pubs and restaurants. Walk College Ave instead to be brought to Powderhouse Square. Mostly residential, but not without its interesting sights.
Union Square
: It's not on the Red Line, so it can be a little off the beaten path. From the Sullivan Square Orange Line station it's a 15 minute walk, or there are buses always arriving from Central, Harvard, Porter, Davis, and Lechmere T stations. You'll find a number of Brazilian restaurants and stores around, the community extends all the way to Inman Square in
Cambridge
with another pocket in Allston. Union Square is nice, featuring quaint brickwork and benches created by local artists. A major reconstruction of Somerville Avenue saw the installation of better lighting, more traffic lights, and raised pedestrian crosswalks.
Winter Hill
: Located roughly north of Highland Avenue and west of the McGrath Highway, Winter Hill is home to a mix of restored homes and aluminium-sided fixer-uppers, replete with china gnomes and bathtub Virgin Marys. Once known as the home base of Irish gangsters Whitey Bulger, James "Buddy" McLean, Howie Winter and the notorious Winter Hill Gang in the 1960s and 1970s. Winter Hill is now, like much of the rest of Somerville, experiencing gentrification and a resulting rise in property values and rents. Despite these changes, the area continues to hang onto its neighborhood flavor and is home to a large community of Irish, Italians, Brazilians, Portuguese, Cape Verdeans, and other ethnic groups.
Get in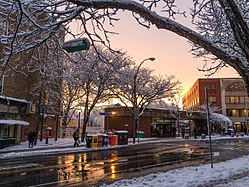 Since Somerville is so tightly bound to Boston, please refer to the
Get In
and
Get Around
sections of that article for all the gory details. Somerville also shares several transit options with nearby
Cambridge
.
By public transit
For a city as densely populated as Somerville, the dearth of rapid transit is surprising. The only T stations within Somerville's borders are
Davis
on the Red line, and
Assembly
on the Orange. Around the perephery, several other stations serve Somerville, if you don't mind a little walking.
Harvard
and
Porter
, both on the Red line are often convenient.
Sullivan Square
on the Orange line plays host to an array of busses, and
Lechmere
on the Green line can sometimes be helpful.
If you really want to explore the city, you'll need to get on the bus. Sullivan Square probably has the most options; the
#89
and
#101
run down Broadway, the
#90
runs down Highland, and the
#95
runs along the Mystic to Medford. The
#86
heads to Harvard and stops at Union Square on the way, while the
#91
and
CT2
from Sullivan are also bound for Union Square. If you're starting from Lechmere, the
#87
will again stop at Union Square on its way to Davis.
On the off chance you're arriving on the
Fitchburg Line
of the Commuter Rail, it stops at Porter Station. It's much more convenient for you to get off here, rather than heading all the way downtown to North Station.
By car
Driving to Somerville isn't
totally
insane, but traffic will be intense and parking will be limited. Davis Square in particular is notorious for its congestion. When you arrive at your destination, make sure to get your buddy's visitor parking pass. Without it you'll be ticketed for parking onstreet without a permit.
You can take
Interstate 93
from the north or south to any of Somerville's three exits: 29, 30, and 31. From the north west both
Route 2
and
Route 3
each come very close to Somerville's borders, but you'll need to use smaller city streets to get where you're going. Get ready to face some truly authentic Boston driving along the last mile or two of your journey!
See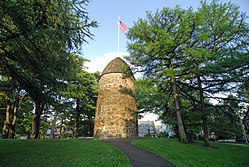 Somerville doesn't really have any show-stopping "must see" sights. It's all about relaxing, taking your time, and letting the quirky character of the neighborhood soak in. For example you might see a few of the 200+ backyard shrines, built to honor the Blessed Virgin Mary; often referred to as "Bathtub Marys". In Union Square, another walkable hotspot, you can find scores of whimsical benches painted by local artists.
Brickbottom Artists Association

phone: +1 617 776-3410

address: 1 Fitchburg St

phone: +1 617 628-9303

address: 115 College Ave

Not really a museum, but sort of. Picture a gorgeous old building (once a Unitarian church) lived in by a Yoga-practicing artist couple, who often look inward for inspiration. Much of the work is influenced by Russian mythological and religious icons. No one's really sure exactly when it's open, so go poke your head in if you happen to be walking by. Truly one of a kind, and only in Somerville.

The Old Powder House

address: 850 Broadway

This is the oldest stone building in Massachusetts, dating from around 1704. Once used to store colonial powder that would propel the muskets fired during the Revolutionary War.

Prospect Hill Monument

address: 68 Munroe St

Climb this tower for great views of Boston. Check out the slightly unfamiliar flag flying atop the structure. This was a Betsy Ross original; and on January 1, 1776 the tower was the location of the first American flag flown.

phone: +1 617 666-9810

address: 1 Westwood Rd

Volunteer run, visits are by appointment only.
Do
Most tourists spend their time near Davis and Porter Squares, within walking distance of each other. Residents sometimes avoid those crowds by hitting their favorite spots in Union Square and the Winter Hill area. They're further from the T, but it's a great way to get out there and meet some real Somervillians.
Events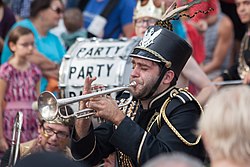 Buy
Eat
Budget
phone: +1 617 623-8102

address: 674 Broadway

Traditional 1950s dining car in Ball Square, usually has a line out the door on Sundays. Well known for their pancakes, portions are generous.

phone: +1 617-764-5965

address: 66 Summer St

Incredible Pakistani food served out the back of a small grocery store. Mostly a catering place but you can eat what they're making on premises. Definitely the most authentic South Asian food in the area, and probably, in most of New England. The portions are substantial.

phone: +1 617 764-3334

address: 248 Elm St

A small shop, part of a franchise that also has a few outlets in the Washington, DC area, that sells falafel sandwiches and falafel bowls with a build-your-own bar of toppings, which range from sauces to pickles, fried eggplant, and other vegetables. Also serves frites with a range of sauces, including mayo, curry ketchup, and peanut sauce. The falafel and frites are both freshly fried to order and are deliciously crunchy and tender. A cheaply priced place to get an excellent, casual vegetarian meal. Has a few tables for eating in, or take to the nearby square or a park.

phone: +1 617 628-2151

address: 25 Bow St

It is worth visiting Union Square for, especially in the summer months. There's an overhead grape arbor with real fruit growing on it. There's a large breakfast/brunch menu, and very colorful outdoor decor. The menu also includes some Brazilian fare, as well as alcoholic drinks.

phone: +1 617 628-9300

address: 145 Broadway

Ethiopians looking for a new place after they lost their lease took over a local bar and put a partition down the middle, keeping the bar on one side and having seating on the other. The result? Probably the only Ethiopian restaurant in the world with video keno! Townies having a beer watch yuppies chow down on very good yemasir wat.

phone: +1 617 623-8338

address: 704 Broadway

Voted "Best Breakfast in Boston" many times. Lines out the door on weekends. Next door is Ball Square Cafe which is an (at least) equally highly rated restaurant started by original Sound Bites employees that is almost identical in its menu and experience.

phone: +1 617 492-7773

address: 282 Beacon St

A pub that is primarily a bar but has outstanding burgers, fries, and onion rings — and very little else on the menu.

Martsa on Elm

phone: +1 617 666-0600

address: 233 Elm St

Tibetan specialties, including momos and a variety of vegetarian dishes as well as entrees with meat. Lunch buffet.
Mid-range
Splurge
Drink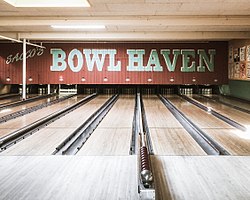 address: 301 Canal St

Hit up this spot in shiny new Assembly Row if you want to try some Slumbrew, but don't want to go all the way to the brewery.

phone: +1 617 776-6896

address: 247 Elm St

An Irish pub once said to pour more Guinness than any other in North America. Live Irish music. Music nightly in the back room, including the amazing Swinging Johnsons on Thursday nights.

phone: +1 617 764-2180

address: 253 Washington St

Head upstairs in this tapas restaurant to find a rum-focused cocktail bar.

phone: +1 617 440-6021

address: 75 Union Square

A very cool unpretentious place for a drink.

phone: +1 617 623-9910

address: 256 Elm St

A bar for the college or "young professional" set in the evenings, has kind of a "bro" frat house vibe. Numerous HDTVs always tuned to the game, good food, friendly staff.

phone: +1 617 591-2100

address: 65 Holland St

Davis Square. Large beer selection and huge selection of exotic mixed drinks including a variety of Sangrias and martinis.

phone: +1 617 623-9201

address: 248 Holland St

Unparalleled selection of Tequila; however, the opinions many vary on the Tex-Mex food.

Sligo Pub

phone: +1 617 625-4477

address: 237 Elm St

Old school dive.
Breweries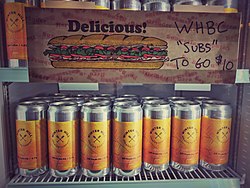 Coffee
Sleep
Somerville is, as mentioned elsewhere, a heavily residential area; hence, there are few hotels. Although there are plans for a hotel in Davis, nothing exists today. Many more options are available in
Cambridge
,
Boston
, or in one of the outlying suburbs along Route 93 or Route 95. Any nearby city will be easily accessible to many parts of Somerville by mass transit.
Connect
phone: +1 617 623-5000

address: 79 Highland Ave

phone: +1 617 623-5000

address: 115 Broadway

phone: +1 617 623-5000

address: 40 College Ave
Go next
Push yourself over the borderline and into "The People's Republic" of Cambridge, where more offbeat shops and restaurants abound.
Stretch your legs at the Middlesex Fells Reservation in Stoneham, where plenty of hiking and biking opportunities can be found.
Already holding tickets? Catch a game at historic Fenway Park situated in the center of the Fenway neighborhood.
Looking for more live entertainment? Allston Rock City across the river to the south west has got you covered.
Yearning for the Somerville of old? Head south to Dorchester, where some areas carry a similar creative spark.