Songnisan National Park
Songnisan National Park
(속리산국립공원) is in landlocked
North Chungcheong
province in
South Korea
.
Understand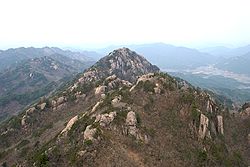 Songnisan means "Remote from the Ordinary World", which should appropriate given its remoteness in the center of South Korea, but rather less so when considering that the park gets about 1.5 million visitors a year.
History
Designated as a national park in 1970, it is home to several temples, mountains and abundant wildlife.
Landscape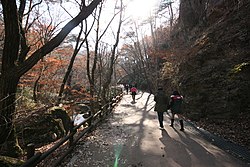 Famed for its scenery covering 274 km², the mountains have dramatic layered clouds that can be seen on rainy days.
Flora and fauna
A good place to find wildlife with Otters, Flying squirrels and Mandarin ducks, as well as protected species including the Small-eared cat and the marten,
Climate
Get in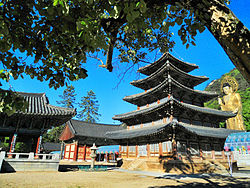 The Beopjusa temple is located well in the park, and connected by road.
Fees and permits
Beopjusa Temple area:
Adults: ₩4,000, group: ₩3,700
Youths: ₩2,000, group: ₩1,600
Children: ₩1,000, group: ₩800
There are additional fees for parking and facilities use.
See
address: 405 Beopjusa-ro Boeun-gun, 충청북도 보은군 속리사면 법주사로 405

Constructed in 553, is a head temple of the Jogye Order of Korean Buddhism on the slopes of Songnisan. Visitors can spend time here in a temple stay. The temple is one out of 7 to be inscribed on the UNESCO World Heritage List in 2018.
Do

There are many hiking trails throughout the park. Some are closed during times when the authorities believe it to be dangerous.

Buy
CU store

address: Sanae-ri, Songnisan-myeon, Boeun-gun,

Shop located deep in the park
Sleep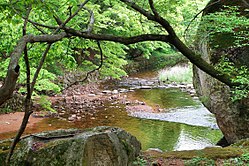 Lodging
The village of Sanae-ri has a lot of accommodation options:
address: 198-1 Sanae-ri, Songnisan-myeon, Boeun-gun
Camping
Backcountry