Sonoma
Sonoma
is a city in the Sonoma Valley within
Sonoma County
, in the north part of the
Bay Area
of
California
.
Understand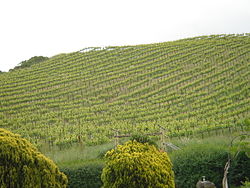 With its central location in wine country, the city of Sonoma, with little over 10,000 residents, attracts thousands of visitors from around the world for wine tastings. The city is based around the Sonoma Plaza (locals call it "The Square" or "The Plaza") which is a historic landmark. Restaurants, bars, boutiques and local businesses cluster around the Plaza, with historic houses and residential neighborhoods surrounding it on the southwest and southeast sides, and hills and parkland on its northern end.
Besides being the center of the modern wine-making industry in Sonoma County, the city of Sonoma has a rich history dating back to the early 19th century. Spanish colonial settlers first established one of their northernmost missions in 1823 when the Mission San Francisco Solano was founded by a Spanish priest, Father Joseph Altimira. The Mission was the first, last, and only California mission established under newly-independent Mexican rule. For a brief period in 1846, from June 14 to July 9, Sonoma was the capital of the short-lived California Republic. There is a monument to the Bear Flag Movement is on the Plaza.
The personality of Sonoma is different than its better-known and more ritzy neighbor
Napa
. "Sonoma Casual" is the fashion for fundraiser invitations, and wealthy retirees mix with wine industry celebrities and a thriving Latino population. Sonoma is also home to a large Nepalese immigrant community. It's an eccentric town whose recent former mayor wore Birkenstock sandals and had long hippie hair; anti-war protesters can occasionally be seen in protests at the Plaza; and you never know when you might see a man riding a bike with a parrot on his shoulder. Sonoma, a small town where everyone knows everyone, is friendly, welcoming, and more affordable than Napa. And yes, particularly in the summer, there are lots of tourists.
Climate
Get in
There are no major freeways that go through or even close to Sonoma. The best way to get in is from California State Route 12 which goes directly through the city. Route 12 intersects with Highway 101 in
Santa Rosa
and I-80 east of Napa near
Fairfield
. Additionally, State Route 116 connects the city to neighboring
Petaluma
, to the west, and also connects to Highway 101.
Those traveling from downtown
San Francisco
or SFO should take Highway 37 to Sears Point in southern Sonoma, then take State Route 121 north, into the valley.
Sonoma County is served by direct flights to Charles M. Schulz Sonoma County Airport (
STS
) from Seattle/Tacoma; Portland, Oregon; Denver; San Francisco; Los Angeles; Orange County; Las Vegas (seasonal); Phoenix; and Minneapolis (seasonal). From that airport, it's about a 45-minute drive to Sonoma, except during commute hours.
You can also fly into Sacramento (SMF) or Oakland (OAK) Airport as well as San Francisco International Airport. From any of those airports, it's much faster to take a car than public transportation, which is limited to buses.

Get around
Unless you plan on staying at Sonoma Plaza and making it the focus of your visit, Sonoma is a car-dependent city, also offering bike tours and locally owned taxi service. If you're staying at a hotel or resort the concierge can organize transportation for you, or you can arrange your own with some of the many options available in town.
By car
Many visitors rent cars, and take advantage of tour services for bringing them to and from wineries without risking drunk driving. Sonoma wine tour services include:
By bicycle
Sonoma's mild climate and beautiful scenery make it great for walking or riding a bike. If you want to rent a bike or take a bike tour, there are three places in town:
By bus
Sonoma County Transit connects Sonoma to the surrounding towns in the county. Their
website
has information about how to purchase passes and taking your bicycle on to buses.
By taxi
Iif you find yourself stranded at a winery after too many tastes of Pinot Noir, it may be handy to have the number of someone who will pick you up.
phone: +1 707-938-8885

address: 254 1st Street East

Sonoma Taxi, +1 707-889-1266. A Sherpa-owned and -operated taxi service.
See
Sonoma is home to the Bear Flag revolt, and the home of General Vallejo; his mansion is a historic landmark that may be seen on any day of the week. If you pay $2 you can get a pass to see his mansion, the Barracks (home of the military back in the 1800s), and the Sonoma Mission (the first church in Sonoma). These three sites are on or near downtown Sonoma plaza, one of the only Spanish-style plazas to be found in California. The Sonoma plaza is a large park which is great for families and it houses the impressive City Hall. Surrounding the plaza are various shops and five-star restaurants as well, if you feel like stimulating the economy.
Do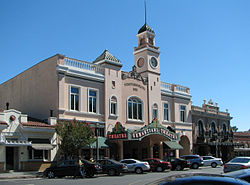 Drink wine at one of the hundreds of wineries in and around Sonoma (see below).
Have a picnic in the park - with a cocktail in the Plaza. Sonoma is one of the few parks in Northern California that allows visitors to drink alcoholic beverages every day of the week, dawn to dusk. Bring a bottle of wine or beer, grab a sandwich or cheese at the Sonoma Cheese Factory and enjoy people watching and the beautiful plaza.

RamekinsTake a cooking course and then relax with a wonderful meal on site. Ramekins a local cooking school and event facility just off of the Plaza, that trains future (and hobbyist) wine country chefs.

Farmer's marketThe most popular place in town on Tuesday from 5:30PM until dusk from May until October. There is live music and lots of farmers selling fresh vegetables and fruits and food trucks and vendors making fresh food for you to enjoy. Locals bring wine and picnics and have parties until the cowbell is rung and everyone heads home.

phone: +1 707-935-1576

address: Performs at Veterans Memorial Building, 126 1st St

A 110-voice community chorus offering three annual concerts. Music for its programs includes classical, folk, pop, gospel, Broadway show tunes and more.
Special events and festivals
;March
Sonoma Film FestivalBrings filmmakers, actors, and fans from around the world to wine country for a weekend. Film showings, parties, and live music.
;July
Old Fashioned 4th of July Parade & CelebrationHas been voted one of the top ten 4th of July celebrations in the United States by Travel and Leisure magazine. Starting with a parade (get there really early, as in 8AM) on the Plaza, followed by live music and food, and ending with what could be the biggest small-town fireworks show you will ever see.
;September
Valley of the Moon Vintage FestivalHas been taking place in Sonoma for over 100 years to celebrate the harvest of the grapes. The weekend includes 12km/5km runs, a grape stomping contest, a gala, art and live music.
Wineries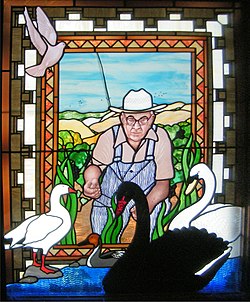 The following wineries and wine tasting rooms are within the borders of the
city
of Sonoma. There are many more wineries throughout
Sonoma Valley
, some only a short car or bike ride from the Plaza.
Most wineries charge for tastings, but will waive fees if you buy wine. You can pick up tasting passes for free or discounted tastings at hotels and the tourism office in the Plaza. If you're a Visa Signature credit card holder you can also get free and discounted tastings throughout the area at some wineries.
phone: +1 707-939-9099

address: 481 1st Street West

Small-lot winery with a tasting room in downtown Sonoma. Adobe Road is owned by race car driver Kevin Buckler (he has won 24 Hours of Le Mans and other races). The Plaza tasting room has a patio in the back for outdoor tastings.

Charles Creek Vineyard Tasting Room & Gallery

phone: +1 707-935-3848

address: 483 First St. W.

Owned by a descendent of John Deere, Bill Brinton, and his wife Gerry, Charles Creek has a quaint and eccentric tasting room full of owls and a giant cow made of corks that makes for a good photo op.

phone: +1 707-935-7115

address: 122 W. Spain St.

Located in a small house about a block off the Plaza (next to the Sonoma Hotel), Roche makes one of the best Chardonnays in Sonoma. Tastings take place indoors and outdoors - grab a glass of wine and people watch from one of the many outdoor tables. The service can be more "car sales" like.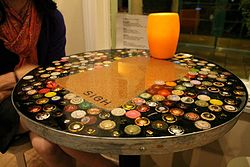 phone: +1 707 933-3230

address: 389 Fourth Street East

The winery owns the oldest vineyard north of San Francisco, planted by Franciscan monks in 1825 to make sacramental wines at the Mission. After the Mission was secularized, General Vallejo made award-winning wines from these grapes. An Italian immigrant called Samuele Sebastiani bought the vineyard in the early 1900s, and his family has produced wine from it ever since.
phone: +1 707-996-2444

address: 29 E. Napa

Sigh is the only champagne and bubbly tasting room in Sonoma. Woman-owned and cute and quirky inside, tables are decorated with bottle tops and it's the only place in town where they will teach you how to saber your own champagne bottle (on Saturdays). Flights and bottles are available - a great place to buy a bottle and go sit on the Plaza too.

phone: +1 707-938-7212

address: 141 E Napa St.

Sojourn is in a cute house just off the Plaza. As this is known as one of the best Pinot Noir producers in Sonoma, you may opt to do a tasting solely focused on Pinot. Friendly people and a great experience if you're interested in a more exclusive - but still friendly and laid back - wine tasting experience.
Kids
Yes, Sonoma can be family-friendly too. Wineries can be somewhat boring for children - but many do offer sparkling or still cider to make the little ones feel a part of the grown-up fun.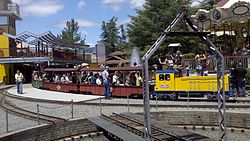 Playground on the PlazaSonoma parents have been bringing their children to play on the playgrounds in the historic plaza for years. Two playgrounds are onsite, including sandpits. Picnic tables are nearby, too.

Feeding (or chasing) the ducks on the Plaza is another family tradition in Sonoma. The Plaza has a group of odd-ball inbred ducks that have been living there for years. Some have poof balls on their heads that make them particularly appealing. Bring some stale bread from the nearby Basque Boulangerie Cafe and feed the ducks.

phone: +1 707-938-3912

address: 20264 Broadway

A famous amusement park in Sonoma that has been around since 1958. A fun collection of trains mixed with train rides and other amusement rides.
Buy
West Napa Street is where most of the shopping is centered in the town of Sonoma. Most shops are locally owned, offering gifts, high end clothing and accessories. Wine shops and tasting rooms are plentiful, and bringing home a bottle of wine from a favourite winery, a corkscrew, wine glasses, or a Sonoma focused magnet is a must for any visitor.
phone: +1 707 935-3392

address: 117 E Napa St

A boutique offering higher end artsy women's clothing, accessories and shoes, including Tom's.

phone: +1 707 996-4465

address: 201 W Napa St

The only department store in Sonoma. A good place to buy affordable clothing for adults and children, and general housewares. Not really a place for souvenirs.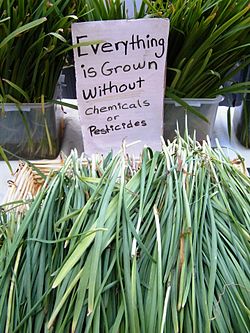 phone: +1 707 538-7023

address: Sonoma Plaza

Tuesday evening farmer's market that takes place on the Plaza. It's the big happening in the city every week, with live music and a real local flavor. Locals bring wine, beer, food and lawn chairs and sit in the plaza, picking up fresh veggies, locally made crafts and food at the market.

Sign of the Bear

phone: +1 707-996-3722

address: 435 1st St W

A remarkably full to the brim kitchen store with local and internationally produced items. All you need as a home chef or bartender. The windows are worth a visit for window-lickers alone.

phone: +1 707-939-6933

address: 115 E Napa St.

A super quirky and cool retro candy store that also sells vintage style Sonoma-wares such as pillows, coasters, glasses and other items with retro designs. A fun place to just pop in and grab a candy or real sugar drink from your childhood. Not from the US? This place is chock full of American paraphernalia you'll love.

Sonoma Old School Skate and Surf

phone: +1 707-938-5500

address: 1001 Broadway

A classic California skateboard and surf shop (Sonoma is about 1½ hours from the beach) with cool clothes for all ages of hip and cool. Bring your teen - there's a skate ramp out back that is popular after school and in the summer. SOS also has the best Mexican food truck in town that frequents out front - El Coyote.

Readers Books

phone: +1 707-939-1779

address: 130 E Napa St.

The only bookstore in town. Sells new and used books and hosts special events with authors. Kids reading room is in the back. Also sells works by local authors and about Sonoma history.

Halem & Company

phone: +1 707-935-8126

address: 496 1st St. E.

Nicest jewelry store in Sonoma. Need something fixed? They'll take care of it in a jiffy. They have beautifully made works for women and men, and do custom work. The jeweler is a stylish rocker guy with cool taste and they also have a fabulous collection of estate jewelry.

phone: +1 707-938-1042

address: 481 A First Street West

Cozy boutique selling leather goods made by the woman who owns the shop!

phone: +1 707-933-0660

address: 23562 Highway 121

Super cool 4,000-square-foot salvage and antique shop. Amazing things from around the world and a bulldog that runs around the store. Really expensive, so if you are in the market for a super special piece for your home, this is the place to get it. It's also worth it just to walk around and check it out - the owners are very friendly.

phone: +1 707-938-8315

address: 23999 Arnold Dr

Classy antique shop selling local and European antiques.

phone: +1 707-721-1287

address: 20820 Broadway

A "contemporary general store," Fat Pilgrim has furniture, new items and antiques, and local art. Their selection of big metal animals makes for great photo ops.
Eat
The city of Sonoma is home to some amazing restaurants. You can get high end French-country food, fresh seafood from the coast, and affordable Mexican that is as good as what you'd get down south. Some of these restaurants reside in Sonoma Valley, versus the City of Sonoma, so grab a car or bike and get out for a great bite to eat.
Budget
Mid-range
Splurge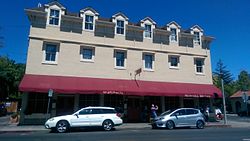 Groceries, gourmet and take-out
Wine country is plentiful with fresh grown food, artisan cheeses, and other tasty morsels year around. This section is for those who want to "cook on the road," whether camping, renting a house, or perhaps just in the mood for a picnic.
Drink
People come to Sonoma usually for one thing: to drink. There are few very bars in Sonoma the town, as most establishments are tasting rooms or restaurants with bars. The few local bars in town bring out primarily local color, but live music and special events can frequently be found by checking local free papers and websites.
Murphy's Irish Pub & Restaurant

phone: +1 707 935-0660

address: 464 1st St E

The Irish pub of Sonoma. Full menu, live music, beers, and a fun, family-friendly environment. They also have Trivia night on Wednesdays where the locals compete for first, second, and last place. Prizes usually include wine, so bone up on your current events!

phone: +1 707 996-3812

address: 465 1st St W

Founded in 1927, described by a local as "the only real bar in Sonoma". All the classics of a bar: live music, jukebox, pool, TV's, and heavy pours. Lots of locals and it can get pretty rowdy sometimes. It opens at 6AM if that tells you anything.

phone: +1 707-935-9100

address: 691 Broadway

A contemporary beer garden that is part of a local chain (two other locations exist) that was started by Gordon Biersch. Food is just mediocre but the beer is adequate and features HopMonk's own beer (if you like Biersch's beers...) and other regional and international brews. Service is often slow and not always the most attentive but a lot of younger "hip" locals hang out here and they have live music most nights of the week.

Town Square

phone: +1 707-996-2922

address: 482 1st St E.

The only bar in Sonoma open for business on Christmas. Yup, the Town Square is that kind of place. A tiny dive bar located opposite the other dive bar (Steiner's) - you're either a fan of this bar or the other. Cheap booze, heavy pours, local flavor and a laid back tiny bar vibe. It's 5 o'clock somewhere.

phone: +1 707-938-4200

address: 127 E. Napa St.

A wine bar with a contemporary yet laid back feel with a big international wine list. Specials are frequent and you can also buy wine here to go. They serve Italian food from their parent restaurant, Della Santina's.

phone: +1 707-721-6390

address: 21877 Eighth St E

The only spirits producer in Sonoma Valley. Prohibition went on the map with their HelloCello limoncello. Now they produce bourbon, rye, whiskey, rum and other treats. Sometimes they are open on the weekends on a whim, but call ahead for a tour and tasting. They make a bourbon called "Hooker's House," while the sexy label says one thing, it's actually named after General Hooker (no, the term "hooker" did not come from his name!).
Sleep
Sonoma is home to many fine hotels and bed and breakfasts. There are virtually no "budget" hotels in Sonoma proper, but, you can find affordable options via private home rentals or couchsurfing websites. Another option is to stay in
Santa Rosa
, which is about a 30-40 minute drive north of Sonoma.
Mid-range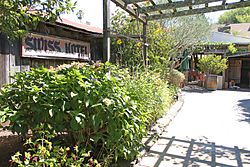 phone: +1 707 938-2884

address: 18 West Spain St

Registered on the National Register of Historic Places, Swiss Hotel is in a great location on the Plaza. A small group of guest rooms overlook the Plaza above an Italian restaurant and bar. Located in the heart of the town and near several bars, the inn can attract street noise in the late evenings, including rowdy tourists heading back to their hotels after a long day (and night) of wine country drinking.
Splurge
Cope
;Yoga
phone: +1 707-935-8600

address: 577 5th Street West

Yoga studio where you can pay by the class or get a 30 day pass for $30 if it's your first time there. Great variety of classes and teachers, they also have a shop if you are in need of gear or clothing.
Go next