Sonoma County
Sonoma County
, located in
California
's
North Coast
in the
San Francisco Bay Area
, is about 45 minutes north of
San Francisco
. As such, it suffers from what could be dubbed the "Middle Child Syndrome:" Its main cities of Petaluma and Santa Rosa are small and provincial when compared to San Francisco; yet the area is not the untamed wilderness of California's
North Coast
. Sonoma County is not as well-known or touristy as the neighboring
Napa Valley
, which takes most of the credit for driving California's wine industry, nor as cosmopolitan as nearby San Francisco.
It would be a mistake, however, to pass up an opportunity to visit Sonoma County. The area has the same post-60s flavor of
Marin County
, and the same sophisticated oenophilia as Napa to the East. Its coastal region is beautiful and rugged, and the agricultural pastureland is some of the most quintessentially beautiful to be found in California. As the crowds of tourists clog the roads of Napa Valley, Sonoma' County's appeal grows.
Cities, towns, and unincorporated areas
Sonoma County can be considered to consist of three parts:
The central corridor, along route 101, with the large majority of the county's population. From north to south, there are seven incorporated cities and towns, plus Geyserville:
West County, west of route 101. Sebastopol is the only incorporated city in this area:
Sonoma Valley, east of route 101:
Understand
Get in
By plane
The nearest international airport is in
San Francisco
. The closest airport is
Charles M. Schultz Sonoma County
with nonstop service to/from
Seattle
,
Los Angeles
, and
Portland
By car
Russian River is about one hour north of the Golden Gate Bridge on Highway 101. For most resorts, exit 101 at River Road, the first exit after Santa Rosa and head west (left). Forestville is 9 miles out, Guerneville is 13, Monte Rio is 17, and
Jenner-by-the-Sea
(where the river empties into the Pacific) is about 22 miles. For less crowded stretches of river, continue north to Healdsburg and beyond.
By bus
Golden Gate Transit route #80 brings passengers from San Francisco to Santa Rosa in 2 to 3 hours, depending on time of day. Get off at Santa Rosa's transit mall downtown. From there, Sonoma County Transit routes 20 and 22 offer service to western Sonoma County, including Guerneville and several other points along the Russian River.
By train
Sonoma-Marin Area Rail Transit
, or
SMART
, connects Sonoma County Airport,
Santa Rosa
,
Rohnert Park
, and
Petaluma
with
Novato
and
San Rafael
in
Marin County
. Extensions are planned to
Cloverdale
and
Larkspur
.
Get around
Sonoma County Transit offers limited shuttle runs between Guerneville, Monte Rio and other points. Hitchhiking is still socially acceptable in this area, but exercise caution and good judgment.
SMART
light rail connects Sonoma County Airport,
Santa Rosa
,
Rohnert Park
, and
Petaluma
, with continuing service to
Marin County
.
Do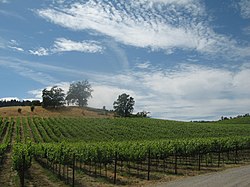 The
Russian River
region is a summer resort and wine area in Sonoma that is popular for canoeing, trout and salmon fishing, tubing, beach activities, and wine. The main resort towns on the river are
Healdsburg
and
Guerneville
, which since the 1970s have been a popular family, wine enthusiast, outdoorsman, and gay-friendly resort area. The Russian River boasts has a number of fine vineyards, with a specialty in Pinot Noirs. Wineries in the area tend to be smaller and more laid-back than in other parts of Sonoma and neighbouring
Napa
.
The Vineman and Barb's race start in Guerneville during July and August. These are qualifier races for the Ironman Triathlon that occurs in Hawaii.
Many visitors rent canoes at locations a few minutes upstream of Guerneville (for example, Mirabel Beach in Forestville) and spend a day paddling downstream, through calm water as well as mild rapids, stopping at beaches and enjoying the occasional rope swing, ending the day in Guerneville, where a bus takes them back. You can also rent canoes and/or kayaks at the
Monte Rio
beach and in Duncans Mills.
Duncans Mills hosts a rodeo as well as Civil War re-enactments throughout the summer. It is also known as an antique and eclectic art shoppers paradise; the quaint shopping village has everything from antiques to river gnomes. Villa Grande is a quiet hamlet along the river. At the Fourth of July the neighbors host a local Bring Your Own Picnic and historical cannons are fired at the end of a Minute Man parade.
Eat
Sonoma County has some of the best restaurants in Northern California, catering to all budgets. You can easily find restaurants ranging from budget to upscale, with cuisines running the gamut from Vietnamese to Italian to Turkish to Oaxacan. It is a food-lover's paradise.
Farmer's markets abound in the summer and are not to be missed.
Likewise, small, artisan food producers are featured along Sonoma Counties "Farm Trails." Be sure to try the local olive oil, honey, bread, and outstanding cheeses.
For a very local experience that is light on the pocketbook, try any local Taqueria. The Mexican seafood in area is particularly delicious.
For upscale cuisine, head to downtown Petaluma, Santa Rosa, Healdsburg, or Sonoma. There are dozens of picks, many of which are award-winning.
Cape FearDiner in Duncans Mills offers innovative and surprising meals in a range of styles from down-home to nouvelle cuisine.
Drink
Sonoma's 250-plus wineries are one main attraction. Main wine varieties produced include zinfandel, pinot noir, chardonnay, sauvignon blanc (also called "fume blanc"), cabernet sauvignon, merlot, syrah.
3 world class Brewpubs, Third Street AleWorks & Russian River Brewing in Santa Rosa, Bear Republic in Healdsburg and Hopmonk Tavern in Sebastopol.
The Blue Heron,Downstream in Duncans Mills, is a good bar and eatery that features live music outdoors on weekend afternoons in the summer.
Go next
- Rural Lake County lies northeast of Sonoma County and is named after Clear Lake, a body of water that is believed to be 2.5 million years old and thus the oldest lake in North America. The lake is sometimes called the "Bass Capital of the West", and its 100 miles of shoreline offer ample opportunity for fishing, boating, swimming and birdwatching. The county is also home to the Clear Lake Volcanic Field, a region that includes lava domes, cinder cones, the 4,305 foot tall volcano Mount Konocti, and the world's largest geothermal field with more than twenty geothermal power plants.
- Neighboring Sonoma County to the east, America's preeminent wine-producing region attracts more than five million annual visitors to over two hundred wineries, often overcrowding the roadways on summer weekends. Travelers will find world-famous restaurants to complement the wines, and lodging that includes luxury spas, B&Bs, and upscale hotels. Those uninterested in viticulture may choose to enjoy the hot springs of Calistoga or hike/bike the many parks and trails in the area's beautiful rolling hills.
- Located across the Bay to the southeast of Sonoma County, Solano County is far more rural than the other Bay Area counties, and includes significant portions of the California Delta, as well as parts of San Pablo Bay. Two of the county's cities served as early state capitals: Vallejo was the capital in 1852 and again in 1853, while Benicia served as the capital from February 1853 until February 1854; today Benicia Capitol State Historic Park provides the opportunity for visitors to explore the Capitol building from that era.
- Sonoma County's southeastern neighbor is a primarily residential county that offers a vast array of food, shopping, and lodging options for Bay Area visitors. The landscape is dominated by Mount Diablo, a peak that provides excellent hiking opportunities and, on clear days, summit views that stretch for well over 100 miles in all directions. Other attractions include the John Muir Historic Site in Martinez, the estate of Nobel winning playwright Eugene O'Neill in Danville, and a WWII shipyard, now a national historic site, in Richmond.
- Visitors to Sonoma County's neighbor to the south can see migrating gray whales while strolling the wind-swept beaches of Point Reyes National Seashore, take in the views of the Golden Gate Bridge from the Marin Headlands, or soak in the majesty of the redwoods at Muir Woods National Monument. The county's tiny towns are full of character, and include the artistic enclave of Sausalito, as well as Bolinas, whose reclusive residents are notorious for removing any road sign that points the way into their town.