Sonora
Sonora
is a desert state in
Northern Mexico
. While it is not near the top of most people's travel plans, it is not without charm.
Cities
- state capital and a bustling city of nearly a million people
- border town with Douglas, AZ.
- a fine colonial town
- a small but nice beach community near Hermosillo. Bahía de Kino has really nice beaches in a really calm environment
- a small pueblo on the Rio Sonora founded in 1639
- a quite new and nice city
- fishing and resort city
- Border town split between Sonora and Arizona, 50 minutes south of Tucson
- called "Rocky Point" by Americans, it is the nearest beach resort to Arizona
- a border town
Other destinations
- the desert spanning Sonora and Baja California
- one of the premier wildlife refuges and sanctuaries in Mexico
Get in
Hermosillo's International Airport (General Ignacio Pesqueira Garcia HMO

)
See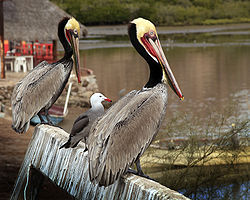 The Pinacate Nature Reserve, just south of the U.S. border, a stunning example of desert landscape.
The Islands and Protected Areas of the Gulf of California — a UNESCO World Heritage site, shared with three other Mexican states
Do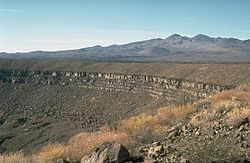 Sonora DesertA wonderfully calm place.

El Pinacate Gran Desierto del AltarBiosphere Reserve and UNESCO world heritage site in Sonora
Eat
If you are a meat eater, you must look out for carne asada tacos. The residents of the region are justifiably proud of their beef industry.
In Hermosillo you can have lots of different "night food", ranging from tacos de carne asada, sonoran style hotdogs, burro percheron (a burrito on steroids, by this meaning huge), traditional "fondas" and even sushi wagons in some places.
In Ciudad Obregón everybody should try "tacos cebositos", one of the city's specialties or having a cocunut by "la laguna del Nainari" as well as Horchata de coco.
Drink
The local brandy is cheap and good.
Just like Jalisco has Tequila, Sonora has Bacanora, another drink made out of the destillation of agave. It's a quite famous drink among the northwest of Mexico. It is produced mainly on the Bacanora region on the Sierra region of Sonora
Go next