Sorocabana
Sorocabana
is a region in the state of
São Paulo
. It is a region containing vast and tranquil rural areas, quickly developing cities like
Sorocaba
and
Itu
, and the Itararé valley, an unspoiled geological park that offers beautiful views, canyons and waterfalls.
Cities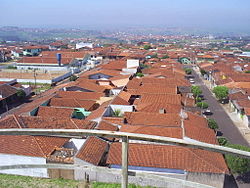 - A prosperous and well-organized large city, with a formidable network of cycleways
- A popular destination for enotourism, also containing the state's only ski track
- Pleasant medium-sized city with some eco-adventure options
- Modest city that gives access to the Pirituba Canyon, in the Itararé Valley
- City of oversized decorations and handcrafts, and well-preserved historical heritage
- One of the state's best known tourist parks around a segmented waterfall
- Good rural tourism and artificial beaches in the Jurumirim reservoir
- Riverfront resort town famous for its dam-crossing boat rides
- Where caipira traditions are alive as ever
Other destinations
- The state's premier parachuting destination
Understand
In 1875, the railway company
Sorocabana
opened a new railway from
São Paulo
towards the west. That would begin the economical development of a whole new region of the state.
Nowadays, the most economically relevant part of the region is the northeast part, where the region's largest city,
Sorocaba
, and nearby cities have been prospering with the expansion of industry and services sectors. The northwest of the region is mostly rural, with agriculture playing a major role. This part of the region has several getaway resorts, mostly in charming small cities like
Avaré
,
Barra Bonita
and
Águas de Santa Bárbara
.
Finally the south of the region, close to the border with
Paraná
, is less densely populated and economically developed. The characteristic landscape of the region is the Itararé Valley, a geological formation containing canyons, forest and waterfalls. It is an area with formidable potential for ecotourism, although proper tourist infrastructure is still under development.
See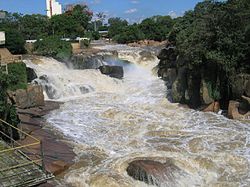 Do
Cycle through the whole city of Sorocaba
Do the dam-crossing boat ride in Barra Bonita; afterwards have a beer or shop for handcrafts in the riverside street
Enjoy the Festa do Divino Espírito Santo or the Festa de São Benedito, two traditional caipira festivals, in Tietê
Stay safe
The Sorocabana region has relatively low crimes rates for Brazilian standards, even in the largest city,
Sorocaba
. The south of the region (the Itararé valley) is a poor area, which is not particularly dangerous to visitors, but it is wise to at least avoid displaying wealth and possessions there.