Sorrento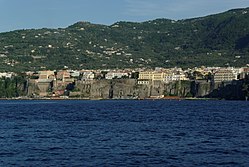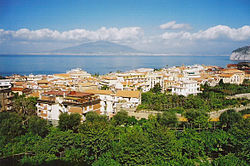 Sorrento
is in
Campania
. The town features beautiful architecture, many cafes and restaurants, and shops catering to tourists.
Understand
Sorrento is on the Circumvesuviana rail system, so it is easily reached from Naples and an ideal base for visiting the archaeological sites at
Pompeii
and
Ercolano
.
Ferries regularly commute between Sorrento and
Capri
, Positano and Amalfi, making Sorrento an ideal base for exploring the other beautiful places in the region.
Get in
By plane
From Naples Airport ('Capodichino'): You can reach Sorrento by bus, from Capodichino to Sorrento buses depart six times daily.
By train
The Circumvesuviana goes from Naples along the coast ending in Sorrento (€3.90, 1 hr 20 min, as of Oct 2019).
From mid-March to the end of October, the Campania Express runs along the same route as the Circumvesuviana between Naples and Sorrento, but stops at just a few stations and takes about 50 min (30 min less than the commuter trains). These trains have guaranteed seating, air conditioning, and space to store baggage. €8 as of Sep 2019.
===By bus===
The SITA and City Sightseeing buses from
Positano
and
Amalfi
end in Sorrento in the plaza in front of the train station.
By car
From
Naples
' Tangenziale drive south towards Costiera Sorrentina, and be prepared to spend 1½ hours in the traffic.
By boat
From
Naples: Only one company operates between "Napoli Beverello" and Sorrento. The service is approximately every 2 hours (Sep 2017). Price paid in port for a single trip, adult: €12.90 (Sep 2017). It takes about 40 minutes, which is faster than by car or train.
Get around
Whether you arrive by bus or train, you will probably arrive in the modern
Piazza Lauro
.
Walk
Local buses - the local bus service is good enough to visit all interesting places available in the area.
Taxi
See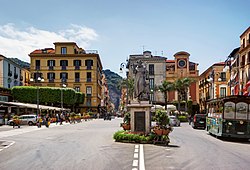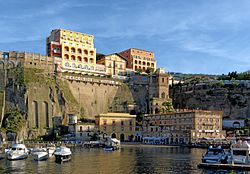 Lemon terraces
The pretty Small Port (Marina Piccola)

puntacampanellaThe natural reserve.

Villa Pollio Roman ruins in Capo di Sorrento.
Hotel Tramontano, where Norwegian writer Henrik Ibsen lived while writing parts of Peer Gynt (1867) and Ghosts (1881).
Museo Correale di Terranova Sorrento's picture gallery
Archeological Museum of the Sorrentine Peninsula
Museo Bottega della Tasia Lignea A collection of local applied arts.
Duomo (Cathedral) along Corso Italia
Church of San Francesco : its cloister dates from 1300, and is one of the most picturesque spots in town
Basilica di Sant'Antonino
Piazza Tasso — Sorrento's main piazza, connected to Piazza Lauro by Corso Italia. Walk a few meters up Viale Enrico Caruso to enjoy the view over the railing down to the Valley of the Mills in the gorge below. At the bottom of the gorge, there are ruins of one of a water-powered mills with a lumberyard adjacent.
The Museo della Tarsia Lignea (Inlaid Wood Museum): The collection includes furniture crafted through the 20th century, and modern design.
Via San Cesareo, one of the oldest streets in town.
Sedil Dominova, the former gathering place for Sorrento's high society, and now the headquarters of the Società di Mutuo Soccorso.
Villa Comunale — offers a beautiful view over the Sorrento coastline with Mount Vesuvius in the distance.
Piazza Vittoria, another beautiful scenic overlook.
Do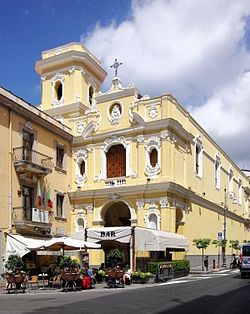 Swim - Go to Marina Grande or (the better option) Marina Piccola. Some reserved areas with sand will ask for a €5-10 entrance fee (which will also get you a seat and an umbrella). A much better and more spectacular option might even me Bagni Regina Giovanna, a nice little cove from the ocean in a secluded spot. Though a bit far, it's worth the trip (ask the locals for direction).

phone: +39 366 98 02 885

address: Viale Nizza, 37

Rent a bike and ride out of to see the coast from above. They rent helmet, bottle, saddle bag and padlock. They can deliver and pick up the bike to your hotel, or wherever you wish. On-line reservations.
Rent a scooter or motorbike from the many shops offering them: typical rates (as of Oct 2019) are €25-35 for 5 hours, €28-40 for 12 hours, €35-45 for 1 day, €85-130 for 3 days.
Buy
Corso Italia is the main shopping street in the center of Sorrento.
One of the top souvenirs from the area is limoncello , the signature lemon liqueur. You can find it at Limonoro, Via San Cesareo, 51. This is a good place to see it being made, after which you'll know why it packs such a punch – it's basically pure alcohol with flavouring.
l'Alambicco, a wine and limoncello shop in the historical centre, offers free tastings. It is a few steps from Piazza Tasso at via San Cesareo 15.
Iolanda moda e accessori, a leather and fashion shop in historical centre, have large choice of bags, wallets, bijoux and shoes of brands like Valentino, Roccobarocco, and Cromnia. Via San Cesareo 15, very close to Piazza Tasso.

Notturno IntarsioHas the most beautiful inlaid woods. Tables, tea carts, pictures, music boxes. Notturno has been in business for hundreds of years and has the best woodworkers around. Take their tour to see how they make these beautiful pieces of art.
Eat
Piazza Tasso has many cafés with outdoor tables for coffee, a drink and people-watching.
Gnocchi alla Sorrentina - potato gnocchi with tomato sauce and mozzarella baked to perfection.
The Pastiera a typical cake that is produced in the area.
The excellent olive oil produced in Penisola Sorrentina, this product to be prized in many events.
The artichoke or aubergines parmigiana is a typical dish that is made with tomatoes and cheese.
Gelateria Davide, Via Giuliani, 35. One of the best gelaterias in the city, this little ice-cream parlour is famous for its gelato that incorporates fresh local flavours. Don't miss the Profumi di Sorrento (with fresh local citrus fruits) or the Noci di Sorrento (with fresh local nuts).
Restaurants
phone: +39 081 8781321

address: Corso Italia 71, 6

Historical, traditional restaurant.

phone: +39 081 8781151

address: Via Correale 25

Villa Rubinacci is Hotel Eden's restaurant à la carte, open to both the public and hotel guests. Elegant furnishings in a bright room including outdoor seating in the delightful park settings enhance the chef's traditionally local Sorrentina and Italian cuisine with a creative international flair. Don't miss the famous local pizza prepared in various specialities.
The Red Lion is a small, cheap, and surprisingly delicious restaurant, known for catering to tour groups. Traditional limoncello is served after meals.

phone: +39 081 533 05 58

address: Corso S. Agata, 13, Sant'Agata sui due Golfi

Pizzeria Da Franco

phone: +39 081-877-2066

address: Corso Italia 265

€6 pizzas, hot sandwiches, beer, wine, limoncello.
Marina Grande
Several waterfront restaurants here offer local cuisine, fresh fish and seafood:
Le 5 SorrelleRun by five sisters, it has excellent seafood, especially the spaghetti alla frutti di mare. And Sophia Lauren ate here in 2004.

AzzurraAlso very good.
Drink
Limoncello di Sorrento, a strong liquor made from lemon rind. Also try other similar liquors such as Crema al Limone (like Limoncello but cream-based and less strong), and local wines like Falanghina, Lachryma Christi.
Amaro di Capo di Sorrento - a liqueur made from bitter herbs. There is more to Sorrento than limoncello.
Sleep
Budget
phone: +39 0818073772

address: Via Nastro D'Argento 35

Features a beautiful panoramic view of Sorrento coast line; breakfast included.

phone: +39 333 74 22 518

address: Via Parsano, 25

A tranquil place, with large and airy rooms all furnished in modern style with balconies overlooking citrus plants.

phone: +39 3388560460

One of the few houses in town that's directly on the sea.

phone: +39 3383033219

House with 70-m² seaview terrace overlooking the Bay of Naples.
Hotel Desiree, Via del Capo 31B, +39 0818 781 563. Ten minutes by foot from the city center. Sweet old hotel perched on the edge of a cliff. Some rooms have great views of the sea; others don't. Rooms are small but clean and rates include a light breakfast - highlight is friendly, knowledgeable staff. $70-$110.

phone: +39 081 8781650

address: Corso Italia, 257

Cheap accommodations with good hospitality and services. The staff are available for any kind of reservations. Large selection of guestrooms and rates, divided in double, triple and quadruple, standard and economy.

phone: +39 081 5333481

address: Via Meta Amalfi, 80

Bed and breakfast on the Amalfi Coast, between Sorrento and Positano, with a fantastic view on the Sorrento Bay.

phone: +39 081 8774753

address: Via del Mare, 22

Tucked down a side street, but less than 5 minutes' walk from the town, more a hotel than a hostel. It has the facilities of a 3 star hotel, air-conditioned, spacious and clean, and the desk staff are very helpful.
Mid-range
phone: +39 081 8782468

address: Via Rubinacci n.1 80067 – Sorrento Italy

Hotel with a panoramic view and jacuzzi on the terrace. Owners produce limoncello and offer their guests a yacht in order to explore the coast.

phone: +39 081 8074775

5-star hotel with spa, gym, restaurants, suites, parking, shuttle bus for Sorrento and swimming pool bar.

phone: +39 081 878 16 46

4-star hotel with sauna, gym, restaurant, swimming pool and bar.

phone: +39 081 878 35 62

address: directions=

4-star sea view hotel close to Sorrento with panoramic view, swimming pool, elegant rooms.

phone: +39 0818780003

address: Via Nastro Verde

3-star hotel with swimming pool, solarium and bar. Sea view.

Grand Hotel Hermitage Sorrento

phone: +39 081 8780082

address: Via Nastro Verde, Sant'Agata sui due Golfi

Four-star hotel with swimming pool and restaurant located between Sorrento and the Amalfi Coast. 90 bedrooms divided in double, twin (also available with sea view) and triple. all with private bath and shower.

phone: +39 081 8781381

address: Corso M. Crawford 77

A residence which has been renovated to offer guests good comfort for a three star hotel.

phone: +39 081 8780082

address: Via Nastro Verde

Former farmhouse of the 19th century turned into an elegant and well furnished four-star hotel with swimming pool, spa centre, restaurant and bar, located on the hillside around Sorrento and with a fantastic sea view, also available for weddings.

Villaggio Costa Alta

phone: +39 81 5321832

address: Via Madonna di Roselle 20/A, Piano di Sorrento

Accommodations in bungalows, chalet and touring caravans

phone: +39 81 8789370

A beautiful holiday villa overlooking Capri Island. This is in a very quiet place, surrounded by a 4000-m² garden with typical cultivation, such as lemon and olive trees.
Splurge
address: Corso M. Crawford, Sant'Agnello

Late 19th-century patrician residence home in a splendid park of palms and citrus trees, a prestigious charming boutique hotel; combines rooms rich in history, such as the library with its antiques and vintage books, with modern comforts and professional service.

address: Via Pantano, 21/a

An exclusive vacation villa rental. A place for a family holiday or a group of 6. The villa stands in beautiful and evocative scenery, in the location of Capo di Sorrento.

phone: +39 081 877 7111

address: 34 Piazza Tasso

Luxury aristocratic hotel set in five acres of peaceful gardens with views of Vesuvius and the Gulf of Naples.
Go next