Sosnowiec
Sosnowiec
- city located in the south of
Poland
in the
Silesian Voivodeship
. A county capital neighbouring
Katowice
, and a mining and industrial region, it is one of the largest cities in the Silesian Voivodeship and Upper Silesian Industry Area, known also as city of four cultures, where there are many reminders of the times when the city was developed by Evangelicals, Jews, Orthodox and Catholics.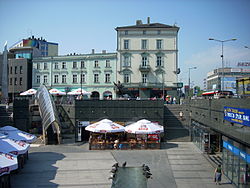 Get in
By plane
The
Katowice-Pyrzowice airport
in Pyrzowice (24 km from Sosnowiec) is an airport for domestic and European flights to major cities throughout Europe and
Tel Aviv
.
Sosnowiec is connected with airport by KZK GOP bus line:
Lotnisko
The Kraków-Balice airport (KRK) is 70 km away form the city.
By train
Sosnowiec Main (Główny) Railway Station
is located in the city centre.
Trains from all parts of Poland and other countries arrive at the Main Station.
There are about 12 trains per day between
Warsaw
and Sosnowiec, and many more between nearby cities like
Katowice
,
Częstochowa
,
Gliwice
.
The city has direct connection by train with the following European and main Polish cities:
width="30%" valign="top" |
width="30%" valign="top" |
width="30%" valign="top" |
Train timetable for Sosnowiec Główny
By car
The main approaches to Sosnowiec are:
Sosnowiec has no big car parks system but there are many small car parks along the roads in the city center.
By bus
Get around
See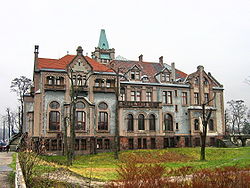 Sielecki Castel

address: Zamkowa 2

Pałac Oskara Schöna

address: 1 Maja 19

address: Stefana Żeromskiego 2

Wilhelm Palace

The Orthodox church dedicated to Saints Vera, Nadia, Luba

address: Jana Kilińskiego 39

address: Stefana Żeromskiego 4

Three Emperors' Corneris a former tripoint at the confluence of the Black and White Przemsza rivers. From 1871 to 1918, under Partitions of Poland, it marked the border between the Russian Empire, Austria-Hungary, and the German Empire.

Cathedral Basilica of the Assumption of the Blessed Virgin Mary

address: Kościelna 1
Museums
Galleries
address: Zamkowa 2

Zamkowa 2, in Sielecki Castle.
Parks
Sielecki Park
Dietel Park
Schoen Park
Tysiąclecia Park
Other
Three Emperors' Corner historical border of three
Viewpoint at Środula Hill in Środula Parkl
Do
Public Beach Stawiki

address: Kresowa 1
Cinema
address: 2 Sienkiewicza Street

Modern multiplex type cinema with 6 screens.

Helios32b Modrzejowska Street modern multiplex type cinema with approx 4 screens.
Theatre
address: 4 Teatralna Street

6th oldest Theatre in Poland, still working, still existing in the same building.
Music
Sport
Buy
address: Henryka Sienkiewicza 2
Eat
In strict city center there is about 20 restaurants. Most popular and recommended are listed below. There are also many Food Bars with fast food, snacks, dumplings etc.
Budget
phone: +48 505 543 020

address: Kościelna 48

Original italian pizza baked in wood burining stove. Payment only by cash.

phone: +48 511 232 545

address: Wspólna 26

Traditional polish food: dumplings, broth with quilts, etc. Payment only by cash
Bar Mleczny, ul. Warszawska
Pistacja Cafe
Mid-range
Drink
There is above 70 pubs, bars and clubs in city. Half of them are located in city center, especially on Małachowskiego st.
Below are listed most popular places to visit:
Pubs
phone: +48 798 210 776

address: Stanisława Małachowskiego 24

phone: +48 799 796 676

address: Stanisława Małachowskiego 22

popular, modern place with trendy music and kraft beer
Clubs
phone: +48 888 213 213

address: Warszawska 12

phone: +48 32 297 95 95

address: Stanisława Małachowskiego 9

phone: +48 32 307 88 08

address: Sienkiewicza 3
Sleep
Budget
phone: +48 32 299 64 37

address: Kresowa 1
Mid Range
Learn
phone: +48 32 363-12-20

address: Kilińskiego 43
Go next
Będzin — 10 km east a city just to the north of Sosnowiec with a beautiful castle from the 11th century
Katowice — 10 km west the regional capital and a major transportation hub with its fair share of monuments and industrial heritage.
Central Firefighting Museum in Mysłowice; 6 km southwest.
Auschwitz-Birkenau - 33 km southeast - the cluster of concentration, labour and extermination camps established by the Nazis during the Second World War
Bielsko-Biała — 80 km south city with cosy old town and many beautiful buildings from Austro-Hungarian times. Many trains from Sosnowiec Main Station .
The "Eagle Nest Castle Ruins" in the Jura in Ogrodzieniec, Olsztyn, Rudno, Mirów and Ojców. Many trains form Sosnowiec Main Station to Zawiercie, Myszków. 60 km northeast by car by E67 road.
Częstochowa - is the most important pilgrim's place in Central Europe. In the Pauline Monastery on Jasna Góra (literally: bright hill) you can pray in front of one of the most known icon of Our Lady of Częstochowa. Many trains from Sosnowiec Main Station. 80 km north by car by E67 road.