Sounio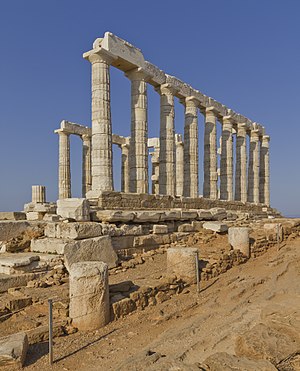 Sounio
is in
Attica,
the historic region of
Athens
city-state.
Get in
A bus from Athens costs €5 and some cents. The buses start on a terminal near the southeast corner of the Areos Park few blocks east from the Victoria Metro station (but there are more bus terminals in the area - ask in the KTEL kiosk). There is one bus per hour during a day. Buses also stop on some other places in Athens. The terminus is just below the temple. The last bus back to Athens starts at 9 PM in Sounio, late enough for the famous sunset over the temple. One way takes approx. two hours.

See

Sunset over the temple. The temple area closes just after the sunset.

Eat
There is a taverna just below the temple, next to the bus stop. It is rather expensive and not very impressive.

Sleep
Grecotel Cape SounioOn Cape Sounion near the Temple of Poseidon. It is generally far (~69 km) from the centre of Athens but the location is excellent. Bangalows with private pools.