South (Brazil)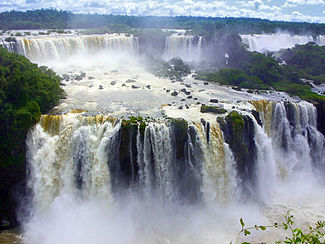 The
South
is the southernmost region of
Brazil
. Its attractions range from the historic Jesuit ruins of
Missões
to the excellent beaches of
Santa Catarina
and the unmissable
Iguaçu Falls
.
States
Distinctive araucaria trees, a diverse blend of cultures brought by a history of immigration, and the world-famous
Iguaçu Falls
.
Popular beaches and a huge Oktoberfest celebration in
Blumenau
.
Brazil with a bit of Uruguayan and Argentinian flavor—gaúcho (South American cowboy) culture and chimarrão, as well as vineyards in the Serra Gaúcha.
Cities
- a huge Oktoberfest is held here
Other destinations
(Florianópolis) — between São Paulo and Porto Alegre, this island is one of the top travel destinations in south Brazil, with its 42 beaches and incredible landscape
Understand