South Bay (Los Angeles County)
The
South Bay
region of
Los Angeles County
in
Southern California
has many of the fine beaches of its neighboring areas on the
West Side
, with a wide variety of atmospheres, from high-end and yuppified to still-expensive beach raffish. This is also where you will find the Harbor Area of Los Angeles, an industrial section which along with adjacent
Long Beach
makes up the busiest shipping port along the Pacific Coast. South Bay is also the launching point for many ferries to
Catalina Island
.
Cities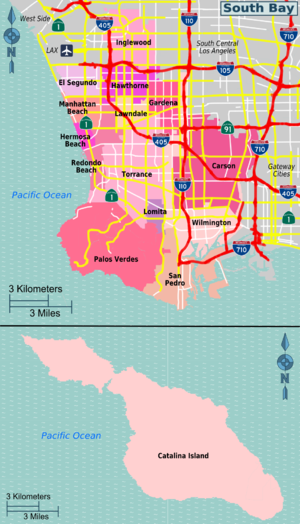 — A suburb that's home to one of LA's two top-level soccer teams.
— A mostly industrial area directly south of LAX and home to many large aerospace facilities as well as a small but pleasant downtown.
— A laid-back beach town popular with surfers and beachgoers with plenty of nightlife.
— A suburb directly east of LAX and home to the landmark Randy's Donuts.
— A wealthy beach town with expensive mansions and a picturesque pier, as well as an active nightlife scene.
— A scenic hilly peninsula with seaside cliffs, nature walks, and picturesque neighborhoods.
— The third of South Bay's beach cities, popular with beachgoers and with some active nightlife and shopping districts.
— A large suburb with a relatively quiet beach, a wetlands area, and a large shopping mall.
— A mostly industrial district sitting on the harbor that is home to the Banning House, former residence of the man who brought the L.A. Harbor to fruition, and the Drum Barracks, a Civil War-era U.S. Army post.
Other destinations
— A vacation spot for both locals and tourists and the most accessible of California's Channel Islands, Catalina is a popular place to get away from the bustle of the city.
Understand
The local weekly newspapers
Easy Reader
and
Beach Reporter
cover the South Bay. Each has event listings.
Easy Reader
tends to be more "in your face" in its style,
Beach Reporter
more "home-town booster." The Torrance-based
Daily Breeze
offers state-wide and national news along with the South Bay focus.
Get in
Get around
Driving is the primary means of getting around the South Bay, although there is a degree of bus service offered by several overlapping transit agencies: the county-wide
Metro
service,
Beach Cities Transit
(Redondo Beach, Hermosa Beach, Manhattan Beach, and El Segundo),
GTrans
(Gardena), and
Torrance Transit
.
Go next
The famed communities of the Westside lie north along the 405, including the popular beachside towns of Venice Beach and Santa Monica, the old film studios of Culver City, and the homes of the rich and famous in Beverly Hills and Bel-Air.
The port city of Long Beach lies to the east, with a number of popular tourist attractions including the Aquarium of the Pacific and the Queen Mary.
South Central L.A. sits to the north along the 110; despite its infamy, it holds some very worthwhile sights including the Watts Towers and the museums of Exposition Park.