South Coast (New South Wales)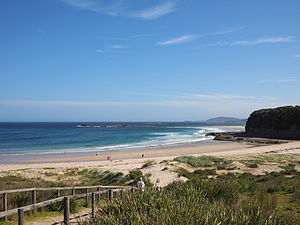 The
South Coast
region of
New South Wales
has an interesting rural/tourist mix. The area is rich in rural charm, having a strong dairy industry (and cheese-making in Bega). Most of the coastal areas are popular tourist destinations, especially with weekend visitors from Sydney and Canberra.
The South Coast can also refer to the areas between here and
Sydney
, including
Shoalhaven
and
Illawarra
.
Towns
Understand

Historically, the South Coast area of New South Wales has been an area of primary production, with fishing, timber, dairy and other farming contributing to the wealth of the area. Service towns were built, and steamers connected many of the coastal towns to Sydney and to export markets.
It's also a choice for sea-changes and tree-changers. The first wave of retirees are now being followed by hobby farmers and telecommuters.
With unspoilt beaches and national parks in equal measure, the South Coast of New South Wales is a premier holiday destination. In peak holiday season (summer school holidays) the population swells to more than three times the number of long-term residents. It's ideal for road touring or a beach or bush vacation while taking in local food and wines.
Two major local government areas administer the region: Eurobodalla Shire to the south and the Shoalhaven Municipality to the north including Nowra.
The small Jervis Bay Territory was excised from New South Wales as part of the process of federation, and is administered separately with a Federal Police Force and housing a naval base and military airport. The commonly visited parts of the bay and the main townships are still in New South Wales.
80% of the Eurobodalla shire is national park or state forest with extensive stands of spotted gum forest.
The coastal region has a reputation for locals who are easygoing and friendly, environmentally conscious and are even mix between politically liberal and conservative.

Get in
You can get to the South Coast by car. Parts are also accessible by train and bus.
By car
If travelling from the
Illawarra
or
Sydney
, travel to
Wollongong
and join the Princes Highway. It will get you to any part of the South Coast or even deposit you in
Melbourne
if you go far enough.
Traffic can be very slow around
Kiama
, south of Wollongong, at the start and end of long weekends or school holidays.
If travelling from
Canberra
, take the Kings Highway from Queanbeyan to
Batemans Bay
via
Braidwood
. The Kings Highway connects to the Princes Highway for access to areas north and south of Batemans Bay.
By train
You can catch a
train
from Sydney Central or at Hurstville or
Sutherland
as far south as Bomaderry, on the northern bank of the Shoalhaven River.
Nowra
is on the southern bank of the same river, but the railway bridge that was constructed for the continuation of the railway line was converted into a road bridge before rail services could begin over the river. Along the way
Kiama
, Gerringong and
Berry
are easily accessible by train. Kiama, especially, is a common daytrip for visitors to Sydney, due to many activities there, and easy access by train.
By bus
The Premier bus does the Princes Highway route a few times a day, stopping in most major towns en route. Murrays also runs a single daily coach service from Canberra to Narooma via Batemans Bay, with brief stops at the towns along the route. The Premier and Murrays services connect at Batemans Bay.
By plane
Moruya airport (
MYA
)

Get around
The best way to get around is to drive. The Princes Highway travels the length of the South Coast and most places aren't far from it.

See
Before you drive down Mount Ousley pass, stop to look out over Wollongong and the ocean from the top of the Escarpment
Hanging Rock lookout in Nowra
Bega Valley Lookout
Do
Swim at one of the region's many beaches
Canoeing in Kangaroo Valley
Art galleries in Berry
Dolphin cruise in Jervis Bay
Jambaroo Recreation Park (The largest theme park in the state)
Bega Cheese Factory
Mogo Zoo
Feed the birds at Green Patch
Minamurra Rainforest
Visit the Beecroft Peninsula (extensive bushwalking and many pristine beaches)
Drives
Stay safe

Like virtually all of Australia, this is a safe area. However, in the larger towns, you certainly don't escape a level of alcohol-fueled violence at night. Don't let your guard down entirely.
Also, in the locale of Nowra, visitors should stay away from the areas of Junction Court and Nowra East due to higher-than-average cases of pickpocketing, muggings etc.
Beaches are usually patrolled by lifesavers, but ask locals about dangerous surf and bluebottles (aka Indo-Pacific Man o'War). Sunburn is also a risk unless you take steps to protect your skin.
Roads are busy during summer; often people will walk to beaches along the road. Caution is advised during peak periods.