South Coast Highway
South Coast Highway
is in
Western Australia
. It is part of Australian National Route 1, and travels along the south coast of Western Australia between
Walpole
and
Esperance
. The area around
Albany
is known as the
Great Southern Region
.
Understand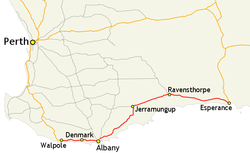 Although it is called 'south coast' the highway tends to be inland of the coast between Esperance and Albany. The section of the highway west of Albany to Walpole is closer to the coast with easier access.
The Albany to Esperance section does have roads and tracks to access parts of the coast, and many of these are well made roads. This section that goes inland also travels through the drier south eastern parts of the wheatbelt region.
Prepare
If based in Perth or Albany, the highway is well catered for travellers and tourists, west of Albany. However distances between service stops between Albany and Esperance are further apart.

Get in
Drive
Stay safe
If driving, at sunrise and sunset on most rural roads in outback Western Australia might have kangaroos as a potential collision issue. Take any warning signs of Kangaroos on the road very seriously
If any signs indicate active/open mining sites near the road, always be on the lookout for large trucks.
Go next
Travelling from the east, as this is part of Highway 1 - it changes into the South Western Highway at Walpole and moves northward through south west forests on the way to Bunbury