South County (Rhode Island)
If you are trying to find South County on a map, then you might have a problem. South County doesn't really exist! "South County" is the name that the locals have given to a specific part of Rhode Island.
South County
is, broadly speaking, the coastal region in
Rhode Island
, centered around the mostly seasonal vacation communities.
Cities and towns
, including the villages of Saunderstown
, including the villages of Kingston, West Kingston, Peacedale,
, including the village of Bradford
, including the villages of Ashaway and Hope Valley.
,
Other destinations
Get in
By train
Rhode Island has three
AMTRAK
train stations -
South Kingstown
(close to the beaches of Narragansett and Charlestown),
Providence
(in downtown Providence), and
Westerly
(close to the RI/CT border). Amtrak trains often run late, so do not rely on them for time-sensitive trips.
The MBTA Commuter Rail serves Providence, T. F. Green Airport in Warwick, and Wickford Junction in North Kingstown.
By car
South County, Rhode Island is accessed most easily by Interstate 95. From South (New York/Connecticut Area): Head north on I-95N into Rhode Island. Take exit 3A for RI-138 E/S Kingstown and merge onto RI-138 E/Kingstown Rd. Head straight on RI-138 until you enter South Kingstown
From North (Providence/Boston): Head south on I-95S into Rhode Island. Take exit 9 onto RI-4 towards South County. Head straight on RI-4 and continue onto RI-1 into South Kingstown.
By plane
South County is accessible by plane via TF Green Airport. Once at TF Green, one can follow the directions to South County by traveling south on I=95 (as seen above).
By boat
Galilee in the town of Narragansett is accessible from
Block Island
and
Newport
by using the Block Island Ferry. You can purchase tickets
online
or by calling +1 401-783-7996. Block Island Ferry offers the Hi-Speed Ferry and the Traditional Ferry. The Hi-Speed Ferry arrives in approximately 30 minutes and the Traditional Ferry arrives in approximately 60 minutes.
Get around
Traveling by car is the most common way to get around in South County, but public transit lines and taxi cabs are available.
By car
Routes 1 & 1A are the primary means of travel north/south through South County. Route 1A runs along the local beaches and is extremely busy during the summer season.
Route 138 is the dominant east/west route and travels through South Kingstown and by the University of Rhode Island.
Route 108 is the state route that travels westward through Narragansett and South Kingstown that intersects Route 1A and US Route 1.
By bus
South County is served by RIPTA Bus, (Rhode Island Public Transit Authority), Phone: +1 401-781-9400, . M-F 6:30AM-9PM, Sa 8AM-6:30PM, Su 11AM-6:30PM. A single ride on RIPTA costs $1.50.
By taxi
Wakefield Cab CO Incorporated, Wakefield +1 401-783-0007
Wrights Taxi, Saunderstown and Westerly +1 401-789-0400
Eagle Taxi, Narragansett +1 401-783-2970
See
Beaches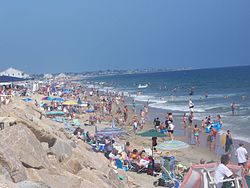 South County's main attraction during the warmer months is its many miles of coastline and public beaches. This can attract very large crowds, especially on weekends or holidays. Daily passes are available for residents, non-residents and seniors, and range from $5 to $14. Season passes are also available and range from $20 to $60. All beaches are free (but unguarded) before Memorial Day and after Labor Day. Beach phone numbers may be seasonal.
Foliage
South County enjoys a brief period of fall colors. The main roads throughout the region, such as Route 1, Route 138, Route 108, Route 2 and Ministerial Road (Route 110) make for enjoyable drives during the autumn season.
Points of interest
Sights to see throughout the year include:
Art galleries
Fine Arts Center Galleries at URI, Upper College Road, Kingston. Tu-F Noon-4PM, and weekends 1PM-4PM. The University of Rhode Island Fine Arts Center boasts three fully staffed galleries, including one devoted specifically to photography. The galleries exhibit contemporary artists from across the nation and around the globe year-round. Free. Unfortunately, URI is closing the galleries due to budget cuts.
South County Art Association's Helme House Gallery, South Kingstown.
Do
Recreational activities
Camping: Burlingame State Park, Charlestown, +1 401-322-7337. The park has 3,100 acres of rocky woodland surrounding Watchaug Pond in Charlestown. The entrance to the park headquarters and camping area is off U.S. Route 1.
Nature trails: Kimball Wildlife Sanctuary, Charlestown, +1 401-949-5454. A 29-acre property located on the southern shore of Watchaug Pond. The land abuts Burlingame State Park and trails lead from the refuge to the state land.
Biking: South County Bike Path +1 401-783-8886 is used by walkers, runners, bikers. It extends 8 miles in length passing through South Kingstown and Narragansett.
Theaters and cinemas
URI Theatre, Upper College Rd (Fine Arts Center), Kingston. +1 401-874-2627 Live theatre productions, Concert Choir and University Chorus performances, and occasional non-URI performances.

Theatre by the Sea

phone: +1 401-782-TKTS

This is an old and theatre in Rhode Island; it was originally opened in 1933. After being closed down for four years, Bill Haney purchased and reopened it in 2007 and ever since has been showcasing musical and dramatic theatricals.
The Ryan Center and Boss Arena
The Ryan Center

phone: +1 401-788-3200

address: One Lincoln Almond Plaza

Home to all of the main events such as basketball games, boat shows and concerts. The schedule for events is available here . Along with the Ryan Center there is the Boss Ice Arena.
The Boss Arena, Lincoln Almond Plaza. Offers ice-skating to the public at designated times.
Buy

For the shopping enthusiast, South County provides a multitude of options. Although you won't find many chain stores, South County has many boutiques, used book stores, and souvenir shops. Wickford, Wakefield, and Westerly all have historic downtowns that contain many interesting shops.