South Florida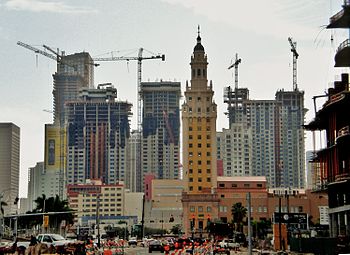 South Florida
is a region in the
U.S.
state of
Florida
. It is a widely diverse area; from its quiet, sparsely-populated central areas with a charming "Old Florida" feel to vibrant, oceanfront resort cities.
Regions
Cities
Some of the major cities in South Florida are:
— Outstanding landscaping, parks and beaches.
— Hollywood Beach, deep sea diving, Butterfly World, thoroughbred racing.
— Beaches of Fort Myers and Sanibel and the exotic beaches of Captiva Islands.
— Seminole Indian reservation, also known for its urban feel and the sprawling Hard Rock resort.
— Charter saltwater deep sea fishing, kayak, scuba diving and snorkeling.
— Boating, watersports, glass bottom boats, deep sea diving, cruising, various points of interest.
— Beaches of the Gulf of Mexico, world-class shopping, golf courses and the nearby Everglades.
— The Island of Palm Beach offers pristine beaches with glistening views of the Atlantic Ocean.
— Disney's Vero Beach resort community with priorities on art, education, culture and lifestyles.
Other destinations
Understand
South Florida has a subtropical wet-and-dry climate. Generally, winters are warm and pleasant with little rain, though the occasional cold front may lower temperatures to abnormal levels. Spring and fall are similar, with elevated humidity and moderate chances for rainfall each day, while summers are notoriously (though bearably) hot. A typical summer day brings steamy and dry conditions in the morning, brief but heavy thunderstorms in the afternoon, and milder evenings with often spectacular sunsets. The dry season begins in October and lasts through the third week in May.
The hurricane season officially runs from June 1 through November 30, with the most likely time for South Florida to be hit being mid-August through early October.

Talk
A wide variety of languages are commonly spoken throughout South Florida with increasing diversity near the major cities. The City of Miami for example has three official languages: English,
Spanish
, and
Haitian Creole
. English, however, dominates and is the preferred language in South Florida.
Even in areas where English is not the native language, most people will be bilingual in the other language (although generally not the other way around for native English speakers). The simplest way to get treated in English is to use the "approach rule." Most locals will respond only in the language they were summoned in unless they are not able to speak it. This rule can be used on anyone whether or not their first language is Spanish, English, or any other language. In general the more south you go in South Florida (for instance, Miami-Dade), the more Spanish speakers there will be.
Occasionally, you may run into someone who is not fluent in English. If this happens, simply speak slowly and use only simple English. In a few places, especially near Miami, you may find someone that cannot speak any English. Even when encountering a local who does not speak English, one could easily find another local to help with translation if needed without much effort, since most of the population is fluently bilingual.
Get in
By plane
Miami International Airport
, one of the busiest international airports in the world, is the main airport serving the
Miami
metropolitan area.
Fort Lauderdale
and
Fort Myers
,
West Palm Beach
, and
Sarasota
also have large airports.
By train
Amtrak provides inter-city rail service through all the major cities in South Florida. Two trains provide daily service, starting in Miami, making stops in Hollywood, Fort Lauderdale, Deerfield Beach, and West Palm Beach, continuing north to Tampa, Orlando, Jacksonville, and eventually Washington D.C., Baltimore, Philadelphia, with both trains terminating at New York City's Penn Station. All of South Florida's Amtrak stations (except Miami) share platforms with the regional commuter rail service, Tri-Rail. The Miami Amtrak Station is in the industrial suburb of Hialeah on NW 32nd Ave, just north of NW 72nd St.
By boat
Coastal cities have excellent year-round marina facilities, often serving some of the largest and most luxurious yachts in the world. Miami is home to the Port of Miami, the largest cruise ship port in the world. Fort Lauderdale also has a cruise port.
By bus
Greyhound, America's major inter-city bus service provider, has stations at all the major cities in South Florida. At the West Palm Beach and Miami North (Golden Glades) stations, direct connections are available to South Florida's commuter rail service, Tri-Rail. The Miami Greyhound station is located on Le Juene Road (NW 42nd Ave), directly across from Miami International Airport. Service continues further south from Miami, all the way to Key West at the end of
US Route 1
.
By car
Interstate 75 runs south from Northern Florida through Tampa's eastern suburbs, Sarasota, Fort Myers and Naples, until crossing the "Alligator Alley" as a toll road to Fort Lauderdale before turning south to end in Miami Lakes.
Interstate 95 continues south from the Atlantic Coast of the eastern USA through Treasure Coast cities into West Palm Beach, and Ft. Lauderdale before terminating in Downtown Miami.
Florida's Turnpike is a highway running all the way from Miami Gardens to the Gainesville area. It is the main toll toad of the state as well as the region.
Get around
Public transportation
- Local public transportation includes Metrobus, Metromover, and Metrorail—an elevated rapid transit system—each operated by Miami-Dade Transit. There is also an commuter rail system named Tri-Rail, that runs north to south, from MIA all the way to West Palm Beach, making a stop at all three of the Gold Coast's international airports.
Recently, the private
Brightline
service has started running between Miami, Fort Lauderdale and West Palm Beach, with plans of being extended to Orlando by 2021. This "higher speed/almost high speed rail" service is the only privately owned and operated intercity railroad in the United States. The whole journey takes 1 hour 15 minutes - 30 minutes between Miami and Fort Lauderdale and a further 45 between there and West Palm Beach - about the same time as driving in good traffic and an hour quicker than an equivalent Tri-Rail trip (although Tri-Rail has more stops and thus may be more convienent in certain areas).
Hire a car to explore the unique countryside areas.
See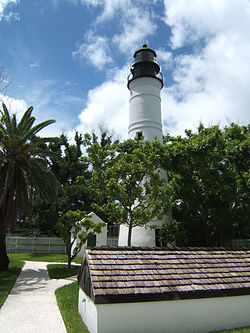 Marco Island, Captiva Island, and Sanibel Island in Southwest Florida.
Sebring International Raceway in Sebring.
Coral Castle in Homestead An odd complex of stone structures, built with enormously heavy stones, and allegedly by one man, without the help of modern equipment.
Fakahatchee Strand State Park -The wild orchids.
Miami Seaquarium aquarium on Virginia Key in Biscayne Bay in the city of Miami with a pair of local Manatees.
Lincoln Road in Miami Beach - a popular pedestrian mall lined with shops, sidewalk cafes, bars and galleries.
City of Miami Cemetery is a historic cemetery in Miami.
Florida Lighthouses are numerous and beautiful in South Florida, take some time to visit these iconic images of the coast.
Do
Discovery Cruise Line sails every day to the Bahamas from Fort Lauderdale, departing at 7:45AM & returning at 10PM. It offers a One-Day Bahamas Party Cruise, and Cruise 'N Stay Bahamas Resort Getaways
Butterfly World in Coconut Creek. Amidst thousands of flowers, tropical plants, waterfalls, gardens, and classical music, Butterfly World is a unique, breathtaking site that is one of Florida's leading tourist attractions.
Eat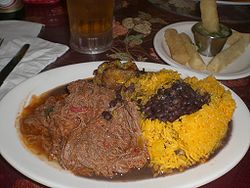 Much of Miami's population comes from internal migration from other parts of the country and from immigration. Greater Miami is known as a cultural melting pot, where people maintain some of their cultural traits. The overall culture of Miami and Miami-Dade is heavily influenced by its large population of ethnic Latin Americans and cultures from Caribbean islands such as Jamaica, the Bahamas, Cuba and who mainly Spanish or Haitian Creole.
Enjoy such meals such as a Cuban dish of ropa vieja (shredded flank steak in a tomato sauce base), black beans, yellow rice, plantains and fried yuca with beer.
Go next