South Holland
South Holland
(Dutch:
Zuid-Holland
) is a province in the
Netherlands
.
Regions
South Holland consists of the southern half of the historic county of Holland. It can roughly be divided into six regions:
Cities
— "judicial capital of the world", seat of the government and plenty of attractions
— one of the oldest cities of the Netherlands with prehistoric remains and museums
— old town famous for its Delftware ceramics
— historic town with numerous museums
— famous for its Gouda cheese and the cheese market
— vibrant student town with the oldest university of the country
— Europe's largest port, modern architecture and an impressive skyline
— largest and most popular beach resort of the country, officially a district of The Hague
— historic town known for its jenever, a Dutch alcoholic drink, and the five largest windmills of the world
Other destinations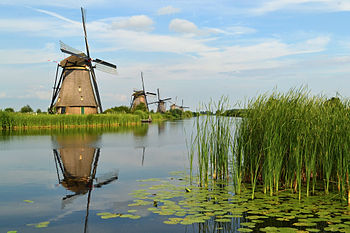 — one of the last freshwater tide areas in Europe
— a high-tech engineering project of dams and sluices; a show case of the Dutch and their endless struggle against the sea
— each spring more than 800,000 travelers visit this flower garden
— the windmills at Kinderdijk show the typical Dutch landscape in all its glory
See
The windmills of Kinderdijk (on the Unesco heritage list)
Do
Go sailing on the Kager Plassen.
Go cycling through the polders or the coastal dunes or from historic town to historic town.