South Shetland Islands
The
South Shetland Islands
are a group of islands about 120 kilometers (75 miles) north of the
Antarctic Peninsula
.
Islands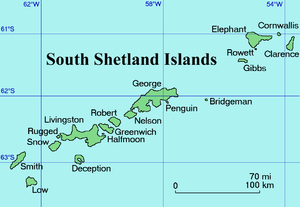 Elephant Island
Clarence Island
Rowett Island (minor)
Gibbs Island (minor)
King George Island (the largest, and home to Chile's permanent Antarctic settlement)
Bridgeman Island (minor)
Penguin Island (minor)
Nelson Island
Aitcho Islands (minor)
Greenwich Island
Half Moon Island (minor)
Desolation Island (minor)
Livingston Island (second largest)
Rugged Island (minor)
Snow Island
Smith Island
Deception Island
Low Island
Seal Island (minor)
Research stations and Field Camps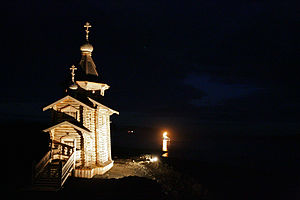 Artigas (Uruguay)
Bellingshausen (Russia)
Camp Academia (Bulgaria)
Camp Byers (Spain)
Camp Livingston (Argentina)
Captain Arturo Prat (Chile)
Chang Cheng/Great Wall (China)
Comandante Ferraz (Brazil)
Decepción (Argentina)
Gabriel de Castilla (Spain)
Henryk Arctowski (Poland)
Juan Carlos I (Spain)
Jubany (Argentina)
King Sejong (South Korea)
Machu Pucchu (Peru)
Pedro Vicente Maldonaldo (Ecuador)
Presidente Eduardo Frei (Chile) - also hosts the civilian settlement Villa Las Estrellas
Professor Julio Escudero (Chile)
Shirreff (Chile/USA)
St.Kliment Ohridski (Bulgaria)
Understand
The South Shetland Islands are part of the British Antarctic Territory. There is no permanent habitation on these islands aside from the personnel on the research stations. The climate is not as rough as on the Antarctic mainland: the temperature oscillates between -10°C and +5°C.

Get in
By boat
If you are not part of a research team, the easiest way to visit the islands is by expedition ship. Cruises to this part of Antarctica usually start from
Ushuaia
, take one to two weeks and cost
at least
US$5,000 per person.
By plane
Some travel agencies also offer tours by plane to the archipelago's only airport, at the Eduardo Frei Base, serving said base as well as the settlement of
Villa Las Estrellas
.
See
The main sights are the Antarctic landscape and nature.