South Sudan
South Sudan
is a country in
Central Africa
. It was a region of
Sudan
until it became an independent country on 9 July 2011 after a referendum held in January that year.
Regions
Cities
Understand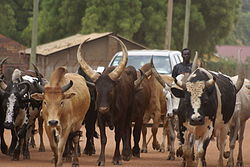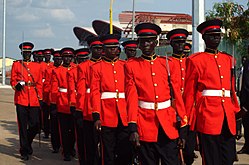 History
South Sudan was once part of Sudan, but gained its independence in 2011, following a long war in which over 1 million people were killed, and a historic referendum. Although South Sudan was granted independence by Sudan after an overwhelming vote for independence in the referendum, relations between the two Sudans remain tense. Sudan depends on hard currency obtained from transshipping oil from South Sudan through
Port Sudan
on the Red Sea, while the landlocked South Sudan depends on access to that port, and the two countries have argued about terms for transshipment. There has also been some armed conflict over the oil-rich Abyei District which is ruled by Sudan but borders on South Sudan, and the Sudan People's Liberation Army - North, which fought alongside the Sudan People's Liberation Army that now rules South Sudan, continues to fight in the Sudanese provinces of Blue Nile and South Kordofan, with the sympathy and, allegedly, military aid of the South Sudanese government.
People
South Sudan has more than 60 indigenous peoples. The
Dinka
comprise 40% of the population.
Climate
South Sudan's climate is similar to an equatorial or tropical climate, and has a rainy season of high humidity and large amounts of rainfall followed by a drier season.
Holidays
9 July: Independence Day
9 January: Peace Agreement Day
16 May: SPLA Day
30 July: Martyrs Day
25 December: Christmas Day
Books
They Poured Fire on Us From the Sky: The True Story of Three Lost Boys from Sudan, by Benson Deng, Alephonsion Deng, and Benjamin Ajak. Not exactly something to advertise South Sudan as an appealing destination, but it's a vivid and moving account of the war that preceded the country's independence.
Warchild by Emmanuel Jal
What is the What by Valentino Achak Deng and Dave Eggers
Get in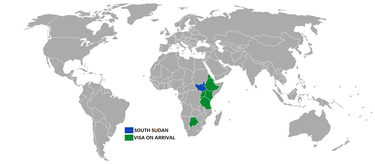 Visa requirements
Visas are issued for US$100 at all border crossings and Juba International Airport. The length of the visas issued seems to vary randomly between 1 and 6 months. An invitation letter may be required depending on which official is at the desk on your day of arrival. The process can take 3 hours. If you do not have a local contact with official connections, it would be safer to get a visa before arriving in the country. Visas are now available from the
embassy in London
for UK₤50 cash and typically take 5 working days to process. The embassy in Nairobi is also a popular place to get a visa.
Once in South Sudan, foreign visitors must register their presence in the country within 72 hours of arrival. Procedures have changed sometime before February 2019. Visitors must now do this in person.
By plane
There are no direct commercial flights from outside Africa, with the exception of service from Dubai on
flydubai
. So, changing planes is necessary; most airlines flying into Juba depart from
Cairo
(
Egypt
),
Addis Ababa
(
Ethiopia
),
Entebbe
(
Uganda
),
Nairobi
(
Kenya
) and
Khartoum
(
Sudan
) from where you should be able to manage flights to and from
Europe
, Asia or the Americas.
By car
Overland crossing from
Sudan
to South Sudan was closed from the latter's secession in 2011; Sudanese leaders have announced plans to re-open the border in 2016.
By bus
By train
There is one railway line in South Sudan that enters from Sudan in the north and terminates at
Wau
. Before independence there were services between Wau and
Babanosa
, which had rail connections to Khartoum. As of 2014, however, there are no scheduled passenger services; indeed, the entire Sudanese rail network has come to a halt. Sporadic and non-scheduled trains may, however, still run, so you can try contacting the
Sudan Railways Corporation
for more information.
Get around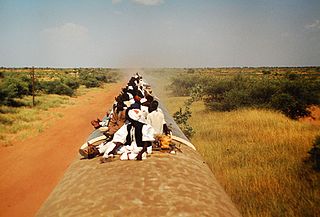 By bus
By plane
By train
Talk
English and
Arabic
(Juba Arabic) are the official languages of South Sudan, although
Dinka
is the most widely spoken language. Jur Modo, Nuer, Chollo/Shilluk, and Zande languages are also spoken there.
See
Do
Safaris to Boma National Park and Nimule National Park. See the parks by 4x4 vehicle or aircraft. See the greatest migration of mammals on the earth.
If you're feeling charitable, visit the Angels of East Africa orphanage (as featured in the film Machine Gun Preacher), also located in Nimule.

Buy
Money

The currency of the country is the South Sudanese pound (ISO currency code: SSP). It is divided into 100 piasters. There are two kinds of exchange rate. The bank exchange rate is similar to what you would see on sites like oanda and mataf.net. However, the black market exchange for dollars is twice than this. If you want a higher exchange rate, try the black market.
You can withdraw money with a Mastercard or Visa card at any of the Ecobank or Equity banks ATMs in South Sudan.

Eat
Da Vinci - This is a restaurant by the Nile River. There is a friendly monkey and lots of lizards zooming through. They also serve crocodile meat.
Lily's - They serve oriental food and you can even buy a shake. This is just adjacent to their grocery. You can use USD to buy groceries and they will give you SSP as change., black market rate.
Nimule - Restaurant by the swimming pool

Drink
In the towns of South Sudan such as Rumbek and Juba, Kenyan and Ugandan beers are starting to appear in bars at inflated cross-border prices. In Renk, you can even buy Red Horse, a Filipino beer!
Fresh fruit juices are available throughout Sudan. One of the local juices is "aradeab"(tamarind).
The cloves-flavoured tea (chai) is very good. Outside the capital, you'll pay usually 10 SSP for one cup. Also the ginger-flavoured coffee is to be tried. In Renk, one cup of this is 100SSP. Both are very sweet, so if you don't want sugar or you want it separately, mention this when you order.

Stay safe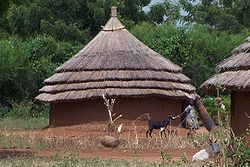 Although the level of violence has subsided since the establishment of the country and the end of the civil war, South Sudan remains dangerous for travel as ceasefire violations and boundary disputes have continued. Travel near the Sudan or Central African Republic borders is
extremely dangerous
. Western governments continue to
advise against all travel
to South Sudan and the adjacent regions in Sudan. Violent crime remains problematic; unexploded ordnance from years of civil war also poses hazards to civilians.
Stay healthy
It's a
malaria
area, so before arriving, visit a tropical vaccination center to get prophylactic treatment and the necessary
vaccines
, including yellow fever, polio and hepatitis A and B. Be sure to sleep under a
mosquito net
and use mosquito repellent. Most of the South Sudanese drink
water
from the rivers, which exposes them to diarrhoea and cholera. If bottled water is not available, boil/chlorinate the river water before drinking it.
Connect
Telephone country code for South Sudan is +211, previous to 2011 it used the Sudan country code +249 so some numbers printed may need to be corrected. Local numbers are a 7 digit number preceded by a 2 digit provider code, those starting with a 1 are fixed line those with 9 mobile.
Roaming with foreign phones/SIM cards does not usually work in South Sudan. For mobile communications, you will need to purchase a SIM card from one of the local networks (Zain or MTN). Bring an unlocked phone.