South West Coast (Victoria)
The
South West Coast
of
Victoria
, Australia is the area around the
Great Ocean Road
including Geelong, Great Ocean Rd, Bellarine Peninsula, and the Otways.
Cities and towns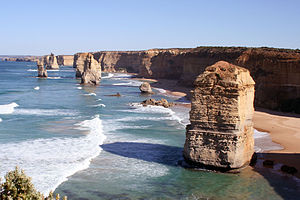 Geelong and the Bellarine Peninsula
- the region's largest city
Shipwreck Coast
- the state's surf capital
Further inland
Other destinations
along the Great Ocean Road

Budj BimThe earliest evidence of aquaculture in the world is found here. As early as 6000 BC, the Gunditjmara people created a system of channels, dams and weirs trapping eels and fish. The eels were smoked and preserved and were eaten all year around.
Understand

The Great Ocean Road is a fantastic drive, not only for the scenery but also for the winding cliff-top roads. Motoring enthusiasts travel the road for the sheer excitement of feeling the corners and having fun.

Get in
Most visitors start from
Melbourne
, which is 95 km away from Torquay. Instead of Melbourne's main airport, fly into Avalon Airport near
Geelong
, which is much closer to the start of the road. There is car hire there, and it is regularly serviced by
Jetstar
and
Tigerair Australia
.
V/Line
buses run from Geelong along the Great Ocean Road as far as Apollo Bay three times a day M-F and twice a day Sa-Su. On Friday a bus continues from Apollo Bay to Warrnambool. There are also daily V/Line trains to Warrnambool, but they travel inland.
Get around
Car offers the most flexibility for seeing the area. Coach tours are also easily available.
There are many sights to see away from the townships, and along the coast. Getting to them by general public transport would be difficult.
There are so many pullouts and sights, that you can fall into a
yet another spectacular vista
fatigue, when driving the road. Is it worth pulling off the road for another cliff drop, another gorge, or another arch? Make sure you plan your trip, so you can skip some attractions if you need to, but don't miss the truly amazing ones.
Itineraries
At its simplest, you won't need an itinerary, or even a map to drive the Great Ocean Road. Start at
Geelong
or
Warrnambool
and follow the signs. The eastern end of the route starts at Torquay, 22 km from Geelong. The sights are well signposted off the road, as well as nearby attractions. Information boards exist at all sights and attractions. The road is well developed for tourism, has regular information, food, fuel and accommodation.
Its possible to drive the length of the road, and see the main attractions in a day's driving. Two days will allow you to see just about all of the coastal sights and towns, if that is what you want to do. Consider three days or longer if you want to stay longer at some towns, and do some walks, relaxation, or other recreation.
If starting from Melbourne, remember that it's almost 100 km to the start of the Great Ocean Road at Torquay and another 264 km back from Warrnambool along the inland Princes Highway. This translates to a
minimum
of 600 km to get there, drive the road from end to end and come back, and doing this in one day doesn't leave much time for sightseeing — spending at least two-three days is a much better idea.
See
How many apostles?
The Twelve Apostles are somewhat misnamed: Tourism officials renamed this rock formation the 12 Apostles from the former "Sow and Piglets". Some question whether there ever were 12 Apostles but the coastline changes over time due to the strong waves coming off the Southern Ocean. Seven are visible at any one time from any one point anyway. Following the collapse of one in 2005, there are now only 8 left, although if you add in two to the east you can still scrounge up 10.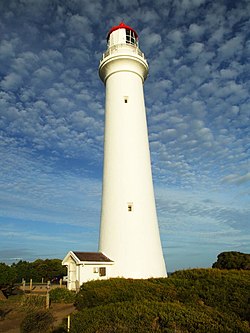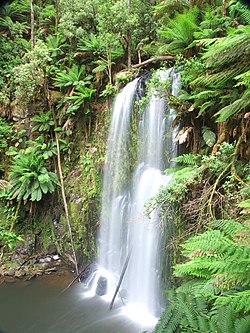 Geelong — The largest city in the South West Coast Area, Geelong has bustling beaches and wonderful art. See the tallest building in the region, Worksafe Headquarters at 40 m. Visit the Botanical Gardens in East Geelong, with lots of green and get a glamorous view of the city. Also visit the construction sites of The Mercer and Miramar, apartment buildings set to be the tallest in Geelong at 80 and 90 m. The library has been nicknamed the Death Star by locals. Geelong has two major shopping centres: Westfield and Market Square, which have heaps of shops across two levels.
Lara — Considered to be part of Geelong, it is a 15-minute drive from the CBD and has a train station. Lara is continuously growing, with new estates coming everywhere. You can also see the farm side of Lara and the 355-m You Yangs National Park.
Torquay — A small town 20 minutes away from Geelong and on the Surf Coast Highway, Torquay has many things to see. Torquay is on the end of The Great Ocean Road, next to Jan Juc. There are the beaches full of people during summer, shops and more. Torquay also has the Australian National Surfing Museum. Torquay is still growing, with a plan to be part of Geelong in the future.
Bells Beach — Surfing mecca - crashing waves, lots of surfers and kangaroos in nearby grasslands in the early morning
Point Addis Surfing, and an indigenous walk through the bushland to a lookout over the beach. Signs provide insights into how the local aboriginals used the land (approx 30 minutes return).
Split Point — Aireys Inlet.

Angahook-Lorne State ParkThe park has many walking trails particularly in the Aireys Inlet and Lorne areas.

Teddy's Lookout, Lorne — Provides a view of the Great Ocean Road as it winds along the coastline.
Wye River and Kennett River villages for koala sightings, Wye River — Both small villages have excellent koala populations in trees easy for visitors to see.
Marriner's Lookout in Apollo Bay — Views of the township and the 3 bays that make up Apollo Bay.

Otway National ParkAt Mait's Rest there is a 30-minute loop walk through lovely rainforest. Glow worms can be found in gullies on night walks. This National Park also includes a number of beautiful waterfalls including Hopetoun Falls, Triplet Falls and Beauchamp Falls.

Cape Otway LighthouseIn operation since 1848, it's the oldest lightstation on mainland Australia, and saved the lives of sailors in this treacherous part of the Southern ocean and Bass Strait. You can climb to the top and get a view over spectacular ocean to see passing whales and ships.

Melba Gully State ParkThere are picnic facilities and toilets below the carpark and a 30-minute walk through the bush. The boardwalk provides a unique opportunity to walk among the tree ferns. Glow worms can be seen along the tracks at night.

Port Campbell National ParkNear Port Campbell, including the 12 Apostles, London Bridge and Razorback rock formation.
Do
Walk
. Many of the natural features have surrounding walks, but there are developed paths for longer walks.
There are also some great places to go mountain biking in the back of Apollo Bay around the forest and the Otway National Park. There is one tour company that offers 5- to 7-day tours based out of Apollo Bay.
Tour
. Many tourists prefer to take a tour rather than drive themselves. There are many operators who provide day and multiple day tours along the Great Ocean Road. Tours also range from small group tours, private tours to bus tours.
Eat
Port Campbell has many cafes and restaurants and it is the only place to get food near the Port Campbell National Park.
Aire Valley Restaurant and Guest House

phone: +61 3 5237 9223

address: 2590 Great Ocean Road, Hordern Vale

Aire Valley Restaurant has its own restaurant garden where it grows its own vegetables, herbs and fruits. While you are driving the Great Ocean Road your dinner is still growing. Dinner 6-10PM. Lunch by arrangement.

Bayleaf Cafe

address: 20 Gardner Street Beech Forest

Good quality and reasonably priced food.

Gardenside Manor Tearooms, Lavers HillBird-feeding gardens are right beside the tearooms. This is a great place to see beautiful king parrots and crimson rosellas coming in from the wild. There are some short paths through the gardens.

The Ridge Cafe

address: 131 Great Ocean Road Apollo Bay

Organic food cooked with local produce as well sensational chutneys, jams and gourmet goodies.
Sleep
A wide range of accommodation is available in towns along the Great Ocean Road, but most of it is clustered at the eastern end near Melbourne, particularly
Torquay
,
Lorne
and
Apollo Bay
.
As the area is such a popular weekend getaway, prices are
considerably
higher during the weekend and many places (especially B&Bs) have two-night minimum stays. In the summer peak season and during holidays, many places will sell out completely and it can be hard to find even a motel room.
Stay safe
Some of the beaches along the road have dangerous currents. Observe local signs, and seek local advice about the best places to swim. For tips on beach safety and to understand the signs see
BeachSafe
There are virtually no overtaking lanes on the Great Ocean Road. Rather the road has turnouts for slower vehicles so if a faster vehicle catches up to you, be considerate and pull over at the next turn out. Frustration causes accidents, let faster vehicles past. If you catch up to a slower vehicle, stay back at a safe distance and wait for the other vehicle to pull over in the next slow vehicle turn out. Don't tailgate.
Many areas on the road experienced significant bush fires in early 2016, with many travellers needing evacuation.
The speed limit along the Great Ocean Road is 80 km/h to 100 km/h. In towns, the speed limit is 50 km/h to 70 km/h.
Given the volume of traffic that can traverse the Great Ocean Road, especially weekends and holidays, don't assume that it will be a quick trip. Allow yourself plenty of time to see everything so that you may enjoy your drive.
Go next
You can travel back to Melbourne via the Great Ocean Road or take the inland route via Colac which although a similar distance saves time.