South Westphalia
South Westphalia
—consisting of
Sauerland
,
Siegerland
and some smaller sub-regions—is a region in
North Rhine-Westphalia
,
Germany
. It is the most sparsely populated region of the state. The landscape is characterised by rolling hills and (low) mountain ranges, making Sauerland and Rothaar Mountains one of Germany's northernmost skiing areas. Beyond winter sports, the region is popular for hiking, camping and its small and romantic historical towns.
Cities
, administrative centre of the region
, one of the best-preserved old towns with a complete ensemble of half-timbered houses
, historical city with well-preserved medieval core, huge funfair in November
, skiing resort
Understand
South Westphalia consists of several smaller sub-regions — Sauerland, Siegerland, Wittgensteiner Land, Soester Börde, etc. — each of which has its own traditions, customs and a population proud of their regional identity.

Get in
By plane
There is a regional airport in
Paderborn
-Lippstadt (
PAD
) offering a few domestic and seasonal charter connections to holiday destinations around the Mediterranean. The "Siegerland airport" near Burbach (SGE) can only be reached by charter and private flights. More important nearby airports are Dortmund (DTM, 45 km to the Northwest), Düsseldorf (DUS, 95 km to the West) and Cologne (CGN, 70 km to the West), the two last-mentioned offer a wide range of international connections.

By train
Hagen, the "gate to Sauerland" is reached by high-speed trains (ICE) from Berlin and Cologne hourly, additionally there are ordinary intercity trains from Dresden every two hours. Soest and Lippstadt have a few ICE trains from Würzburg and Düsseldorf per day. Most parts of the region can only be reached by (frequently running) regional trains.

See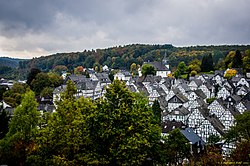 In this region, there is a number of
historic towns with well-preserved medieval cores
.
Soest
is arguably the historically and culturally most notable among them. Other recommended destinations are
Lüdenscheid
with its circular medieval layout; or
Freudenberg
,
Brilon
,
Arnsberg
,
Bad Berleburg
, Bad Laasphe (18 km south of Berleburg), Burbach (22 km south of
Siegen
), Hilchenbach (19 km northeast of Siegen) and Schmallenberg (22 km west of
Winterberg
) with their romantic ensembles of old, half-timbered houses, picturesque steeples and narrow lanes.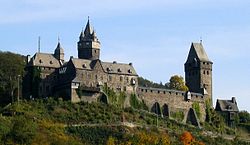 There are several
castles
worth seeing, including Altena Castle (a medieval spur castle that has been reconstructed in the 19th century; 14 km north of Lüdenscheid), Oberes Schloss of
Siegen
or Schloss Berleburg.
Further attractions are the Heinrichs's cave (limestone cave with fossiles and sceletons of primeval animals) in Hemer (6 km east of
Iserlohn
) and the Berg Kappe mountain panoramic bridge near
Winterberg
.
Do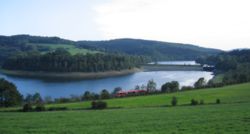 Sauerland and Rothaar Mountains are popular
skiing
destinations, mostly frequented by Northern Germans and Dutch who don't want to go the far way to the Alps. There is a well-developed skiing infrstructure with ski-lifts, jumps etc.
Moreover, there are many scenic hiking trails, cycling paths, lakes and reservoirs for swimming, water sports an camping.
During the week of All Saints' Day, the whole old town of Soest is transformed into a funfair area which claims to be Europe's biggest funfair held in an old town (rather than on a separate site outside the town), attracting more than a million visitors per year to the small town of less than 50,000 inhabitants.
Eat
The traditional Westphalian cuisine is known for its hearty, meat-based dishes that stem from a time where hard labour was the norm. South Westphalia is known for its brown bread (
Pumpernickel
—a heavy, slightly sweet rye bread), ham and
Wurst
(i. e. sausages and lunchmeat) specialties. Fish does not play a major role, but as the low mountain ranges provide an abundance of clear brooks and creeks, chances of finding fresh trout on the menu are pretty good.
Potthucke – casserole from the Sauerland, made with mashed and grated potatoes, eggs, cream and bacon. Originally a dish for the poor, today it is served (in a more refined version) in specialised restaurants.
Dicke Bohnen mit Speck – is a hearty dish made from baked broad beans and bacon, often served with boiled potatoes and Mettwurst.
Sejerlänner Riewekooche – is a bread specialty from the Siegerland, were some or even all of the normal flour is replaced by grated raw potatoes.
Knochenwurst (lit.: "bone sausage") – a type of lunch meat that contains chunks bone, usually served warm together with other hearty dishes. Another former poor people's dish that turned into a local speciality of the Winterberg/Medebach region. And no, you are of course not supposed to eat the bone – just gnaw off the meat and then put them aside.
Drink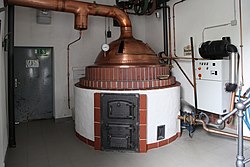 South Westphalia is home to three of Germany's best-selling beer brands:
Krombacher
(no. 2 in Germany),
Veltins
(no. 4) and
Warsteiner
(no. 6). Beer afficionados however criticise them for being too "mainstream" and make them responsible for a loss of diversity in smaller local breweries. As a matter of fact, many people—including experts—are unable to distinguish their default
Pilsner
beers by taste in blind tests. Fortunately, you will still find a number of individual breweries that produce according to their traditional recipes and have resisted the big corporations' bids. With traditional and non-standard beers gaining popularity again in Germany since the 2010s, the "big 3" jumped on the craft beer train and are now offering some alternatives to their
Pilsners
.