Southeast Missouri
Southeast Region
of
Missouri
.
Cities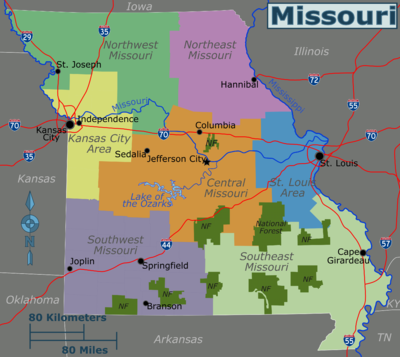 — Hometown of former Governor Warren E. Hearnes. Visit in the springtime.
See
Do
Rivers
The Black, Current, North Fork of the White, and their tributaries are a major draw for recreational canoeing and kayaking. There are many outfitters in this region who can help you plan a trip.
State Parks
address: 118 E Maple St Pilot Knob, MO 63663

Climb around on gigantic reddish granite boulders, or enjoy a picnic and the lovely walking trails (with braile signage) around the park. The monolithic rocks overlook an old quarry and abandoned firehouse. The park is open year-round, but can get crowded on warm weekends. Camping is not allowed.

address: 148 Taum Sauk Trail Middlebrook, MO 63656

After being closed in 2009 by a disastrous flood, Johnson Shut-Ins is again open, and has a new boardwalk that overlooks the shut-ins. The shut-ins refer to a natural formation where the East Fork Black River has run over igneous rock and eroded a maze-like series of channels, rivulets, and cascades. It is a sort of natural water park, and many people come to swim and play here during the warm months. Hiking, Camping, and a visitor's center are available in the park.