Southeast Nigeria
Southeast Nigeria
(
Igboland
) is a region of
Nigeria
that borders
Cameroon
to the east and the Atlantic Ocean to the south.
Understand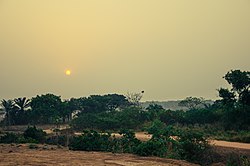 The homeland of Kwa speaking people, and the dominant language of the region is
Igbo
. Southeastern Nigeria is where the oil wealth of Nigeria originates, which has led to environmental degradation of its extreme south in the mangroves, rivers, and swamps facing the Atlantic. Although southeastern Nigeria is often referred to as a region by Nigerians, it stopped being an official region in 1967 after Nigeria switched to states. Around 10 states make up what is now unofficially known as the southeast region, or just Eastern Region.
Talk
Although most people in the southeast speak enough English to get by, it is best learning a few words and phrases in Igbo, the dominant language here.