Southeast Ohio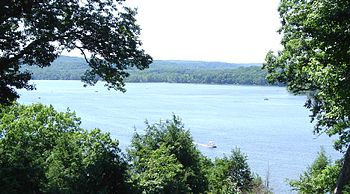 Southeast
Ohio
includes rural areas of the state that border
West Virginia
. This region is very hilly as it lies in the foothills of the Appalachian Mountains. Most of the
Wayne National Forest
is in Southeast Ohio. When looking at a map, the forest will look like patches. The whole area resembles the National Forest, which is reclaimed strip mining areas, in various stages of reforestation. Much of it is primitive area, popular with hunters and all terrain vehicle users. The southeastern part is along the banks of the Ohio River and has some of Ohio's most scenic and historic areas.
Counties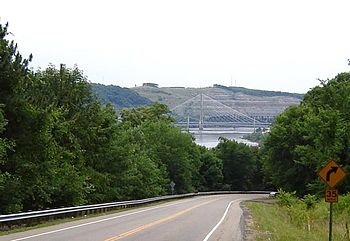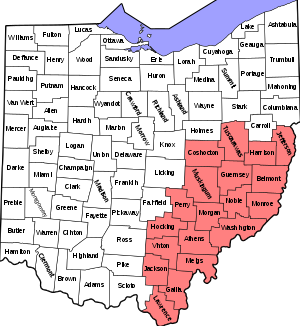 Athens County, Gallia County, Fairfield County, Hocking County, Jackson County, Lawrence County, Meigs County, Monroe County, Morgan County, Noble County, Perry County, Vinton County, Washington County, Belmont County, Coshocton County, Guernsey County, Harrison County, Jefferson County, Muskingum County, Tuscarawas County
Cities
Southeastern Ohio does not have any big cities, but does have a whole bunch of small towns.
is the county seat of Tuscarawas County.
Other destinations
State Parks and Resort Lodges
Burr Oak State Park and Resort Lodge, Athens County, north of Glouster and east/adjacent to the Wayne National Forest off of Route 13. A variety of overnight accommodations, lodge, cottages and campground. Lodge: Sixty guest rooms, five meeting rooms, a dining room, full-service lounge, gift shop, swimming beach, tennis courts, playground equipment, boat launch ramp and indoor pool. Cottages: 30 family cottages, air conditioning, cable tv, sleeps six people, bath/shower, living room, complete kitchen, dining area, screened porch. Linens, towels, cooking, eating utensils are furnished. Camping: 100 non-electric campsites, showers, flush toilets, twenty one primitive sites, pet camping. Fishing, hunting, swimming, beach, bathhouse, showers, changing booths, snack bar, twenty-eight miles of hiking trails, Burr Oak Backpack Trail, horseshoe court and playground.
Forked Run State Park, east Meigs County, south of the Bellville Dam on the Ohio River and north of Long Bottom on Route 124. 80 campsites with 50-amp electric, 71 non-electric sites, showers, pet camping, three camper cabins, ten horsepower limit on boat motors, three launch ramps, Ohio River Access, access launch ramps, boat tie-ups, restrooms, 400-foot sand beach, three hiking trails, disc golf course, miniature golf course, volleyball, horseshoes, tetherball, and playgrounds.
Great Seal State Park, Ross County, 635 Rocky Rd., Chillicothe. 15-site campground, pressurized water, vault latrines, playground, shelterhouse, pet camping, shelterhouse, horse camp, twenty-two miles of trails, hunting, playground equipment, disc golf course, volleyball, basketball, horseshoe court.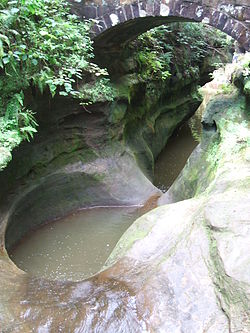 , Hocking County, south of Gibsonville on Route 374. Cottages: 40 gas-heated, air-conditioned cottages, two bedrooms, bath, shower, living room, gas-burning fireplace, microwave, complete kitchen, dining area and screened porch. Camping: 159 electric sites, with electric, 13 non-electric sites, heated showers, flush toilets, laundry facility, camp store, swimming pool, playgrounds, volleyball court, horse shoe pit. Dining Lodge (Seasonal): restaurant, meeting rooms, TV lounge, game room, snack bar, outside swimming pool, there are no sleeping facilities at the lodge. Other amenities: miles of trail, picnicking, recess caves, Old Man's Cave and Ash Cave.
Jackson Lake State Park, southern Jackson County, west of Oak Hill on Route 93. 34 electric campsites, beach, pet camping, ten-horsepower limit, launch ramps, boat rentals, fishing, volleyball courts, playground equipment, horseshoe pits, and shelter houses.
Lake Alma State Park, southeastern tip of Vinton County, northeast of Wellston on Route 93, adjacent to part of the Wayne National Forest. 72 wooded campsites with electrical hookups, eleven non-electric sites, pet camping, pit latrines, tables, fire rings, drinking water, boat launch ramp for non-powered boats, fishing, 3.5 miles of trail, 1-mile paved walkway/bicycle path, three picnic shelters, two public beaches, change booths, beach, concession, boat and bicycle rentals, volleyball, basketball courts, and a playground.
Lake Hope State Park, eastern Vinton County, qpprox. 20 miles west of Athens. Lake Hope State Park is entirely within the 26,824-acre Zaleski State Forest and adjacent to part of the Wayne National Forest. Dining lodge: destroyed by fire 2006. Being rebuilt. Cottages: 72 cottages, all cottages have linens, towels, complete kitchens, microwave ovens, heat, air conditioning, outdoor grills and fire rings. Camping: 219-site campground, heated showerhouses, pit latrines, waste disposal, laundry facilities, picnic tables, fire rings, forty-six sites have electric hookups, pet camping, three Rent-A-Camp units, one camper-cabin, one Rent-A-Tepee. Boats with electric motors only, 120 acre lake, canoes, kayaks, and rowboats, available for rent. Swimming beach, beachhouse, sun deck, restrooms, concession building, fishing, hunting, seventeen miles of hiking trails, 21-mile backpack trail with primitive campsites, thirty-three miles of bridle trail and 23-mile singletrack bike trail.
Muskingum River State Park, Muskingum County, near Zanesville, at Ellis Campground, 1390 Ellis Dam Road. At Lock 11, there are 20 campsites off State Route 60 and County Road 49, water, picnic tables, fire rings, pet camping, there are eight boaters-only, primitive campsites at Lock #5. Boats with unlimited horsepower motors, house boats, pontoon boats, canoes and rowboats travel the river. Public launch ramps, at Locks 4, 5, 6 and 11, private ramps located near Locks 2, 7 and 10. Picnic tables, grills, latrines, drinking water and ten locks on the river.
Pike Lake State Park, Pike County, southwest of Chillicothe on Route 41. Camping: 80 sites with electricity, latrines, tables, fire rings, camp commissary, pet camping. Cottages: 12 standard cottages, 12 family cottages, heated, air-conditioned, two bedrooms, bath with shower, living room, with hide-a-bed, gas log fireplace, kitchen/dining area, screened porch, dishes, kitchen utensils, linens, a group lodge offers kitchen facilities, two baths, sleeping accommodations for 16 people. 13-acre lake, sand beach, changing areas, showers, vending machines, boating, non-powered watercraft and boats with electric motors only, rowboats, canoes and pedal boats are available for rent, playgrounds, basketball courts, horseshoes, disc golf, six miles of hiking trails, the Lake White State Park and Paint Creek State Park are adjacent and have several miles of bridle trails.
Scioto Trail State Park, Ross County, south of Chillicothe, east of Route 23 on CR 372. 55 campsites, 40 with electricity, latrines, water, fire rings, picnic tables are provided. A secluded hike-in camp near Stewart Lake has 18 non-electric sites. Two rustic camper cabins are available. Fishing, hunting, twelve miles of hiking trails, 17 miles of bridle trails, nature center, basketball, horseshoe courts, playground, games and sporting equipment to registered campers, basketball, horseshoe courts and volleyball court.
Shawnee State Park and Resort Lodge, Scioto County, west of Portsmouth on Route 125. Shawnee State Park is located in the 63,000-acre Shawnee State Forest. Lodge: fifty guest rooms, elegant dining room, meeting rooms, indoor, outdoor pools, game room, sauna, jacuzzi, tennis, basketball and shuffleboard courts. Cottages: 25 family, two bedrooms, bath, shower, living room, double-wide rollaway bed, complete kitchen, microwave, telephone, dining area, screened porch, charcoal grill. Two premium cottages offer Jacuzzis. Lodge facilities are open to cottage guests. Camping: 107 campsites, electric hookups, waste disposal, heated shower houses, flush toilets, laundry facilities, pet camping, 38 campsite horsemen's campground with latrines, near Bear Lake. 75 miles of bridle trails, several nature trails, one to two miles in length, swimming and golf.
Stouds Run State Park, Athens County, east of Athens, on Route 690 , inside of Wayne National Forest on Dow Lake. 75 non-electric campsites, picnic tables and fire rings, pet camping, three Rent-A-Camp sites, boating, fishing, hunting, fifteen miles of hiking trails, birdwatching, nature study, 8-1/2 mile bridle trail, 900-foot sand beach, change booths, drinking water, restrooms, scuba diving with proper equipment, picnic tables, cooking grates, three shelterhouses, basketball court, playground equipment, boat rentals, volleyball court and another playground.
Tar Hollow State Park, east part of Ross County, east of Chillicothe, at 16396 Tar Hollow Road, Laurelville, 71 sites with electrical hookups, 11 non-electric sites, 12 walk-in sites, and 5 primitive sites along a backpack trail. Equipped with showers, laundry facilities, pit latrines and a dump station. The beach is close by. Boating with electric motors only, permitted on the 15-acre Pine Lake. Perfect for canoes and rowboats.
Wolf Run State Park, Noble County, south of Cambridge east of I-77 exit 28. 71 electric and 67 non-electric campsites located on the south shore of the lake. Showers, laundry facilities, fire rings. A 20-site primitive fly-in camping area on north side of the lake, within walking distance of the 4,700-foot runway at Noble County Airport. Hunting, fishing, a 3-mile section of the Buckeye Trail, half-mile loop trail at the nature center, 1.5-mile Lakeview Trail, swimming beach, basketball hoop, playground equipment, games, sporting equipment for registered campers.
Barkcamp State Park, Belmont County, south of I-70, exit 208, off of SR 147 at Belmont Lake, about 20 miles west of the West Virginia/Ohio State lines. 125 electrified campsites, hot showers, tables, firerings, two wheelchair accessible sites, 25-site horseman's camp, horse washing station, accessible mounting ramp, pet camping, two deluxe Camper Cabins, boats with electric motors only, boat tie-ups, launch ramp, boat rentals, fishing, hunting, 700-foot beach, seven picnic areas, tables, grills, water, latrines, picnic shelterhouses, miles of hiking trails and a barn with naturalist activities and historical displays.
Blue Rock State Park, southeastern Muskingum County, southeast of Zanesville off of Route 60. 94 non-electric campsites, pet camping, latrines, picnic tables, water, dump station, fire rings, showers, beach, bathhouse, three camper cabins, camp store, 15-acre lake, fishing, hunting, several miles of hiking trails, horsemen - 26 miles of bridle trails, volleyball, basketball courts, horseshoe pit, playground, all adjacent to the 4,573 acres, Blue Rock State Forest.
Dillon State Park, northwest Muskingum County, northwest of Zanesville on Route 146. Cottages 29 family cottages, air conditioning, cable television, gas heat, two bedrooms, bath, living room, all-electric kitchen, dining area, screened porch, linens, towels, kitchen utensils furnished. Camping: 195 campsites, 183 have electric, flush toilets, showers, dump station, commissary, laundromat. Boating, unlimited horsepower, two boat ramps, one hundred 20 and 24 foot docks for rent, nightly docks, 1,360-foot swimming beach, fishing, hunting, lighted trap and skeet fields with high, low, and combination houses, 100-yard rifle range, 25-yard pistol range with firing line shelter, restrooms and meeting space and 15 miles of wooded bridle trails.
Salt Fork State Park and Resort Lodge, northern Guernsey County, southeast of Cambridge. Exit 47 off of I-77 to Route 22 East. to Route 285 North. Lodge: 148 guest rooms, dining room, coffee shop, snack bar, gift shop, lounge and lobby areas, indoor game area, meeting rooms, indoor and outdoor swimming pools, sauna, tennis, volleyball, basketball, shuffleboard courts, 400-foot swimming beach, boat launching and docking facilities. Cottages: Thirty-seven two-bedroom cottages, fully furnished living and dining areas, kitchen, cooking and eating utensils, bath, shower, screened porch. Seventeen chalet cottages, gas log fireplaces and hot tubs, available year-round. Camping: 192 sites with electricity, twenty full-service campsites offer sewer and water hookups, heated shower houses, flush toilets, dump station, a separate beach, boat launching and docking facilities for campers. Pet camping. Other amenities: 18-hole golf course,golf shop, snack bar, driving range and putting green. Fishing, hunting, 2,500-foot beach, bathhouse, showers, lockers, toilets and snack bar, two marinas, 469 rental docks, comfort stations, gasoline fuel stations, parking facilities, concession areas, variety of rental boats.
Jefferson Lake State Park, 501 Twp. Rd. 261A, Richmond. 97 non-electric camp sites, latrines, water fountains, picnic tables, fire rings, public beach, bathhouse, showers, toilets, fishing, hunting, volleyball, basketball courts, horseshoe pits, eighteen miles of multiple-use trails through the park for hikers, horseback riders and mountain bikers, any season.
For camping and getaway rental reservations on any of Ohio's Parks tel. 1+ 866-644-6727.
Note
The mailing address and actual location of these parks may be two different locations: For more detailed information on these and other Ohio State Parks, contact the Ohio Department of Natural Resources - Division of Parks and Recreation. Click here.
Understand
This is coal mining country. The landscape is generally composed of the foothills of the Appalachian Mountain Range.

Get in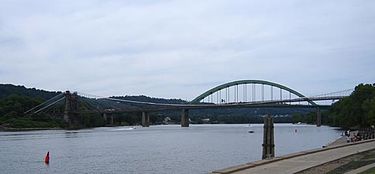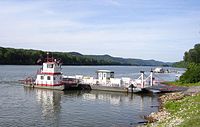 I-77 runs north-west through this region.
I-70 runs east-west along the northern portion of the region.
If you wish to ferry across the Ohio River, there are three remaining commercial passenger ferries, Monroe County at Fly, to Sisterville, West Virginia - Higginsport, Ohio in Brown County to Augusta, Kentucky - Cincinnati, Ohio to Constance, Kentucky. All-year, continuous daily service, weather permitting. Car=about $3 or less.
See
The Hocking Valley Railroad which has planned excursions, Victorian Nelsonville Public Square and historic art district including Stuart's Opera House, Murray City Train Depot and Coal Mining Museum, Smoke Rise Horse Ranch, Hocking Technical College, Ohio University, Little Cities of Black Diamonds Chattauqua festivals, historic downtown Athens, New Straitsville Moonshine Festival, Burr Oak State Park, Athens county Fair, Albany Paw Paw Festival, The Spotted Horse Ranch.
Rosco Village in Coshocton. Restored Ohio & Erie Canal port village.
The Ohio River
Hannibal Dam - on the Ohio River at Hannibal, Ohio Intersection of Route 7 and 536.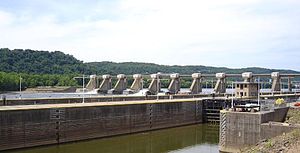 Pike Island
, Yorkville, two locks and a gated dam, one of the two major types of dams in service. Controls the water level in the navigation pool upriver of the dam. Machinery moves large chains which lift gates that are hinged into the body of the piers. The gates are raised or lowered to control the amount of water flowing under them. The upstream pool is maintained at a relatively constant level for an authorized depth of at least 9 feet throughout its length. The dam cannot be operated to control flood flows.
Museums
Barnesville:
address: 532 North Chestnut Street
Dresden:
Dresden Junction Toy Train Museum

address: 12585 Main St., Trinway
Marietta:
Ohio River Museum

address: 601 Front Street.
Norwich:
National Road-Zane Grey Museum 8850 East Pike, Norwich
New Concord:
John and Annie Glenn Historic Site

address: 72 W. Main St.
Portsmouth:
Southern Ohio Museum

address: 825 Gallia St.
Roseville:
National Ceramic Museum

Roseville Hitorical Society Museum

address: 140 South Main St.
Zanesville:
Putnam Underground Railway Education Center

address: 522 Woodland Ave.

Zanesville Art Center

address: 620 Military Rd.
Pickerington
Motorcycle Hall of Fame and Museum

address: 13515 Yarmouth Dr.
Do
Burr Oak State Park
Lake Shawn, +1 800-845-0036, on State Route 148, six miles west of Powhatan Point, Ohio. The 108 acre property one of the best fishing holes in the entire state. Anglers can catch hybrid striped bass as large as 14 pounds along with smallmouth, largemouth, giant bluegills, perch, crappie, trout and silver channel cats. Lake Shawn has two cabins available for rental year round for fishing and deer, turkey and pheasant hunting. People visit Lake Shawn from all over Ohio, Pennsylvania and West Virginia not only because of the great fishing and hunting but rather because it is very private. Only small parties of fisherman and hunters are allowed on the property and it is by reservation only.
Eat
A must eat at is the Nelsonville Ramono's Pizza place. A local favorite open for nearly 40 years.
Athens Ohio has most large chain restaurants. Historic downtown Athens has many small eateries and pubs.
Hocking Hills Farmer's Market

address: outside Logan, OH
Drink
In Buchtel Ohio there is a spring which flows endlessly and has been piped and flows into a large trough, it is off State route 78 and can be easily seen from the road. Many locals have drank the spring water all their lives. It is not unusual to see cars pull up and people fill up gallon jugs with this water.

Stay safe
This is a very rural part of Ohio with many primitive areas. As long as you stay on the paved, narrow, winding roads, you should have few problems. If you wander off onto the logging or coal mine roads, be prepared for potholes, bad roads, mud and very little, if any traffic to ask for assitance. Much of this area is not served by cell phone towers and you will have little to no communications. The area is popular with hunters and all terrain vehicle users. Rumor has it that the area is also popular with marijuana growers, in and out of the Wayne National Forest. If you come upon a patch, change direction and move on slowly while looking for man-traps. Don't even think about getting close enough to pick any. You may be being videotaped by law enforcement or worse. During hunting season, wear brightly-colored clothing if you go into the woods.

Go next
Ohio
West Virginia