Southeast Tasmania
Southeast Tasmania
is often an alternative name for
Hobart and Surrounds
in
Tasmania
in
Australia
.
Southeast Tasmania can be an entry point for many who travel by air to Hobart, where the airport is known as
Hobart International Airport
.
In many cases, tourism promotion material calls the southeast region
Southern Tasmania
.
Cities
- the state capital
- famous convict site
Other destinations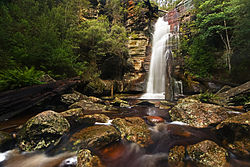 Understand
Tasmania has regions determined by geography, the Southeast is one of the older settled regions in Australia, and it has many buildings and sites that can trace their origins back into the mid nineteenth century and the convict era. Many Tasmanians did not want to acknowledge the convict past into the late twentieth century, when the convict heritage was being explored in movies, books and sites, to the point that now in the twenty first century, convict culture and legacy is exploited wherever possible.
The
Tasman
and
Forestier Peninsulas
is a set of two peninsulas in the south-east of
Tasmania
. Located close to
Hobart
, this area is a popular day trip destination and is home to the former penal colony of
Port Arthur
along with many natural wonders within
Tasman National Park
.
The
Derwent Valley
is the largest drainage basin in Tasmania. It contains more differing ecosystems than any other area of Australia, from alpine to temperate rain forest to riverine reed beds. The area is scenically beautiful, with tumbling streams, mirror lakes, poplars, rolling green hills and snow capped mountains in winter. Must sees include New Norfolk - the third oldest town in Australia with its history, Mt Field national park, Salmon Ponds where trout were first hatched in the southern hemisphere, the Styx Valley with the tallest hardwood trees in the world, the oldest golf course outside of Scotland at Ratho.
See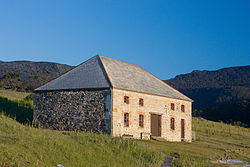 Out of the total eleven convict sites making up the UNESCO World Heritage list "Australian Convict sites", four are located in Southeast Tasmania; two on the Tasman Peninsula, one in Hobart and the Darlington Probation Station on Maria Island.

South Bruny National Park

Wonderful coastal walks, wildflowers, birdlife, forests and a historic lighthouse.
Do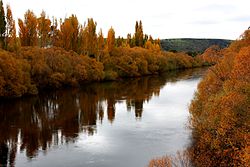 Huon Valley
Hastings Caves and Thermal Springs
Eat
Huon Valley
Beach Restaurant and Cafe

address: Ocean Esplanade, Blackmans Bay

Bruny Island Cheese Company

address: Main Road, Great Bay (Bruny Island)

Fleurtys

address: 3866 Channel Highway, Birchs Bay

Kyari

address: 13 Church Street, Geeveston

Pear Ridge

address: 1683 Channel Highway, Margate

Peppermint Bay

address: 3435 Channel Highway, Woodbridge
Drink
The Derwent Valley has wineries such as Stefano Lubiana, Laurel Bank, Derwent Estate, Meadowbank and Kinvarra Estate
The Nant Distillery produces single malt whiskey

Stay safe
As you travel further south, mobile phone reception does become weaker. Many city-based mobile phones on Optus, Vodafone, Virgin and other smaller carriers will not work in many areas of the Huon and Channel. Telstra NextG mobile phones provide the best coverage, although this is not guaranteed in all areas.
Observe speed limits. 50 km/h in built-up areas, otherwise 90 km/h on sealed roads and 80 km/h on gravel.
Watch out for wildlife - particularly at night.
Always notify somebody if you are going bushwalking and carry a (NextG) mobile phone if possible.
Carry an EPIRB if boating and wear life jackets.
Go next