Southend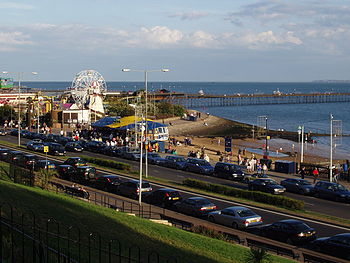 Southend-on-Sea
is a seaside resort about 40 miles east of
London
at the mouth of the River Thames Estuary. It's famous for its Victorian pleasure pier, the longest in the world!
Understand

Around the late 1800s there were two main villages: Prittlewell (famous for its Priory which is still standing today in Priory Park) and Leigh-on-Sea (a mile or so along the coast, famous for its cockles and seafood). The town coat of arms for Southend contains the monk and fisherman from monks of the Prittlewell Priory and the fishermen of Leigh-on-Sea.
The modern town known today as Southend was built up as the south end of Prittlewell and expanded into a large resort with its most famous landmark of all - Southend Pier - constructed in 1890.
Popular with Victorian daytrippers from London, the resort expanded generously from the 1830s onwards. Steamer ships would bring hundreds of daytrippers every day down the Thames from London to alight at Southend Pier. It wasn't so much about the sunshine and the sand (well, pebbles) as the "bracing" sea air which was seen as healthy and a nice break from the heavily polluted London air.
Southend's ultimate heyday came in the 1950s and 60s. Daytrippers from the east-end of London would come down on the train to spend the day sitting on the pebble beach, visiting the famous Kursaal Amusement park, or playing the fruit machines in the seafront arcades.
South East Essex College, with the University of Essex, has an impressive new campus building directly adjacent to Southend Central Railway Station.

Get in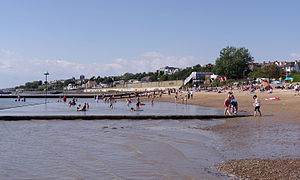 By car
Southend is well served by roads, with two junctions off the London-Orbital motorway, the M25. The A127 (junction 29) and A13 (junction 30) both go direct to the town centre. The A127 is more free-flowing road however gets busy on summer weekends when many day-trippers head to the seaside.
There is lots of parking available in Southend, but most day-trippers head for
Seaway
car park (£1.60/hr or £12/day) which is expensive and often full. Save yourself the hassle and head for
Tylers Avenue / York Road
(£1.10/hr or £10/day) or the car park at the
Royals
(£1/hr or £15/day) instead; they are equally close to the seafront and far less crowded.
A cheaper alternative on weekends is to park to the north of the High Street. The
Victoria
(£0.80/hr or £10/day) is a 20 minute walk from the beach, while the
Civic Centre
is a 40 minute walk and costs only £3/day on weekends.
By train
Southend is served by two railway lines, both about one hour from
London
. Tickets for one service are
not valid
on the other line.
Southend CentralFrequent service to the heart of the town centre and is served by trains from London Fenchurch Street, run by c2c Railways. Trains run every 15 minutes on Monday to Saturday and half-hourly on Sundays. Direct trains travel via Basildon. Slow services via Tilbury add an additional 30 minutes to the journey. c2c trains also stop at Southend East; however this serves the suburb of Southchurch and is not located near the town centre.
Southend VictoriaLocated at the north end of the town, a 15 minute walk along the main shopping street to get to the Sea. It is served by trains from London Liverpool Street, run by Abellio Greater Anglia. Trains run to and from London every 20 minutes Monday to Saturday and half-hourly on Sundays.
By plane
phone: +44 1702 608100
Three low-cost carriers fly from European places. The majority of flights are operated by Easyjet, from Switzerland and the Netherlands, amongst others. In summer, from May to September, Flybe provide Saturday flights from Jersey. The airport has frequent direct train services to London Liverpool Street, and train or local bus (route 9) connections to Southend.
Get around
On foot
It does not take long to get from one end of the town to another by foot and the walk from Southend Victoria station (to the North) to the sea (to the South) will take at most 15 minutes. From the seafront it is possible to walk East towards Thorpe Bay or West towards and Westcliff. Please note that some walks will probably involve steep hills.
Cycling
There is a 8km long cycle track along the seafront between Westcliff and Garon's Park. There is also a cycle track from the Southend Victoria station to Priory Park. You cannot cycle along the High Street.
Both train lines allow cycles to be taken on trains without a reservation. Alternatively, Cycle hire is available from
The Comfy Saddle
at Southend Central station (daily rental), from one of three
automated docking locations
along the seafront (£2/hour), or from
Bike and Go
at Southend Victoria station (£10+£3.80/day)
By car
It is possible to get around Southend by car and the roads are usually not busy. For most flexibility, this is the preferred method of transport for many people in the town and it is possible to get from one side to another with ease.
By bus
Southend has a reliable, frequent bus service run by
Arriva Buses
and
First Buses
. Buses run regularly during the day however tend to stop quite early in the evenings (there are no night bus services), so be sure to know the time of the last bus to save disappointment later in the evening. Minor services are operated by
Stephensons of Essex
.
Buses can be picked up at the modern travel centre located just away from the high-street. All buses in Southend stop here and there is a travel centre where information and
timetables
can be obtained.
An
Octopus ticket
is expensive (£4.50 per day) but is valid for all the bus companies. Tickets valid for one bus company only are slightly cheaper. Pay with cash or a contactless card when you board.
By taxi
Southend is well served by Taxis, however there are relatively few 'black cabs' and so taxis have to be picked up from designated taxi ranks or booked over the telephone (). Taxis can work out expensive for longer journeys and the prices go up after midnight.
See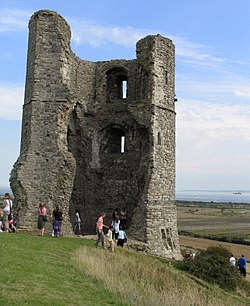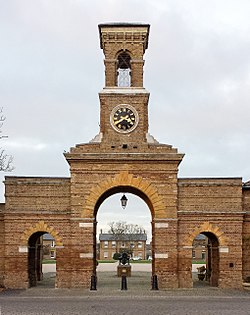 The seaside
phone: +44 1702 215620 or +44 1702 618747

address: Southend Sea Front (End of the high-street)

At 1 1/3 miles (2158 metres) long it is the longest pleasure pier in the world. Although damaged a couple of times during its life by boat collisions and fires, the Pier, which has recently undergone a major revamp, can be accessed on foot or by the pier train which will take you to the far end where there is constant deep water, although the waters are tidal. At the "dry end" you can visit the Pier museum. A fire severely damaged the pier head on 9 October 2005, destroying a large part of it. This part is off limits, but the section from the shore to the cordoned off head is still open to the public. There is a cafe at the end of the pier and also a shop supporting the RNLI (Royal National Lifeboat Institution). In the summer Thames Barges are often seen at the end of the pier for visitors to admire.

phone: +44 1702 443400

address: Adventure Island, Sunken Gardens, Western Esplanade, Southend on Sea, SS1 1EE

A true Southend seafront landmark that has been entertaining families for over 40 years, Adventure Island is a small amusement park with various rides ranging from the scary to the serene. Entry is free, but to access the vast majority of rides you need to buy one of three colour-coded wristbands. Each ride is given a designated colour - Blue (the fastest/scariest rides for which you must be at least 1.2m tall, usually unsuitable for younger children or those with health issues), Green (fast/scary rides, but suitable for older children and those seeking milder thrills, although children between 1m and 1.2m tall must be accompanied by someone over 14 years old), and Red (calmer rides that are suitable for most children, with some even being usable for older toddlers). There are varying price bands for wristbands so it's best to check the website - you can also pre-book wristbands there, which is much cheaper than buying them on the day. Opening times vary - please check the website. During the low season in the winter months the park usually only opens on the weekends.

City BeachThe beaches in Southend stretch for miles along the seafront, with many small shops selling ice creams and doughnuts. City Beach, located between the Pier and Sealife Centre is the best. It has child-friendly fountains and a modern feel. Beyond the Sealife Centre and Southchurch Park the beaches continue but cafes and other facilities don't.

Three Shells Beach and LagoonThe beach at the Three Shells, to the West of Adventure Island, is the most sandy. It has a climbing frame, showers, and a boating lake. It can easily become crowded on sunny bank holidays.

Amusement ArcadesSouthend Seafront. Open all day all year round. The arcades are an area offering video game machines, bingo, pool tables and fruit machines. Games cost between 50p and £1 per game and the area is very popular during the summer months. Free to enter.

phone: +44 1702 442211

address: Eastern Esplanade

A themed aquarium featuring marine life found all along the Thames Estuary as well as tropical fish from foreign climes. It also has the Three Shells Cafe and a small shop for when you're done admiring the aquatic life.

Cliff LiftDelightfully crazy cliff railway, built in 1912, is an easy way to the top of the cliff.

The KursaalGrade II listed building, constructed as an amusement arcade but now empty.
Central Southend
Westcliff
Westcliff BeachThe beaches get quieter further from the pier, but there are still cafes regularly spaced to the west. The area around the Beach Hut in Westcliff is a local favourite: a quiet and traditional beach with an old tidal pool.

Westcliff Gardens

address: Western Esplanade

Open all year around. The beautiful gardens have won many awards over the years including accolades at the Chelsea Flower Show. It is worth stopping here for lunch or a quiet stroll along the cliff gardens.
Leigh and Hadleigh
phone: +44 1760 755161

address: Hadleigh (nearest station: Leigh-on-Sea)

A popular historic attraction and can be seen on the hillside as you travel by train between Benfleet and Leigh-on-Sea stations. The castle in its current state is just some ruins and there is no shop or guide; however, there is free on-site parking. It is possible to walk from Leigh-on-Sea station but the walk is around 2 miles through fields. Nearby is a petting zoo and a farm run by the Salvation Army.

Old LeighLeigh-On-Sea (nearest station: Leigh-on-Sea). Stroll along the sea wall past Chalkwell Railway Station and you come to the sandy beach by the Bell Wharf in Leigh "Old Town" (known as Old Leigh). Visit the Lynn Tait Gallery, stroll on past the cockle sheds and take a walk round the bird sanctuary on Two-Tree Island (at the rear of Leigh-On-Sea Railway Station).
Shoeburyness
Shoeburyness East BeachQuiet, windswept beach popular for kite flying and surfing. An area of grass winds alongside the beach with facilities for holding a barbecue. Facilities include car parking and toilets.
Do
phone: +44 1702 443400

address: Adventure Island, Sunken Gardens, Western Esplanade, Southend on Sea, SS1 1EE

A wet weather alternative to Adventure Island for families that is situated in the centre of the Adventure Island complex. It's also open during the winter when Adventure Island is closed. It's entirely indoors and has a handful of fairground rides including a carousel and a swinging pirate boat. The rest of the space has an indoor adventure play area and a large arcade. You can buy a wristband to access the rides, but the arcade is pay-as-you-go and you are given a free game card which you put money onto.

Pier FireworksAt southend Pier. Every Saturday night from October to Guy Fawkes Night (5 Nov). Fireworks are lit at the foot of the pier for all to see - they start 8PM.

The Old Leigh RegattaOld Leigh (nearest railway station: Leigh-On-Sea). Days and times open. The regatta takes place during a weekend every September in Old Leigh (nearest station: Leigh-On-Sea) and there are many markets stalls, live bands, sailing and water-based activities and the bars open late into the evening. Free entry.

Waverley Boat ExcursionSouthend Pier Head (Get the train to the end of the pier). Waverley run boat trips up and down the Thames from the Pier head all year around, leaving during the day as well as into the evening.
Theatre
phone: +44 1702 351135

address: Station Road

The Cliffs Pavilion is a renowned theatre venue located in Westcliff-on-Sea. There is always a show on and it is possible to see many famous acts including music, comedy and theatre. Tickets start from around £10 but bargains can be found on the opening night of shows.

phone: +44 1702 351135

address: London Road

The Palace Theatre is the Cliffs' sister venue and shows alternative arts including plays and musicals.
Golf
phone: +44 1702 525345

address: Eastwood Road North, near Leigh on Sea

Belfairs Woods and golf course. Has nature walks, a cafeteria, golf facilities and as large car park. Free to enter however you will have to pay to park. Golf course features a large public 18 hole golf course as well as a 9 hole pitch and putt course, and is open all year around. 18 holes costs £12+ and pitch and putt is £2+.

Garon Park Pitch and PuttGarons Park. Open all year round. Second public golf course in Southend offering a driving range and 18 hole course.
Nightclubs
Lucy RoadLucy Road is where Southend's best nightclubs are located, including Chameleon, Talk, Muse and Box.
Music festivals
Walking
Hockley Woods and Cherry Orchard Way Park

address: Hockley (nearest railway station: Hockley)

Hockley is the largest woodland area in Essex as well as a popular bird-watching site. The woods open out into Cherry Orchard Way Park, an area of meadow and farmland which is open to the public. Together, they form part of many nature walks, including the Saffron Trail. There are no facilities other than a car park and toilets (at Hockley Woods). Car parking is also available on Cherry Orchard Way, Edward's Hall Park and Gusted Hall Lane.
Buy
The High StreetSouthend High Street is the major shopping centre for the area. Throughout the two shopping centres and the pedestrianised High Street itself are the normal selection of large chains, with a small scattering of independent shops mostly centered around Queens Road. The north end (near Southend Victoria train station) has Victoria Plaza shopping centre and a cinema complex, while the south end (near the Pier) has the Royals Shopping Centre. The shops comprise a mix of travel agents, banks, building societies, telephone shops, stationers, and shoe shops; department stores are represented by Marks and Spencers and Debenhams.

Hamlet Court RoadThe main shopping area in Westcliff is Hamlet Court Road and well worth a visit, with some pretty decent eateries along it. There are many independent shops here.

Leigh BroadwayIn Leigh-on-Sea, visit the shops along Leigh Road, Leigh Broadway and Rectory Grove, where you will be spoilt for choice. Includes a mixture of chains, independent and boutique shops. For evening entertainment there are a couple of nightclubs and some casinos as well as numerous pubs and restaurants, cinemas and theaters, not to mention the Mecca Bingo.
Eat
phone: +44 1702 393626

address: 2 Nelson Mews

Located in the centre of Southend, close to the railway station, The Mews offers a fine selection of wines and beers; and an open kitchen serving contemporary meals from lunchtime through to the evening.
Tomassis, High Street (Seafront end), +44 1702 435000 . Probably the nicest place to eat on the High Street and certainly with the best selection of Italian ice-cream for miles around. Try their "Italian Black Magic" - scrumptious!

address: 9 London Road

Part of a national chain and offers pizza and pasta. It is possible to sit outside (however this would be difficult during the summer evenings). Pizza/bowl of pasta costs £7-10.

address: 14-16 Southchurch Road

Run of the mill pizza and pasta restaurant, part of a national chain. Good selection of food and OK service. Worth going at lunchtimes (all week) for the all-you-can-eat buffet lunch. £10 a pizza, £4 for lunchtime buffet (pizza-only) and £6 for lunchtime buffet (pizza, pasta and salad). (Often special offers to get second pizza half price)

address: Eastern Esplanade, Southend On Sea, SS99 1YY

Situated underneath the Premier Inn on the Eastern Esplanade. Serves typical "pub grub" with a few so-called "international favourites". Has themed nights with different buffet food on offer each night. Has the benefit of there being a car park on-site, but you will have to pay for parking.

Old Leigh Cockle Sheds

address: Old Leigh

There are various cocklesheds and seafood retailers in Old Leigh and sampling some freshly caught fish is recommended should you visit the area. You can get Thames cockles or winkles by the pint or half pint as well as prawns, eels and more.

address: Unit 21, Western Esplanade

A café which is also part of the local art scene, combining events and arts with healthy food.
McDonalds, Two branches in High Street, another by Southend Airport and one in Temple Sutton.
Burger King, located on the high street near the Victoria shopping centre.
Along the London Road at Westcliff is a wide range of restaurants from Thai to Italian, Chinese, Cantonese, Japanese, Spanish, Portuguese.. too many to mention.
In Leigh-on-Sea, visit the restaurants along Leigh Road, Leigh Broadway and Rectory Grove, where you will be spoilt for choice.
Many of the bars listed below offer food at both varying prices (but not more than £10 per meal) and quality.

address: Shorefield Road, Westcliff, SS0 7RH

Traditional Italian restaurant.

The Squeeze

address: 1 Rectory Grove, Leigh

Choose from healthy eating menu. Tasty and good! Fabulous freshly made smoothies.

address: 4 Belton Corner

A family owned restaurant. It has the most spectacular garden in leigh, with the most beautiful views of the estuary. Offering a wide range of different foods and flavours, a hearty full English, mezze sharing platters, pastas, stir-fries freshly caught fish, fish and chips, and a selection of tasty goodies for children.

Three ShellsServes fish and chips, ice cream, etc. On the beach 2 mins west of the pier. Has indoor seating with views of the sea.

Yak and Yeti Restaurants, Southend

phone: +44 1702 477006

address: 1030 London Road Leigh-on-Sea Southend SS9 3ND

Touts its "authentic Indian cuisine along with delicious Nepalese and Tibetan cooking".
Drink
Coffee shops
Starbucks

phone: +44 1702 347505, +44 1702 613474

address: 135 High Street and 188/190 High Street

Costa Coffee, Two branches on the High Street (Located on the corner of The Royals shopping centre, and to the North end of the High Street opposite Clinton Cards), . Ubiquitous UK chain coffee bar.
The Last Post, High Street (See below for more information). Serves a wide range of coffees for 69p.
Tomassis, High Street (Seafront end), +44 1702 435000. The Italian cafeteria offers many coffees and drinks and is open all day.
Pubs, bars, etc
Despite the introduction of 24-hour alcohol licenses in the UK, there are relatively few pubs open beyond 11PM in Southend, due mainly to the local police force fighting all applications for extensions of licenses. The normal night out in Southend therefore beings in a pub until around 9:30PM when people visit one of the many nightclubs to continue drinking and dancing until 5AM in the morning.
phone: +44 1702 611363

Eastern Esplanade. A bar and bistro on the sands in Thorpe Bay. Enjoy a relaxing bistro meal overlooking the estuary. Ocean beach has a restaurant capacity of 60 inside for a Full Bistro Menu, with a further 60 outside with a Bistro Decking Menu.

address: Weston Road

The pub is a run-of-the-mill Wetherspoons pub and is built in a former post office (hence the name) and offers a wide range of beers, wines and spirits as well as a mediocre selection of food. There are always a few real ales on tap however the quality varies. Like other JD Wetherspoon pubs, there is no music but premiership football is shown at weekends. It gets busy on Friday and Saturday nights due to cheapness of the drinks. Around £2 a pint (Probably the cheapest place to drink in the town centre).

address: Alexandra Street

Open all week. Frequented by students of the local college. It offers a nightclub which plays alternative/indie music which is open at weekends. There is a small beer garden at the back of the pub and a couple of pool tables.

address: Chichester Road

It is a bar built under a Travelodge hotel and is popular at weekends when there is a DJ. Around £2.75 a pint.

address: 8 Southchurch Road

Famous for its large beer garden. Sit back, slap on the sun screen and enjoy a nice cold beer, glass of wine or cocktail.

The Roslin Beach Hotel

phone: +44 1702 586375

address: Thorpe Eplanade

A contemporary restaurant serving some of the best locally caught seafood in Southend.A full and varied A La Carte menu, snacks and a children's menu. A large continental style terrace overlooking an award winning beach to enjoy a chilled glass of wine.

address: Paglesham East End, SS4 2EQ

A real country pub full of local character and good food. In the middle of nowhere, but worth the trip. Only really accessable by car / taxi.
Sleep
Stay safe

Southend is relatively safe for tourists, but you should avoid wandering off the beaten track. As with anywhere, walking alone at night should be done with great caution. Although the suburb Shoeburyness is mainly a small residential area, it does contain housing estates, many are run down and look nearly derelict. Avoid these in the evening, the most well known housing estate is at The Renown in Shoeburyness and is very dodgy at night. However, it is away from the tourist areas and there should be no need for a tourist to visit these areas. Like housing estates in Shoeburyness, parks can be a hotspot for crime due to their isolation, especially Sweyne Park in Rayleigh, so avoid these at night if possible. In Southend, Lucy Road is the location of nightclubs and partygoers can spill out into the High Street at 1-2AM.

Go next