Southern Aegean
At the southwestern reaches of the country,
Southern Aegean
(
Güney Ege
) may be
Turkey
at its best. Awaiting explorers as they have done for centuries, evocative ancient ruins stand in perfect isolation against a backdrop of mountains clad by pines and wild olives. Old towns adorned by the generous purple of the bougainvillaes rest upon the sandy beaches along the craggy coastline. Offshore, opportunities for
yachting
and other
water sport
abound. Inland, soothing hot springs reach out for the ground and form almost magical settings. A hard party is never too far away, and so is rural tranquility.
Cities
— coastal town on the tip of Gulf of Gökova, with beautiful traditional architecture
— one of the least developed towns along the coast of Bodrum Peninsula, and one of the windiest—windsurfing is the main beach activity here
— trendy resort town featuring a citadel, Roman ruins, and trendy clubs
— unspoilt local resort on the Datça Peninsula, nearby Knidos forms the boundary between Aegean and Mediterranean proper
— resort town with a large population of British expats, centred around the colossal Temple of Apollo of the ancient oracle of Didyma
— relatively big city inland, hub for visiting Pamukkale
— village on Bodrum Peninsula mainly frequented by bohemians
— pleasant inland city with a well-preserved old quarter
— on the peninsula's western tip, this is the second largest town in the Bodrum Peninsula after Bodrum itself
— village on Bodrum Peninsula
Other destinations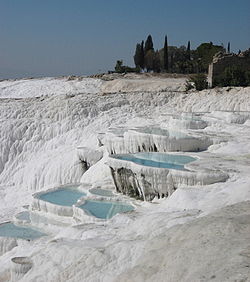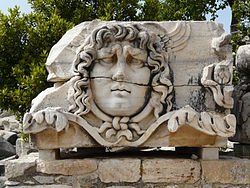 — one of the best preserved Roman cities in Turkey, much less crowded than some better known sites
— the white travertines
— this trio of ancient Greek ruins near each other is often visited on a combined "PMD" tour from Selçuk.
Understand
Essentially a northwestern extension of
Mediterranean coast
, this region has the typical "Turkish blue coast" – with mountains covered by pine forests descending right to the sea level. Historical names for this region include
Caria
.
Get in