Southern California
Southern California
is a megapolitan area in the southern region of the U.S. state of
California
. The large urban areas containing
Los Angeles
and
San Diego
stretch all along the coast from
Ventura
to the Southland and
Inland Empire
to
San Diego
.
To the west of Southern California lies the Pacific Ocean and
Channel Islands
. To the south is the international border between the
United States
and
Mexico
. Towards the
Arizona
state border in the east lies the Colorado Desert and the Colorado River, and towards the
Nevada
state border lies the
Mojave Desert
. Though there is no official definition for the northern boundary of Southern California, most include all the land south of the Sierra Nevada Mountains and the Tehachapi Mountains.
Southern California is a culturally diverse and well known area worldwide. Many tourists frequently travel to South Coast for its popular beaches, and to the eastern Desert for its dramatic open spaces. Southern California, along with the
San Francisco Bay Area
, is a major cultural and economic center for the State of California and beyond.
Regions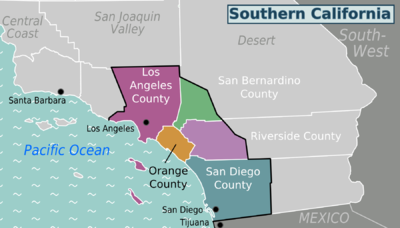 Southern California is most easily divisible by counties. The following counties are completely in the Southern California region:
Due to their vast size (San Bernardino County is larger than nine of the states in the U.S.) and varied topography, these counties are split among two different regions. The westernmost urban portions are considered part of Southern California and the eastern desert sections are part of
Desert region
.
Southern California is divided culturally, politically, and economically into distinctive regions, each containing its own culture and atmosphere. A region with both national and global recognition, Southern California is often considered the home to many tourist destinations and the hub of economic activity for its respective regions. Each region is further divided into many culturally distinct areas, but as a whole they combine to create the Southern California atmosphere.
Out of these regions, three are major metropolitan areas, each of which have over 3 million people. The Los Angeles area has over 12 million inhabitants, the
Riverside
-
San Bernardino
area has over 4 million inhabitants, and the San Diego area has over 3 million inhabitants. The region as a whole is practically identical in population to
Texas
, with more than 24.2 million people, and is the nation's most populous region behind the urban seaboard of the Northeastern United States.
Cities
Some of the major cities in the Southern California region include:
Urban Landscape
. Southern California consists of a heavily developed urban environment, along with vast areas that have been left undeveloped. It is the second largest urbanized region in the United States, first being the
Philadelphia
/
New York City
/
Boston
Northeastern areas. These cities are considered dense, with major downtown populations and significant rail and transit systems, but much of Southern California is famous for its large, spread-out, suburban communities and use of automobiles and highways. The dominant areas are Los Angeles, Orange County, San Diego, Riverside, and San Bernardino, each of which is the center of its respective metropolitan area, composed of numerous smaller cities and communities.
Natural Landscape
. Southern California consists of geologic, topographic, and natural ecosystem landscapes in a diverse setting, outnumbering other major regions across the state/country. The region spans from the Pacific Ocean islands, shorelines, beaches, and coastal plains, through the Peninsular Ranges with their peaks, into the large/small interior valleys, to the vast Deserts of California. Each year, the area has about 10,000 earthquakes. Nearly all of them are so small that they are not felt. Only several hundred are greater than magnitude 3.0, and only about 15-20 are greater than magnitude 4.0.
Other destinations
Southern California is home to numerous world-famous attractions including Disneyland, the San Diego Zoo, Legoland, and others.
Understand
Southern California is famous for the movie industry around LA (and if you explore a bit you are bound to find "exotic" locales from many a movie that were filmed in Southern California due to the proximity) and also for its sheer amount of freeways and highways. Southern Californians stereotypically spend most of their time when they meet each other talking about how horrible the traffic getting there was and how horrible the traffic getting back will be. Despite that its world class cities and suburbs continue to attract a wide variety of people from all over the country and abroad to live and vacation due to the pleasant climate and diverse landscapes with many natural and cultural attractions just a short (depending on congestion) drive away. Even though you can swim in the Pacific its cold currents make it somewhat less pleasant than you might think.

Talk
English is the official language of California and is the predominant language in Southern California. However,
Spanish
is also spoken by large Hispanic populations and it is not uncommon in Southern California to see store and street signs written in both English and Spanish.
Armenian
,
Farsi
,
Chinese
,
Tagalog
,
Japanese
,
Hindi
,
Korean
,
Vietnamese
, and
Cambodian
are also spoken by various immigrant groups.
Get in
By plane
Los Angeles International Airport (LAX), 1 World Way, +1 310 646-5252. LAX is one of the major ports of entry for international flights to the United States as well as a major destination for domestic flights so it can be quite busy, especially around holidays. Nearly all major airlines as well as some smaller regional airlines fly into LAX. All of the major rental car agencies have a location near the airport with hundreds of cars available for rent.
The below are some of the smaller airports in the Greater Los Angeles Metropolitan area with commercial flights, some of which may be closer to your final destination or point of origin and tend to be less busier than LAX. Most are served by domestic flights from other parts of the U.S. and a limited number of international flights from Mexico and Canada:
Other southern California airports are in:
Palm Springs (PSP), 3400 E Tahquitz Canyon Way, Palm Springs +1 760 318-3800. Alaska, Allegiant, American, Delta, Sun Country, United, Virgin America & WestJet serve this airport which is 3 mi (5 km) east Downtown Palm Springs. Because of the limited number of flights offered from other parts of the U.S. the airfare can be cheaper to fly into Ontario (the next closest 70 mi west), rent a car and drive over.
San Diego Lindbergh Field (SAN), 3225 N Harbor Dr, San Diego +1 619 400-2404. Alaska, Allegiant, Air Canada, American, British Airways, Delta, Frontier, Hawaiian, Japan Airlines, Jetblue, Southwest, Spirit, Sun Country, United, Virgin America, Volaris & WestJet serve this airport which is 5 mi (8 km) north of Downtown San Diego, 5 - 20 min drive depending on traffic.
General Abelardo L. Rodríguez International Airport in Tijuana (TIJ), Carretera Aeropuerto S/N, Col Nueva Tijuana, Tijuana +52 664 607-8200. Aeromexico, AeroCalifia, Interjet, Viva Aerobus & Volaris serves this airport which is 6 mi (8 km) east of downtown Tijuana (Zona Centro & Zona Rio), just south of the border and 25 mi (42 km) south of downtown San Diego. There's also a second terminal just over the border fence in the American side with a pedestrian bridge connecting the main terminal and an airport bus terminal next to the main airline terminal. If coming from Mexico it may be more advantageous to fly to Tijuana on a (Mexican) domestic flight and then cross into San Diego by ground transportation than on an international flight to San Diego, Los Angeles, or other cities north of the border.
By rail
Amtrak
(for inner-Californian services branded as
"Amtrak California"
) serves most major cities, some through a bus connection from the last station as there are not always rail connections Amtrak can use. It is usually not the cheapest or the fastest option for longer distances and has thus historically played only a marginal role outside of commuter service, but road congestion and the increasingly annoying manner air passengers are treated by airlines and TSA as well as rising costs of other modes of transport have made Amtrak and commuter railways more and more attractive.
Construction is underway for a new
high speed service
linking
San Francisco
and Los Angeles. The network is scheduled to open in phases with the full distance completed by the late 2020s.
By car
Southern California is perhaps the most car dependent region in the US if not the world. As such a car is usually the most convenient but sometimes also the only way to get around. However congestion is frequent and during rush hour freeways and highways become parking lots. If you can arrange it try driving in off-peak hours and getting a small group together to travel in the (usually less congested) car pool lane.
By bus
Most of the buses are routed with Los Angeles as the hub or core with frequent services from
San Francisco Bay Area
(via Santa Cruz, San Luis Obispo, Santa Barbara and/or Oxnard);
Sacramento
(via Modesto, Stockton, Merced and/or Bakersfield);
Las Vegas
(via Barstow, San Bernardino);
Mexicali
and
Tijuana
(via San Ysidro, San Diego, and/or Santa Ana) with multiple companies. There are also other buses originating from El Paso (via Phoenix & Tucson), Seattle, Salt Lake City, Chicago and New York that go contiguously to Los Angeles with minimal layover or transfers in between. See
By bus
under
Getting in
, in the
Los Angeles
,
San Diego
and the
Tijuana
articles for a list of bus companies serving Southern California.
Get around
Transportation in Southern California consists of public transit, rail transit, airports, shuttle services, highways, roads and bike paths.
By car
Most Southern Californians drive their personal cars to get around. Just listen to the morning and evening traffic reports and you'll get an idea of how many cars are driven in the area each and every day.
As such, a special vocabulary has developed surrounding the road system.
Rush hour - somewhat of a misleading name as the period lasts longer than one hour. Indicates the hours of 6AM-8AM and 5PM-7PM when the highest volume of commuters are on the road.
SigAlert - heard during a traffic report, indicates a long-lasting problem that closes one or more lanes.
Unlike many parts of the country, traffic reports often only cover accidents or unusual slowdowns - areas that are normally congested don't always rate a report. There are of course several smartphone apps that cover traffic; sigalert.com is one that's specific to Southern California.
The metropolitan regions of Southern California consist of many small cities that run into one another. It can be confusing and you can get lost very easily if you do not have a map, even with detailed directions. A Thomas Guide, which contains detailed maps of all neighborhoods, is a useful tool if you plan on doing any driving in Southern California. This book can be found in local stores and bookstores.
The freeways and highways are one of the major trademarks of the region. Extensive and complex freeway networks criss-cross the quickly-growing region, connecting urban centers with their suburbs, as well as the areas of urban sprawl between them. The major highways leading in and out of Southern California include Interstates 5,8,10,15,40, the Golden State, San Diego, Ocean Beach, Mission Valley, Santa Monica, Corona and Mojave Freeways.
Freeway system
The freeway naming conventions can be confusing to non-natives as a freeway will have multiple names depending on where in Southern California a particular section is located. When referring to a particular freeway by number, it is prefixed by the word "the". For example, Interstate 5 is referred to as "the 5" and State Route 91 is referred to as "the 91". Below is a basic guide to the various ways a particular freeway may be referenced.
Interstate 5 - the Golden State
Interstate 10 - the Santa Monica Freeway (western portions), the San Bernardino Freeway (eastern portions)
Interstate 105 - the Century Freeway
Interstate 110 - the Harbor Freeway
Interstate 210 - the Foothill Freeway
Interstate 405 - the San Diego Freeway
Interstate 710 - the Long Beach freeway (southern portions), the Pasadena Freeway (northern portions)
US Route 101 - the Hollywood Freeway (eastern portions), the Ventura Freeway (western portions)
State Route 14 - the Antelope Valley Freeway
State Route 22 - Garden Grove Freeway
State Route 60 - Pomona Freeway
State Route 91 - the Artesia Freeway (western portions), the Riverside Freeway (eastern portions)
State Route 170 - the Hollywood Freeway (the 170 intersects with the 101 near Hollywood thus it shares its name with the 101.)
There are a few key locations that are referred to in traffic reports that may be unfamiliar to out-of-town visitors.
The Sepulveda Pass - refers to the 405 between Santa Monica and Van Nuys.
The El Toro Y (or Wye) - the intersection of the 5 and 405 near Irvine in Orange County.
The Orange Crush - the intersection of the 5, 22, and 57 in the city of Orange.
The Grapevine - the 5 as it climbs over the pass between the Los Angeles Basin and the Central Valley of California.
The Cajon Pass (pronounced cuh-hone) - the 15 as it climbs the pass between San Bernardino and the High Desert city of Victorville.
Public transit
Public Transportation in Southern California includes:
The below are the private intercity buses which can be useful to go across longer distances such as from Los Angeles to San Bernardino, Long Beach, Anaheim, Indio or to San Diego and more locally such as between Long Beach, Anaheim and Santa Ana with no stops. The caveats are that they operate on less frequent schedules and cost more than the city or county buses (listed above) for short distance travel:
Within L.A. County and some of the other counties, the cities/municipalities operate their own bus transit systems within their respective areas and to adjacent areas such as:
There are numerous other smaller local transit systems throughout southern California that are county or city operated. See
By bus
or
By Public Transportation
under
Getting around
in the individual city/municipality article for additional listings.
Major hubs of transportation and logistics are planning major capital investments in Southern California over the next several years. They have the largest federal stimulus project in L.A. County: the Harry Bridges reconstruction project. This will be a big commitment consisting of 250 construction jobs for a $25 million project. They also just kicked off a six-year expansion to the China Shipping Terminal which will include new wharfs, new cranes, and about 4,000 jobs at full capacity.
Mass transit is available throughout the area, with many connecting together at shared stops. The regional commuter train,
MetroLink
, connects many of the outlying areas, where many commuters live, in Los Angeles, San Bernardino, Ventura, Riverside and Orange Counties to/from where they work. This train system comes in handy when you need to get from one area to another, even with their limited schedule.
By plane
While it is theoretically possible to get around Southern California by air, the cost prohibits all but the most affluent from doing so on private aircraft. The major airports in the area include the
Los Angeles
, John Wayne (Orange County), San Diego and
Palm Springs
International Airports. There are smaller regional airports in
Burbank
, Long Beach, El Centro in Imperial County and
Ontario
. Commercial flights are only available between San Diego and Los Angeles International with multiple airlines, and between Los Angeles and El Centro in Imperial County with Mokulele Airlines. Flights between San Diego and Los Angeles are usually as part of an onward ticket to another part of the U.S. or part of an international flight to/from San Diego via Los Angeles International Airport. See
By air
under
Get in
in the above.
By thumb
It is not worth trying. Cities are too close together and there are too many access points to the highway, making it nearly impossible to find someone going your way. Your best bets are the 101 north of
Santa Barbara
, the 5 north of
Santa Clarita
, or east until you escape the sprawling cityscape.
On foot
Though Los Angeles is known throughout the U.S. for suburban sprawl and car-dependent development, efforts to make it more walkable have had some success, and you can now feasibly walk to many points in SoCal that used to be only reachable by motorized vehicles.
See
Southern California is home to many motion picture, television, and recorded music companies. This region is home to the world's largest adult entertainment industry, which is primarily in the
San Fernando Valley
, and
Hollywood
(the center of the motion picture industry, at least in name). Headquartered in Southern California is The Walt Disney Company (
Burbank
), MGM/Sony Pictures (
Culver City
), Universal (
Universal City
), Paramount Pictures (Hollywood), DreamWorks (Universal City), 20th Century Fox (
Century City
) and Warner Brothers (Burbank).
SoCal is home to many sports franchises and sports networks such as Fox Sports Net. Professional teams in the region include the Los Angeles Lakers (basketball), Los Angeles Clippers, Los Angeles Dodgers (
Baseball
), Los Angeles Angels of
Anaheim
, San Diego Padres, Los Angeles Kings, Anaheim Ducks (
Ice Hockey
), Los Angeles Galaxy (Soccer), Los Angeles Chargers
American Football
and Los Angeles Rams. Southern California also is home to a number of popular NCAA (college) sports programs, such as the UCLA Bruins, the USC Trojans, and the San Diego State Aztecs.
Cabrillo National Monument - (San Diego) Climbing out of his boat and onto shore in 1542, Juan Rodriguez Cabrillo stepped into history as the first European to set foot on what is now the West Coast of the United States. In addition to telling the story of 16th century exploration, the park is home to a wealth of cultural and natural resources.
Do
Eat
Most major cuisines can be found in the towns and cities of Southern California, with especially popular ones including Mexican, Chinese, Thai, Japanese, Vietnamese, Salvadoran, Korean, Indian, Pilipino, and Armenian, owing to the large numbers of immigrants from these regions to Southern California.
Mexican
food is particularly prominent, with taco shops being a ubiquitous feature of SoCal's urban landscape and offering some uniquely regional takes on Mexican staples like burritos and tacos. Unlike the Mission burrito, brought to prominence up north in San Francisco and spread across the nation, regional burrito varieties in SoCal tend to eschew rice as a filler ingredient; Los Angeles burritos tend to use some combination of refried beans, meat, chili, and cheese, while San Diegans embrace the meat-packed carne asada burrito along with its variant, the California burrito, which includes French fries and cheese in addition to carne asada. A lot of overlap between these two styles exists and you're likely to find both throughout Southern California. Another local specialty is rolled tacos, which consist of beef or chicken tightly rolled into a corn tortilla and fried until crispy, then served with guacamole and shredded cheese piled on top.
Southern California is the birthplace of modern day
American fast food
, with many drive-thru chains such as McDonald's (now headquartered in the
Chicago metropolitan area
) getting their start in the L.A. region. One should not miss out on
In-N-Out Burger
, a predominantly California chain with multiple locations throughout the SoCal region serving burgers and milkshakes; the menu is pretty short and straightforward, but a "secret" menu allows you to customize by ordering "animal style" fries and burgers.
For a taste of locally-grown food, you can visit a farmers' market and rub shoulders with celebrity chefs and foodie insiders picking out the finest organic produce. You can also step into sleek restaurants serving innovative, ultra-fresh fusion cuisine. You can taste gelato made with locally produced chocolate and toasted hazelnuts, or handmade cheeses from local farms. Drive down a tree-lined lane to wineries in grand chateaus, or relaxed, family-run vineyards where the guy pouring and chatting in the tasting room is a world-class winemaker.
Stay safe
Crime can be high in certain parts of Southern California, particularly in parts of the Los Angeles area or parts of the Inland Empire area; however, the media tends to exaggerate this sometimes. Many areas are extremely good and safe, and Los Angeles, being a large diverse city, has many affluent, and middle-class areas, as well as struggling neighborhoods.
Some tourists may suffer respiratory problems due to the pollution in the air closer to Southern California's major metropolitan areas. Drink plenty of fluids and keep outdoors activities within the city itself to a minimum.
There are some animals you may want to be aware of in Southern California. There are rattlesnakes in the open spaces. It's not likely you will run into one, but if you do, they typically will not bother you if you don't bother them. Even so, it's best to always be alert while hiking. Mountain lions (also known as pumas, cougars, and catamounts) exist in National Parks and open spaces in Southern California. These cats are, however, shy and elusive. Although it has happened, you have very little chance of being attacked by one, let alone seeing one. Most hikers who have been hiking these areas their whole lives have never seen a mountain lion, but attacks do happen every few years or so. Make sure to always hike with another person, especially near dawn and dusk. Coyotes are common, but elusive, throughout Southern California mountains, even in relatively populated areas such as the Hollywood Hills. They pose little threat to humans but they will attack dogs and other domestic animals - if you have animals with you, be sure they are under your control and close by.
Bears are in the mountains of Southern California and they have been known to wander into the neighborhoods of SoCal cities, mainly the cities that border the vast mountains. It's not very common, but one should be on the lookout, again if walking at dawn or dusk, especially in the cities that border the mountains.
Go next