Southern Coast (Fujian)
The
Southern Coast
of
Fujian
Province in
China
is a populous region that has been doing foreign trade for centuries and is the ancestral home for many overseas Chinese.
Cities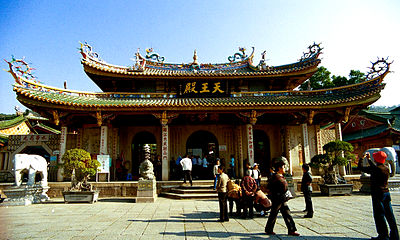 , between Quanzhou and Fuzhou
was historically the great port of the region. The prefecture includes other towns:
, home of a famous tea
, an industrial suburb
, a walled town with beaches
, source of "blanc de chine" pottery
, right across the river from Quanzhou
, near Xiamen, many clothing factories
, booming Special Economic Zone, with its suburbs:
, a scenic island near downtown
, inland from Xiamen
, a windswept peninsula with beaches and interesting stone formations
Other destinations
, an island in Xiamen that had the consulates and merchants' homes in the era of tea clippers, and is now a major tourist area.
Understand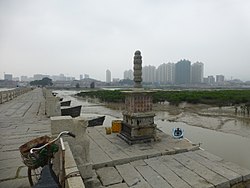 This region has always been outward-looking. It has been doing foreign trade since the days of the
Maritime Silk Road
, when
Quanzhou
was one of China's most important ports. In the era of tea clippers, two of China's five
treaty ports
,
Xiamen
and
Fuzhou
, were in Fujian Province and Fuzhou shipped more tea than any other city. Today all those cities are prosperous and still much involved in international trade; Xiamen is a
special economic zone
with particularly fast development.
The region has also been a major source of immigrants — any Chinatown on Earth will have some people who trace their ancestry to this area. In particular, many overseas Chinese in
Southeast Asia
and
Taiwan
are descended from people from this region.
The stone craft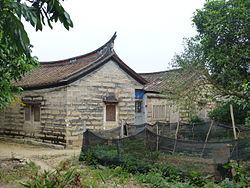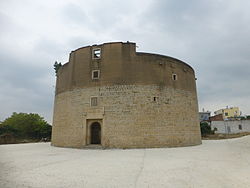 The coastal counties of southern Fujian have long been known for extensive skilled use of local stone (granite) in construction. It typically comes cut into long narrow blocks, and is used to build not only houses and bridges, but all kind of auxiliary structures, including fences.
Talk
As in most areas of China,
Mandarin
is very widely spoken and English is not.
Most of the area has
Minnan Hua
(South Fujian speech) as the local language, but the region around Putian has its own Puxian dialect. In some areas
Hakka
is also spoken.
Get in
Xiamen
has the main airport of the region with connections to all major Chinese cities, quite a few elsewhere in Asia, and even flights to Amsterdam. See
Xiamen#By_plane
for discussion.
Jinjiang
(just across a river from
Quanzhou
) also has an airport with a number of domestic flights plus some to
Hong Kong
and
Manila
.
There is a
high-speed rail line
running North-South near the coast with stops in the main cities of this area — Putian, Quanzhou, Xiamen, Zhangzhou. It connects north to Fuzhou and on toward
Shanghai
. Going south, it goes along the coast to
Shantou
and
Shenzhen
in
Guangdong
province.
An additional high-speed goes inland from
Zhangzhou
to
Longyan
. Since 2019, some high-speed trains go on a "Fujian loop" route, from Fuzhou along the coast to Xiamen and Zhangzhou, then inland to Longyan, and then returning to Fuzhou along the inland route, via
Sanming
and
Nanping
.
A fair number of conventional overnight trains run from Xiamen via Zhangzhou, Longyan, and
Nanchang
(
Jiangxi
Province) to various destinations throughout the country.
Get around

The high-speed rail line (see above) is now the most convenient way of getting between the major cities. There are also good highways, and busses that go more-or-less everywhere.

See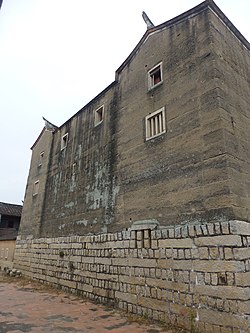 Itineraries
Eat
This is a coastal area, both fishing and fish farming are important industries, and local cuisine emphasizes seafood. Specialties include abalone and eels, both of which are exported to Japan and to other areas of China in large quantities.
The larger cities, especially
Xiamen
, also have a range of restaurants serving various sorts of international cuisine.
Drink
The area produces a number of teas. Probably the best-known is an Oolong tea called
tie guan yin
from
Anxi
. This has been exported for centuries; it was the tea pitched overboard at the Boston Tea Party.
Stay safe
The general advice at
China#Stay_safe
applies here.
The Taiwan-controlled island of
Kinmen
is near
Xiamen
; both governments consider the area sensitive and keep substantial military forces there, and travellers should not stray into military areas or do anything that might be taken as provocative. This is not nearly as big a deal as it once was — there has not been artillery fire across that strait since the 1970s and China-Taiwan relations are now excellent — but it is still worth considering.
In this area, typhoons are possible at any time May to November, with the highest risk in July and August.
Go next
Adjacent areas of Fujian are (with main tourist attractions shown in brackets):
It is also easy to head south into
Guangdong
province;
Chaozhou
and
Shantou
are nearby cities. The
high-speed train
is the fastest and most convenient way to go, but there is also good bus service.