Southern Finland
Southern Finland
(
Etelä-Suomi
,
Södra Finland
) lies by the coast of the Gulf of Finland, stretching into the lakeland of interior
Finland
. It is the most populous part of the country, including the urban sprawl around
Helsinki
.
==Regions==
==Cities==
(Helsingfors) and its neighbors Espoo (Esbo), Kauniainen (Grankulla) and Vantaa (Vanda)
(Tavastehus), has a medieval castle
, a port town on the road to Russia
(Lahtis), a fairly grim industrial town
(Villmanstrand), a port town by the lake Saimaa
(Borgå), a city with a very nice old town
(Hyvinge), with the Finnish Railway museum
Other destinations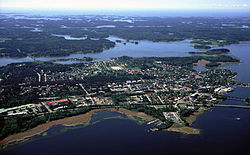 contains the picturesque towns of Karis (Karjaa) and Ekenäs (Tammisaari) and also the vibrant village of Fiskars.
(Hangö) is a recurring favourite with domestic holiday makers due to its nice beaches, climate and traveller-geared services.
(Sjundeå)
==Understand==
Talk
The Uusimaa coast is one of the regions with a big Swedish population. While most of the inland is monolingually Finnish, Swedish speakers are the majority or a big minority in many coastal towns and in much of the countryside near the coast.
Most Finns under the age of 50 speak at least basic and often fluent English, and some tourist-oriented services, especially in the capital region, are available in a range of other languages too. Russian is spoken at many businesses with significant Russian clientèle, mostly by the border and in Helsinki.
==Get in==
By airplane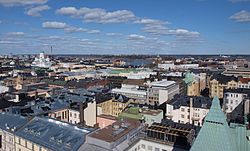 Helsinki is the most important gateway both to Southern Finland and the rest of the country. There are flights from most large European cities and some destinations in Asia and North America by air. Also
Lappeenranta
in the east of Southern Finland has an airport.
By ferry
Ferries from Stockholm, Travemünde, Tallinn and St.Petersburg and international train and bus connections from Russia. Most cities in Finland have a direct train or bus to Helsinki.
By train and bus
Trains and buses from elsewhere in the country towards Helsinki also stop along the way in places e.g. Hämeenlinna, Lahti and Kouvola, but if you are coming from the other direction you very likely need to transfer in Helsinki.
By boat
Get around
By train and bus
Between cities and major towns you can use the trains or buses . Hitchhiking is uncommon but possible, but be aware that some roads have very little traffic. If you chose smaller country roads, cycling is a possibility and you can camp wild as long as you regard the "jokamiehenoikeus" (
right to access
) which states basically "behave".
By boat
Archipelago Sea
-
Hanko - Helsinki
and
Sailing east of Helsinki
-
Saimaa
By bike
Several towns in the eastern part of the region (Hamina, Imatra, Kotka, Kouvola, Lappeenranta, Porvoo) use the Donkey Republic bike sharing app and bluetooth, Internet and GPS of your phone. As a member, in Finland for €9 or €18/month, borrowing a bike for less than an 1 hr or 12 hr, respectively, is free. Others pay €1/15 min, €1.50/hr, €4/5 hr, €12/24 hr. Membership must be registered according to your (read: your card's) home country; most countries in western Europe have the system (and USA: one town).
See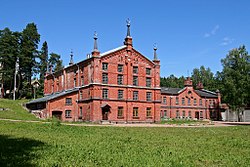 Do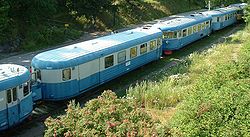 Go next
Southern Finland is well connected to the rest of the country by train, bus or plane and you can drive from Helsinki to most parts of Finland in one day. Of course you can also make a daytrip from Helsinki to Tallinn by ferry.