Southern Illinois
Southern Illinois
is a region in the
American
state of
Illinois
. It is primarily agricultural, like most of Illinois outside
Chicagoland
, but includes some attractive, rolling scenery that contrasts with the flatness of
Central Illinois
to its north. Distinctly southern in contrast to any other region in Illinois, Southern Illinois has a number of unique influences from the Midwest and Upland South.
Cities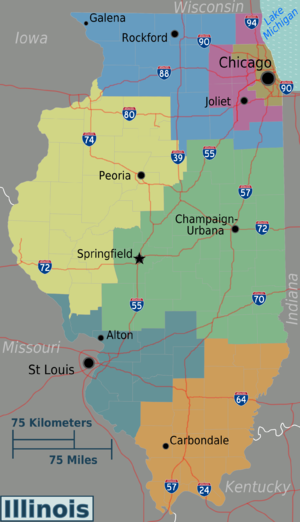 #
#
#
#
#
#
#
#
#
Effingham
Understand
In contrast to northern and central Illinois, Southern Illinois was primarily settled by Southerners from Virginia and Kentucky, giving it a distinctive upland south culture. In general, the area's accent and culture share far more in common with Missouri and Indiana than Chicagoland and Wisconsin. The area is fiercely independent and, while friendly, does not particularly care for Chicago.
Several communities in the region have very old and unique histories as the area was the first one settled in the state and, given its relative remoteness, it attracted more than a few Utopian communities. Each town tends to be very proud of its unique history and views itself as distinct from other ones in the area.
The nickname "Little Egypt" is often used to refer to the region. This stems from the City of Cairo, located at the confluence of the Ohio and Mississippi Rivers.

Get in

Lambert Field in St. Louis (STL) is the closest major airport, with flights to and from most destinations in the U.S. and a few international destinations. From there BART Airport Shuttle, +1-800-284-2278, provides door-to-door service to Carbondale, and other destinations in Southern and Central Illinois for around $50. Call for a quote.
Flights to and from St. Louis arrive at Williamson County Airport (MWA) (four flights daily, each way), which is also served by BART.

Get around
Southern Illinois is largely connected by the following interstates:
Interstate 64: This major interstate connects Mount Vernon and the northern areas of the region to St. Louis and Evansville.
Interstate 57: The interstate connects Mount Vernon, Carbondale and Cairo to Chicagoland and Memphis.
Several smaller routes also cross the region:
US 45: US 45 is a primary north-south route that connects Metropolis, Vienna and Eldorado to the Shawnee National Forest as well as Effingham and Paducah.
US 51: US 51 is a primary north-south route that connects Cairo and Carbondale. It also connects the area to Decatur and Bloomington-Normal.
Illinois 13: IL 13 is a primary east-west route that connects Carbondale, Harrisburg and Shawneetown.
Illinois 142: A northwest-southeast route connecting Mount Vernon, Eldorado and the Shawnee National Forest.
See
Little Grand Canyon, Cave-in-Rock, Shawnee Forest, Giant City, Jackson Falls, Bald Knob Cross, Shawnee Hills Wine Trail, Southern Illinois Wine Trail, Jonesboro Lincoln Park,

Do
Shawnee Adventure Guides
offer guided rock climbing, rappelling, kayaking, canoeing, backpacking, and hiking in
Shawnee National Forest
.
See the "Home of Superman" in bustling Metropolis, IL, on the Ohio River in the Southern Edge of the state.
Eat
Southern Illinois's cuisine tends to be closely related to the rest of the Upland South, including
Kentucky
and
Tennessee
. Visitors can easily find staples, such as grits, barbecue and other classic Southern dishes, especially along the southernmost counties. These items tend to be harder to find once you're closer to Central Illinois. "Burgoo," a spicy stew made from any ingredients that are available, is also relatively easy to find, though in southeastern Illinois (especially around Albion and Edwards County), a version is served called "chowder." Visitors should note that "chowder" can refer to the stew itself or the social event where it's served (i.e. "We're going to the chowder.")
Stay safe

In general, the area is safe. Like the rest of Illinois, weather is somewhat varied and extreme weather is possible.