Southern Lombardy
Southern Lombardy
includes the provinces of Cremona, Lodi, Mantova and Pavia of
Lombardy
, one of the
northern regions
of
Italy
. Geographically, it contains the part of the valley of the River Po, Italy's largest river, immediately north of the river, which to a large extent forms the border between
Lombardy
and
Emilia Romagna
.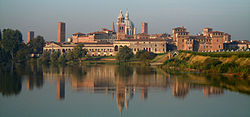 Cities
- a charming town, with one of the best medieval historic center in the county.
- on the Po river, birthplace of the Stradivarius violin
Understand
The province of Pavia consists of a flat part in the valley of the rivers Po and Ticino and a hilly part, called the Oltrepò Pavese. The latter part, although hardly known abroad, is in fact the largest wine producing region of Lombardy and has its own typical regional wines like Bonarda, Buttafuoco, Sangue di Giuda. The province offers some important sights of which the abbey of Certosa di Pavia is the most important. The city of Pavia itself is a nice, calm, relaxing historical city, with several interesting sights (tomb of Augustine, Boethius).

See
Renaissance square of Vigevano

Hills and wineries of the OltrepòThe Oltrepo Pavese is the largest wine producing area of Lombardy, but probably also the least known one of all Italy. The reason for this is that all wine is produced for local use, Milanese clients and for use in the spumantes of other regions (Berlucchi). The area itself however is worth discovering and reminds one of Tuscany: smooth hills, vineyards, magnificent views, castles, medieval cities.
Sleep
address: Montecalvo Versiggia
Stay safe
Pavia is a safe town