Southern Travancore
Southern Travancore
is in
Kerala
in
India
. It includes the districts of Kollam, Thiruvananthapuram, and Kanyakumari.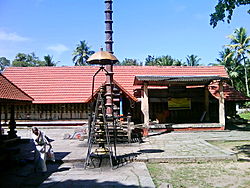 Cities
Other destinations
, one and a half journey from Thiruvananthapuram.
Eat
Southern Travancore dishes have an emphasis on vegetarian foods due to the strong influence of Hindu Nairs and Kshyatriya customs. There are a few non-vegetarian options as well, mostly limited to chicken dishes.