Southport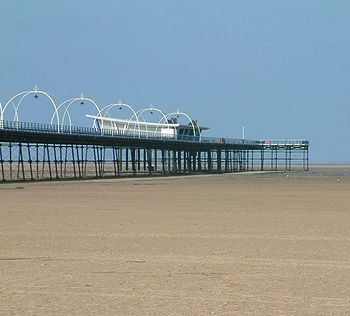 Southport
is a large tourist town on the coast, just north of
Liverpool
. It is in the borough of
Sefton
in
Merseyside
.It is in the historic county of
Lancashire
.
Get in
See
Try to hunt out the old village to the north with a couple of great pubs and places to eat.
Take a train into
Liverpool
to see the sights. Spend time walking under the covered Victorian canopy which stretches almost the entire length of Lord St. This means you can shop in the dry whatever the weather. Visit the many parks, such as the botanic gardens all landscaped in the high Victorian style, and still keeping their charm.
Do
Southport is famed for its endless golf courses, the Flower Show, coastal views and outdoor events. The area is home to one of the biggest international jazz festivals and puts on air shows each year. With over 14 golf courses in its proximity, the town is a perfect place to go for a golfing weekend. Essentially you never run out of things to do in Southport. There is always something on in the town and the relaxing atmosphere make it one of the most friendly and welcoming places around.
Buy
Lord Street is a must for all shoppers and boasts all the big High Street names. The area around the railway station is also good for shopping.
The Old Barnyard Interiors are based on the first floor of The Royal Arcade on Lord Street, offering design-led gifts, vintage interiors and hand painted furniture. They are also stockists of Frenchic furniture paint. fb.me/theoldbarnyard

Eat
The Curzon on Lord Street is good and well established.
Generally the choice of places to eat is good and is not confined only to Lord Street.

Drink
For visitors it has to be Lord Street again!

Sleep
Due to the considerable growth in tourism in the Southport area the demand for affordable and luxury accommodation in the past decade has increased significantly. This has lead to a sudden influx in new developments and old buildings being converted to new ones. New developments include the Southport Marine Park which will house a brand new hotel.
Accommodation in the area mainly consists of bed and breakfasts and are situated close to the waterfront. This makes them attractive prospects for tourists as they can get great views and affordable prices. Southport is also home to several luxury 5 star hotels which cater mainly for business travellers.
phone: +44 1704 883 800

address: 98 Lord St, PR8 1JR

the old ABC cinema on Lord Street has been converted into a luxury Hotel

Ambassador TownhouseAwarded Merseyside Guest Accommodation of the Year 2009-10 and recognised as within the Top 5 B&Bs in the Northwest of England

Seaview Guest House

phone: +44 1704 530874

address: 28 Bath St, PR9 0DA
Stay safe
In Southport, youths causing anti-social behavior is a common problem, often outside abandoned or boarded-up shops, and drunken behavior is common. Ignore these youths. Merseyside Police is tackling the problem.
Theft of items from vehicles is another major problem - especially in a tourist resort such as this, so use a car park like the Tulketh Street one over on-street parking if you can.