Southwest New Mexico
Southwestern New Mexico
is the state's most diverse region, though not its most populous. It includes
Las Cruces
, second largest metropolitan area in the state; the Gila Wilderness, a vast roadless area popular with hikers; and a great deal of desolate territory near the border with
Mexico
.
Cities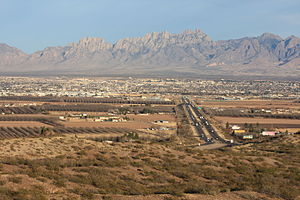 - A small town along I-10 that has some interesting rock formations nearby and is home to an annual quirky "duck race."
- The largest city in southern New Mexico, home to New Mexico State University, some historical attractions, and a gateway to the Organ Mountains east of town.
- A tiny settlement along I-10 near the Arizona border; nearby are some ghost mining towns from Old West times.
- A small town in the desert that's the nearest community to the Very Large Array radio telescope.
- A tiny community near the very southwestern corner of the state, with desert scenery in the vicinity.
- The primary gateway to the Mogollon Mountains, with some historical attractions from the town's mining past.
- A town along I-25 that serves as the gateway to a few interesting attractions in the vicinity, namely the Bosque del Apache National Wildlife Refuge, where vast flocks of sandhill cranes winter.
- A small town along I-25 that took its curious name from a vintage television show, home to a hot spring and near a pair of prominent lakes along the Rio Grande.
Other destinations
is New Mexico's largest county and very rural, home to beautiful high desert scenery far from the beaten path, much of the Gila National Forest, and a set of ghost towns that stand as reminders of the region's mining past.
The Gila Wilderness covers a vast portion of the Mogollon Mountains north of Silver City and offers excellent opportunities for hiking and backpacking. Hot springs in the backcountry are reachable via trails.
Gila Cliff Dwellings National Monument, deep within the Mogollon Mountains north of Silver City and near the Gila Wilderness, preserves a set of ancient cliff dwellings near the headwaters of the Gila River.
Understand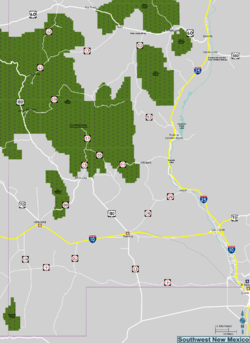 For the purposes of this article, the southwestern region is bounded on the:
This is a geographically complex region that has a great deal in common with the basin-and-range country of Arizona and
Nevada
from a geological standpoint. Much of it is mountainous, with some comparatively recent volcanism in a few places. The combination of rugged terrain and low rainfall has limited the number and size of cities and towns here, except in the valley of the Rio Grande, which contains most of the region's population, including the comparatively large (population just over 100,000) community of Las Cruces.
Talk

English, although Spanish is the first language of some residents of the region. The presence of New Mexico State University in Las Cruces, with a reasonable number of international students, means that your chances of running into people who speak other major European and Asian languages are better here than in some regions of the state.

Get in
The only airport in this region with scheduled commercial service is at
Silver City
, with extremely limited commuter service to
Albuquerque
and
Phoenix
. The nearest significant airports are in Albuquerque and
El Paso
,
Texas
. Interstate highway 25 passes through the region north-south from Albuquerque to its junction with I-10 at
Las Cruces
. Bus lines follow this route, with some digressions into small towns in the region, but service is generally fairly limited. Amtrak's Los Angeles - New Orleans
Sunset Limited
route passes through the region, stopping in Deming and Lordsburg.
Although the region has a long border with
Mexico
, (legal!) entry from Mexico is only possible at a few locations. The entries in the region itself are crossings at Santa Teresa in Doña Ana county and at Columbus in Luna county. Much more traffic enters from
Juarez
near El Paso and heads north from there. There are checkpoints along the major arteries from El Paso/Las Cruces where the Border Patrol may check for illegal immigrants, smuggled goods, etc. They generally don't hassle travelers on routine business; don't break any laws and you won't have any problems there.
Get around
Drive; there is little public transportation in the region except in Las Cruces. Most Interstate, US and state highways are routinely driveable year-round by all ordinary vehicles. However, SR 152, one of the main routes into
Silver City
and the attractive mountains around it, has a number of hairpin curves that are enervating for drivers of large recreational vehicles. If you're in an RV and bound for Silver, consider getting there via a different route.
See
Itineraries
The following two driving itineraries encompass much of the region and will give you a good taste of this part of the state.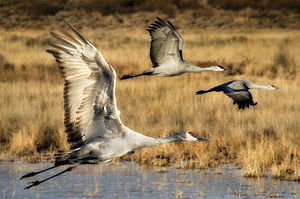 Southbound on I-25 along the Rio Grande from Albuquerque in the central region of the state will take you through most of the region's largest communities. The trip from Albuquerque to Las Cruces, allowing time to explore the sights along the way, will likely take a full day on its own; allow another day to explore Las Cruces and the surrounding area.
Follow I-25 to Socorro at the northern edge of this region, and continue beyond to exit onto US 380 at the village of San Antonio. In San Antonio, turn south (right) on NM 1 and proceed to the Bosque del Apache National Wildlife Refuge. Try to be there immediately after dawn, as the birdwatching is excellent first thing in the morning. A loop road circles through the refuge and offers good spots to stop and watch ($5 fee/car; NPS pass applicable); have binoculars handy.
Continue south on NM 1 to a side road to Fort Craig National Historic Site. This ruin from frontier days will give you a sense of the desolate life experienced by the 19th-century soldiers in the (then) New Mexico Territory. This is a fairly undeveloped site with a short interpretive trail. Return to NM 1 and continue south to rejoin I-25 and on to Truth or Consequences, locally called "T or C".
There is a small museum (Geronimo Springs Museum) in T or C that explains how the town got its curious name, with some other cultural artifacts. You can either stop here, catch a quick dip in one of the town's hot springs, or simply keep going south T or C isn't a great tourist site.
En route to Las Cruces, pause in Hatch, the chile capital of the world, to pick up some chile (see under "Eat").
If you have time before getting to Las Cruces, digress to Fort Selden Historic Site, another site preserving a 19th-century fort (open W-M 9-5, closed Tuesdays and holidays; $3 admission). If you've had your fill of forts but still have some daylight left, consider leaving I-25 at Dona Ana to cross the Rio and drive south to Las Cruces along local roads through pecan orchards.
Las Cruces is home to several small museums, the New Mexico State University, and the historic district of Mesilla, with nearby hiking in the Organ Mountains east of town. If you have time, White Sands National Monument in the southeast region is less than an hour's drive east. When you're ready to move on, either leave the region via I-10 eastbound to El Paso or westbound to Arizona, or return to Albuquerque.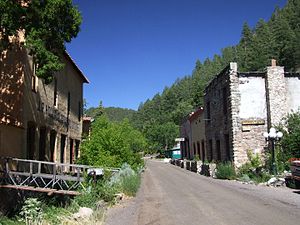 If you want to get off the beaten path and into the rugged backcountry, you can drive west from Socorro and into the Mogollon Mountains, through some remote and beautiful country, continuing on to Southern Arizona or looping back through Silver City.
Leave I-25 at Socorro; you can take a moment to enjoy the plaza and get some good New Mexico food. This is also a good opportunity to fill up your gas tank; you're heading into some very rural country.
Take US 60 west to Magdalena, an Old West town noted as the end of a famous cattle drive from Arizona. West of Magdalena is the striking Very Large Array, a set radio astronomy telescopes spread across this broad valley. A free visitor center on the grounds has some exhibits on the facility.
A little further on you'll cross into the very remote Catron County, New Mexico's largest and one of its most isolated. At the town of Datil, take NM 12 southwest into the Mogollon Mountains. You'll cross the Continental Divide and enter the Gila National Forest about halfway between Datil and the town of Reserve, the Catron County seat.
A few miles west of Reserve, NM 12 ends at its junction with US 180. Turn south (left) and you'll pass through a forested area with great views of the mountains.
At the town of Alma you can detour a few miles east on NM 159 to the old mining town of Mogollon (trailers not advised, nighttime travel discouraged). Mogollon is lively on summer weekends, quiet at other times.
Back on US 180 just south of Alma is Glenwood, a peaceful town with several motels and restaurants. A road leaves here for the nearby Catwalk, a trail through a narrow canyon perched above a cool stream (1-1½ hour round trip); it's a spectacular place, but the trail is occasionally closed because of flooding. As of May 2019, the trail is open, but parts are under construction or unmarked. South of Glenwood along US 180 is Leopold Vista, an expansive viewpoint on the west side of the highway.
Farther south, you'll exit Catron County and can turn west onto NM 78 (watch for the sign!), which leads past the tiny town of Mule Creek to Safford, Arizona, from which you can continue on to other destinations in Arizona (long vehicles not advised for the 20 miles or so west of Mule Creek) Or, stay on US 180 to Silver City.
Silver City is an old mining town with some interesting historical attractions, as well as a useful place to spend the night. From here, you can continue south on US 180 to I-10, Las Cruces, El Paso, and beyond. Or you can head north on winding NM 15 into the heart of the Mogollon Mountains and see the ancient cliff dwellings of Gila Cliff Dwellings National Monument. Or head east on US 180 and then along the winding and slow NM 152 through the almost-ghost towns of Kingston and Hillsboro back to I-25, from which you can return north to Socorro or continue south to Las Cruces.
Do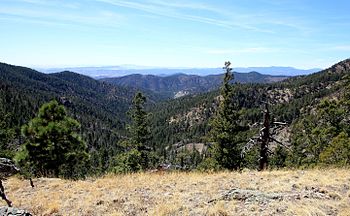 Both the
Gila Wilderness
near
Silver City
and
Organ Mountains
near
Las Cruces
are great places for hiking and backpacking. Another excellent hiking place in this region is
City of Rocks State Park
, off NM 61 south of Silver City, where you can hike through rock formations similar to those of the better-known (and more extensive)
Chiricahua National Monument
in
Arizona
. A rarity is
Rock Hound State Park
, near
Deming
via NM 11, in that this is a state park where you are
encouraged
to remove parts of the park -- specifically, samples of the several unusual-but-not-precious minerals found there; this park is best visited at times other than summer, when it's beastly hot.
When you're done hiking, go for a soak in a
hot spring
. The geologically recent volcanism that's widespread in this region has left a legacy of hydrothermal activity and a number of satisfactory hot springs, some developed, some in nearly pristine shape. Some hot springs in the region are:
Truth or Consequences — formerly called "Hot Springs," in fact — has several developed, commercial springs in town.
The San Francisco Hot Springs on the San Francisco River north of Silver City are a set of wild hot springs located in a designated day use only forest area. The springs are all underwater, lining the sides and bottom of the San Francisco River. Some people have stacked small rocks to form small pools where warm water can collect along the shores of the river. Reaching the springs requires a hike of a mile or two, and the trail often disappears along the way. Caution: dangerously pathogenic amoebae have been found in these wild springs, and in fact have caused a death or two. Make sure not to get spring water in your nose here (good advice at any "wild" hot spring).

Faywood Hot SpringsNear City of Rocks State Park south of Silver City is a lightly developed spring.

There are some other "wild" springs around the Gila Wilderness. Go exploring, and if you want some tips, a useful guidebook is Craig Martin's "Enchanted Waters: A Guide to New Mexico's Hot Springs," . Note that this book is getting somewhat dated (1998), and ownership of developed springs, as well as access to backcountry ones, may have changed; inquire locally.
Eat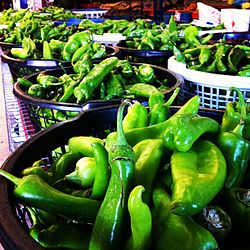 Las Cruces
is the only community in the region with a significant number and variety of restaurants (although
Silver City
also has a few), but there's one seasonal alternative that's not to be missed. The small town of
Hatch
, about 40 miles (65 km) north of Las Cruces, is the chile-pepper capital of the United States, if not the world. Great fields of chiles surround the town, which becomes a major center of chile commerce in late summer and early fall, with a Chile Festival in early September. The tiny town can swell in size by a factor of ten or more (from 2,000 up to 30,000!) at festival time. If in the vicinity then, definitely go to the Festival and see how much spice you can handle. Shops in Hatch have chile paraphernalia at other times of the year.
Stay safe
This is not a high-crime area, with possible exceptions for Las Cruces and along the border. All of New Mexico has trouble with drunk drivers, but this region has perhaps fewer problems than some others, with one notable, localized, seasonal exception. Every fall, when students return to New Mexico State University, there are misfortunes when incoming students who are underage for drinking in the United States decide to take advantage of the lower drinking age in Mexico, make pilgrimages to nearby
Juarez
to indulge, and have alcohol-related accidents coming home. Be wary if driving on I-25 near Las Cruces, and on streets in the city, in the wee small hours of this time of year. Otherwise there are no unusual driving hazards apart from reduced visibility due to dust storms on the bleak stretch of I-10 between Las Cruces and the
Arizona
state line.
Most other weather-related hazards here have to do with sun and heat. When hiking or doing other outdoor recreation, take extra water (and drink it), use sunscreen, and wear a cap or hat, preferably one with a full brim. If driving, have water in the car, particularly if your vehicle is prone to overheating.
You may be a long way from help if your engine overheats (or if you do yourself), and cellular phone coverage in the region is spotty. When you're in the remote southwestern regions of the Gila, there can be long distances between gas stations and other visitor services, so plan ahead!
Go next
Two large cities lie just beyond this region:
Albuquerque
just to the north in the
central
portion of the state, and
El Paso
just to the south across the state line in
Texas
. To the west is
Southeast Arizona
, with its stark desert scenery and reminders of the Wild West, while to the east is
Southeast New Mexico
, with its famed white sands and deep caverns.