Southwest Washington
Southwest Washington
is a lush, forested region of
Washington
.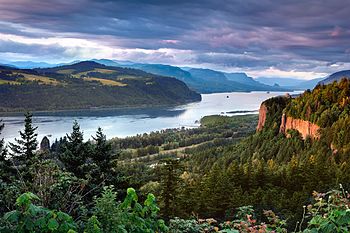 Cities
Cowlitz County
(largest city in Cowlitz County)
(seat of Cowlitz County)
Clark County
Lewis County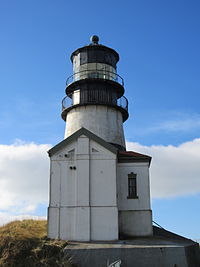 (largest city in Lewis County)
(seat of Lewis County)
(Heart of East Lewis County)
Pacific County
Skamania County
(seat of Skamania County)
Wahkiakum County
(seat of Wahkiakum County)
Other destinations

- a gem of a park whose story as an economic and cultural center fascinatingly portends that of the modern-day Pacific Northwest
- 12 park sites located on a 40-mile stretch of the Pacific coast from Long Beach, Washington to Cannon Beach, Oregon
site of one of the largest volcanic eruptions in known United States history.
The North Head Lighthouse is located along the coast.
Understand

The Southwest Washington region includes the Cowlitz, Clark, Lewis, Pacific, Skamania, and Wahkiakum counties.
Southwest Washington is bordered to the south by the mighty Columbia River and the scenic Columbia River Gorge. To the west, it is bordered by the Pacific Ocean and includes many broad sandy beaches and popular tourist towns.
Southwest Washington includes mountains and volcanoes such as Mount Saint Helens, which experienced one of the largest volcanic eruptions in the known history of the United States.

Talk
Like the rest of Washington state, English is spoken with a Pacific Northwest accent very similar to the General American standard accent (native to the Midwest), popularized in the 20th century by radio, TV and movies. People in the area generally have little to no problem understanding different accents of the English language. The Pacific Northwest attracts tourists from around the world, and it is common to hear many foreign languages being spoken in public in major tourist areas.

Get in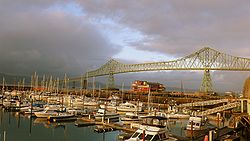 By air
By car
I-5 connects the region to Seattle and Portland. If coming from the Columbia Plateau/Central Washington, take US-12 or SR-14 west. From the Oregon Coast, take US-101 across the Columbia River on the Astoria Bridge.
By train
The Amtrak Cascades service stops in Centralia, Kelso and Vancouver, WA.
Get around
By car
Distances between gas stations can some times be vast so make sure your aware of your fuel level before heading out. I-5 travels north south through the east side of this region and is a major connector for the entire west coast. But try going inland to such areas as highway 101 for a slower more scenic pass through the area along the coast.

Do
Southwest Washington is an outdoorsy place that offers an intimidating variety of places to experience nature.
Beach combing is hugely popular along the Pacific Coast, however due to its size and vast expanses between towns it is easy to find your own isolated patch to explore. Be warned that sea shells and driftwood are considered part of the natural environment and should not be removed. Be gentle with sea creatures and keep a wide distance away from nesting birds, seals and other shore animals and always put back anything removed from the shoreline.
Boating The Pacific Northwest is one of the most popular places for recreational boating in America. Breath taking views of the snow-capped mountain ranges mingle with thick forests and clear bays and streams to create a humbling cacophony of natural sights for area boaters.
Hiking and Backpacking are very popular throughout this region, especially in along the coast but other opportunities for hiking/backpacking can be found nearly everywhere including the areas many state parks.
Sea kayaking as a sport developed in the Pacific Northwest and the area offers hundreds of miles of convoluted shoreline to explore.
Scuba diving the cold waters of Pacific Northwest takes a bit more gear and training than other warm water locations, but the rewards are incredible. The area contains some of the best diving in the world and many dive sites are completely covered with colorful sea creatures that defy description.
Whale watching is good along the coast in spring and fall during the Grey Whale migration and Orca Whales can also frequently be seen. Many professional tours are available or check online for recent updates from various whale watching groups.
Eat
Fresh fish such as salmon, crab and other seafood are regulars along the coast. But Northwest regional cuisine is known for more than just seafood. Local chefs are noted for their use of seasonal abundant locally gathered ingredients. Wild mushrooms, cranberries, black berries are frequently used alongside plentiful local organic produce.
The areas mild climate, rich soil and abundant water resources have created a bountiful climate for local farmers. Farmers markets are common in both urban and rural areas and a great way to experience local culture as well as experience local foods.

Drink
Coffee
Coffee is hugely popular all across the Pacific Northwest including Southwest Washington. Look for small road side espresso stands even in small towns.

Beer
Like the rest of Washington State, microbreweries and beer in general is hugely popular, and the area has many to offer for beer enthusiasts. Some brews can only be found in local stores or bars (some notable brewers don't even bottle their product). Ask your servers for local beer recommendations and search out regional microbrews in stores. Southwest Washington borders Oregon and benefits from the many larger brewers are located just across the border such as Full Sail Brewing in Hood River and are therefore plentiful in the area.

Wine
When people think of regional wine its usually about Eastern Oregon and Washington. Areas such as the Columbia River Plateau of Washington and the Willamette Valley in Oregon are both close to Southwest Washington and its easy enough to be happy with those selections. However Southwest Washington wines are a well kept secret as several dozen wineries dot the area including Chehalis and Vancouver.

Stay safe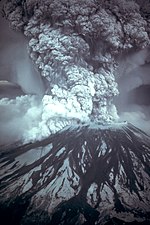 Tsunamis
Being on the Pacific Rim means that earthquakes and even tsunamis are a possibility; no matter how remote the chances are, it's best to be aware and prepared. Areas along the coast have tsunami evacuation routes well marked and should be followed in case of an emergency.
Volcanoes
There are also several large volcanoes in the region such as Mount St Helen's which in 1980 was the site of one of the largest volcanic eruptions in recorded American history. The risk of a volcanic eruption is very low however and usually comes with weeks if not months of warning. Simply using common sense and heeding any warnings should be more than enough to keep any traveler safe. Lahars are a type of volcanic mudslide associated with an event and cities near volcanoes have Volcano Evacuation route signs that should be followed in case of an emergency.
Go next